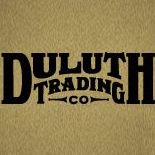 I've been receiving catalogs for awhile now from Duluth Trading Company, and I instantly loved two things about them:  They use real women as models.  And these real women wear Duluth Trading Company apparel while doing REAL work!
We're talking about an impressive display of female dairy farmers, loggers, ranchers, and carpenters.  And it appears that the durable Duluth Trading Company clothing does a great job of keeping up with the rigors of their daily tasks.  Although I *wish* I were that tough and capable, alas my time is spent more in the categories of office work and outdoor recreation.  So as a better fit for my lifestyle, they sent me a pair of Duluth Trading Company Dry On the Fly pants to try out.
Duluth Trading Company's DuluthFlex Dry On the Fly Convertible Pants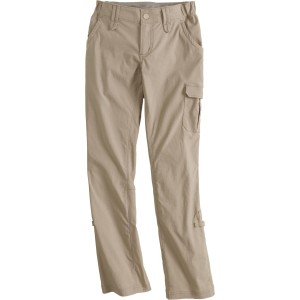 Duluth Trading Company DuluthFlex Dry On the Fly Convertible Pants (whew!  That's quite a name!) come in 6 great color choices, and are made from a light yet mid-weight, wicking nylon/elastane fabric.  This great fabric is called DuluthFlex™, and is a specialty of Duluth Trading Company.  It's tough in resisting rips and dries quickly.    They've got a bit of stretch to them, so are quite comfortable.
Technical fabric pants such as these definitely have their benefits, and perform fantastically for hiking, camping, or any type of outdoor adventure.  But they have a tendency to either a) not be very soft-to-the-touch fabric, or b) be really noisy to wear.  I was very happy that the Dry On The Fly pants did not seem to have either problem.  This fabric is more supple and softer than my other technical hiking pants, and they are definitely more quiet to walk in.  Excellent!
Dry On the Fly pants ~ The Fantastic Fit
Fit can be the next challenge.  With the variety in shapes and sizes of women, I honestly don't know how clothing makers come up with a style that fits most everyone?  I think they've got a winner in the Dry On The Fly, with a very forgiving cut.   Described as "fitting both curvy and straight body shapes" (I'm curvy), the well designed comfort waistband contributes to this nicely.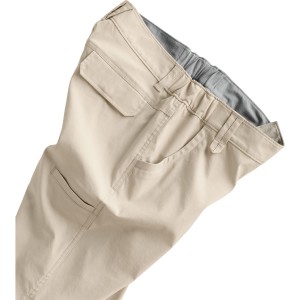 Like the sound of a "comfort waistband"?  (Who wouldn't?)  It's quite heavenly.  It offers either gently cinching on smaller waistlines, or slightly extending to custom fit you perfectly.  There are two small elastic sections (not cheesy looking, once you have them on) in the waistband to assist with this.   And as if that weren't enough, they lined the waistband with brushed tricot fabric to be extra comfy next to your skin.  I really love this feature.
Sometimes I feel with pants that have stretch to them, that I have trouble keeping them up (unless the waistband is really tight, which I don't like either).  This can be a real pain, especially for active wear use.   Well, the Dry On The Fly pants did NOT experience this problem.  They stay perfectly in place during my hikes, you don't even need to give them a thought.  Again, this is a HUGE plus in my book, and has not been something easy for me to find in a pant.
Dry On the Fly Pants ~ Great Features, Great Hiking Pants!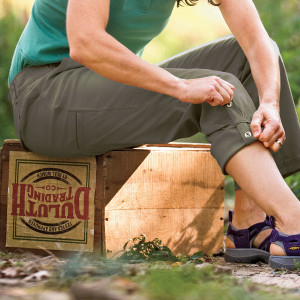 Some other great features of the Dry On The Fly pant:
They fit spot-on true to size
They have six pockets (the side leg pocket for my phone is my favorite)
They are convertible!  Just roll up the legs and snap up the cuffs for capris.
UPF 50+
Wash up very nicely in the washing machine
Duluth's signature "Crouch Gusset™" for range in motion comfort when bending, climbing, or lunging.
They dry very quickly… ON THE FLY!
Here's a look at me testing out my women's Duluth Trading Company Dry On the Fly pants, at a nearby National Park.  Not typically a purple kinda girl, I deliberately chose the light plum color because I thought they were so pretty and unique.
First I try out my Red Carpet Pose.  You know, except I'm on a dirt trail.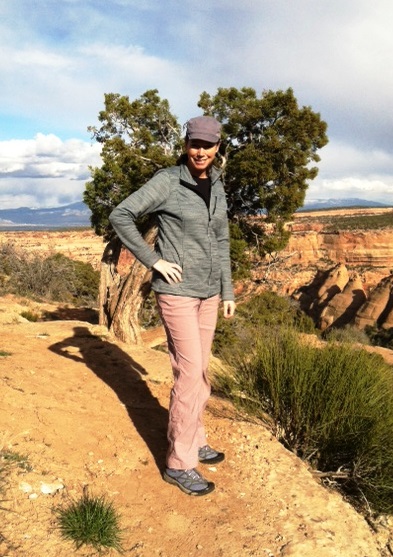 Embarrassing.
Wait… did you get my boots in that last picture?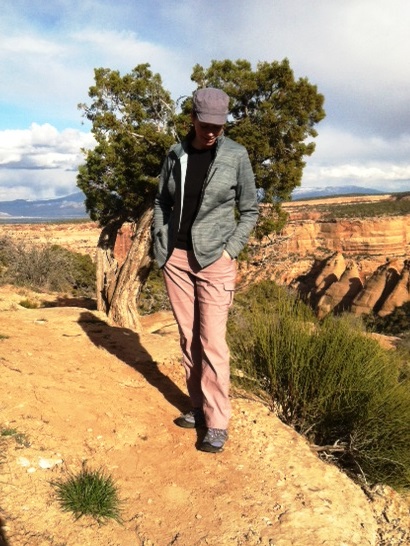 Aaahhh – there is it.  The money shot.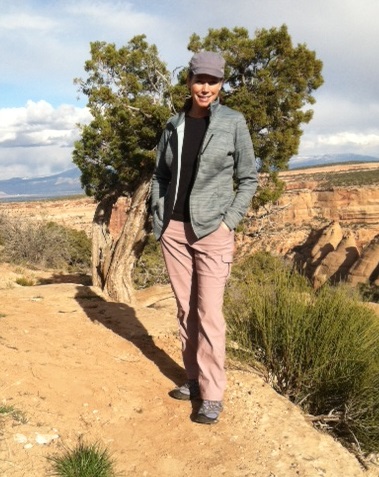 See, that dusty plum color is not even remotely overwhelming.  I really love these hiking pants!  I actually find myself wearing them on an everyday basis, not just when I need a technical/durable option.
Note that they come in 3 lengths, which is awesome.  I'm 5'10", and chose the medium since they have an inseam of 33″ – borderline for me, as I typically prefer 34″.  I probably could have gone with long, but these are (just barely) long enough, so I'm happy with them.
As Ricker says, "Go on. Hike through that creek!"  Check out this great video for a fun video look at the Duluth Trading Company Dry On the Fly pants.  (Warning:  You're going to want a pair after you watch this.)

I highly recommend the Women's Dry on the Fly Convertible Pants as your next favorite hiking pants (they have skirt and shorts options, too!)  They are available on Duluth Trading Company's website for $64.50.
And for you guys, they also have multiple options for a men's Dry On the Fly pants or shorts.
Duluth Trading Company ~ Giveaway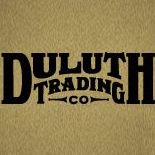 I love giving away gift certificates, because it offers readers a chance to select something from a brand that they really like.  So I'm excited to tell you that Duluth Trading Company has generously agreed to offer one winning reader a $50 Gift Certificate to Duluth Trading Company!
Open to US residents, 18+.  Entries will be verified.  Enter using the form below.
*o*     *o*     *o*
I received a pair of Duluth Trading Company Dry On The Fly Convertible pants at no cost, for the purposes of performing this review.  All opinions are my own.  Professional images credit Duluth Trading Company.