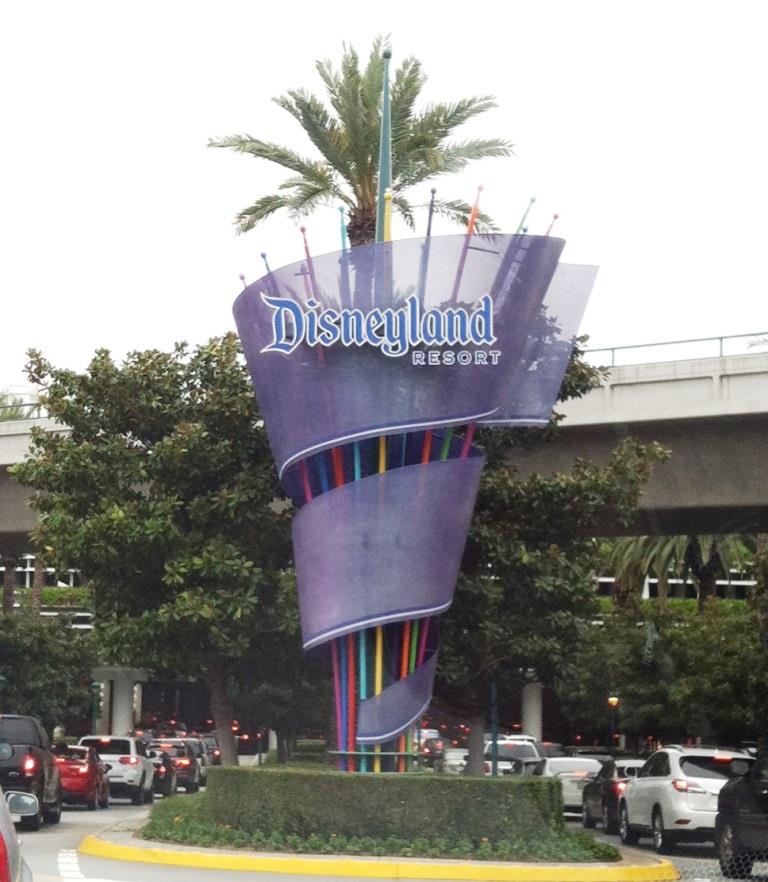 With Disneyland so nearby, you can imagine my initial excitement at being told I was to travel to Los Angeles for a week of work.  I had a healthy respect for (ok, hesitancy towards) the fact that my time would be spent almost exclusively by myself, in downtown LA.  But I can do this.
So the week prior to departure I tackled all the usual things:
Copied all the needed files to my laptop.
Dug out my summer wardrobe – Hey, I'm going to Cali in March! (Post-trip note to self:  Working downtown LA does not require the same outfit selections as visiting a Southern California coastal resort.  More on this below.)
Scoped out directions to my destinations.
Read my online LA friend's Facebook update, that week's highlight being her experiencing both an earthquake and gunshots to her car in one day.   Wait… what?
Well, I'm pleased to report I survived my week in LA, and am now back home in Western Colorado safe and sound.  It was a fairly eventful trip.  Here are some of the highlights.  Let's get the bad out of the way first.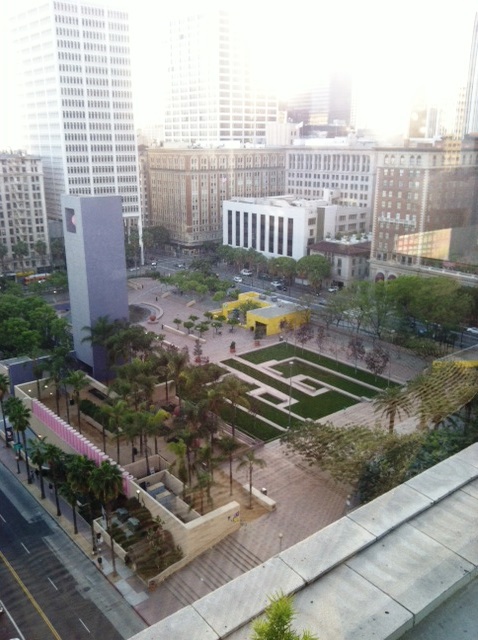 What I Didn't Love About LA
Downtown LA residents can be scarier than bears.  I've often toyed with the idea of purchasing pepper spray, for my hikes here in the Rocky Mountains.  During my week in LA, on more than one occasion, I was acutely aware of my lack of a weapon.  And I was really wishing I had a little something to protect myself (other than my Mad Jiu-jitsu Skillz).  I'm aware that I lead a fairly sheltered existence.  But being here alone, and not sure of where NOT to go… I'm not gonna lie, I really did find this city scary.
Human Poo on the Sidewalk.  As in, a huge steaming pile.  On my walk to work in the morning.  That's a real thing that happened.  I was so traumatized, that I thought I'd share the moment with you.  You're welcome.
(No photo of this… you're welcome again.)
The Dinge.  If you are one who runs around in your "I [heart] LA" sweatshirt, then I apologize – but I can't jump on to your Crazy Train.  This is the filthiest city I've even seen.  Multiple layers of well established grime on the sidewalks.  Eww.  It was really gross.
What I Loved About LA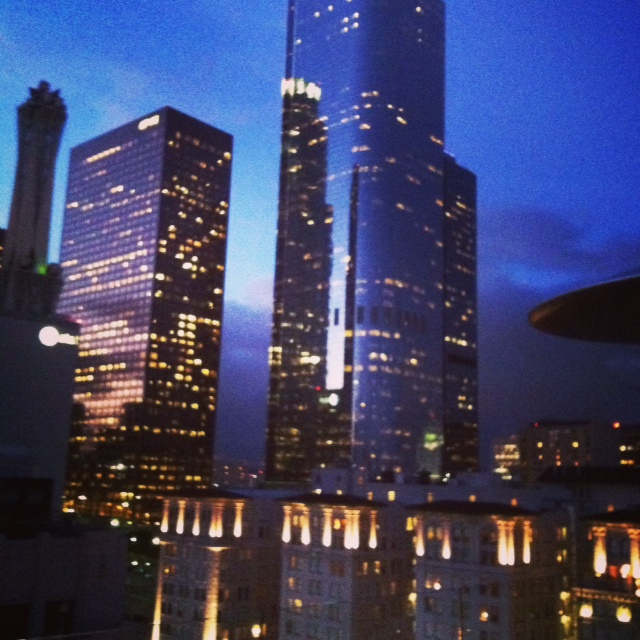 Sky-scraper Rooftop Dining.  A local tipped us off to this one, and I joined some girls for dinner at the Perch one night… located at the top corner of a downtown building.  We ate outside, alongside of the glass parapet.   (Kind of proud of my scared-of-heights self on that one.)
Tasty French-inspired food, live music, amazing atmosphere.  It was fantastic!
Friendliest City Folk, Ever.  I've been to 8 out of the 10 largest US cities.  In my opinion LA has, by far, the friendliest people.  Dare I say happiest?  Every single person working somewhere who I interacted with was helpful, upbeat, and friendly.  It was awesome.
Sprinkles Cupcakes.  This one's pretty self-explanatory.   I stumbled across this cupcake bakery on the last day I was there.  It made me very happy.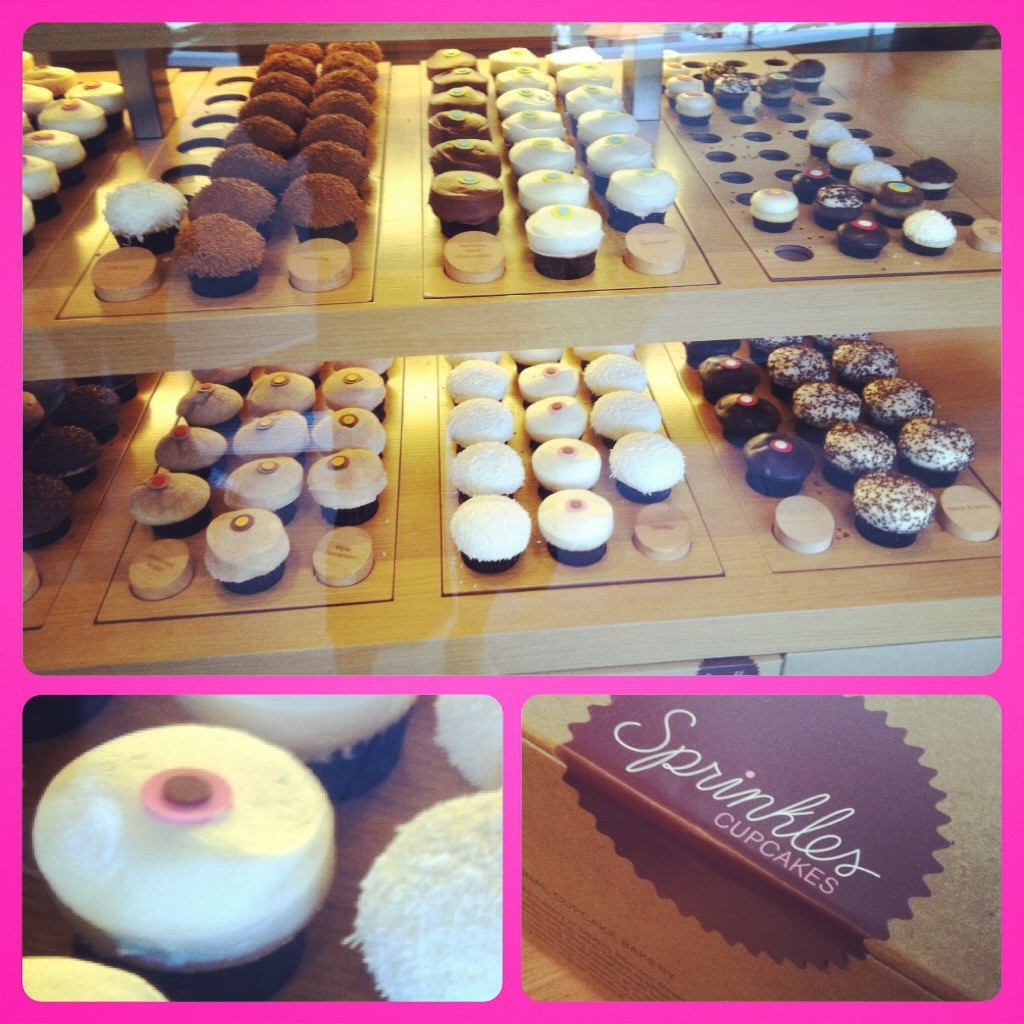 No pesky, complicated clothes-matching decisions to be made.  Because apparently, you don't wear color in the city?   I didn't get this memo, and stuck out like a sore thumb, frolicking around (at least that's what it felt like) in my limes, oranges, and turquoises.  So much for not attracting attention to myself.
Random Elevator Conversation with Strangers.  Like when I offered to sell a guy a piece of my gum for 50 cents, and then he asked me to come and work for him.  Or the tattooed muscle-y guy, who looked at my mid-sized suitcase and asked, "You got a body in there?"    I got a real kick out of this.  I like making new friends.  Both of these guys appeared to have a bit of a shady side to them, but hey – if I'm gonna live in a city, it might not be a bad idea to have a couple of shady friends on hand.
Walking By Movies Being Filmed.  On two different nights, we ran across restaurants which were closed off with large gear trucks full of movie-making stuff, and bodyguard-looking crew standing around.  I spotted a couple of Universal Studios logos on a of couple items.  Pretty cool.  Until one of the huge bodyguard guys mocked me for my "I just fell off the Turnip Truck" gawking expression (we had to walk right through them)… and said with a huge grin, "Don't be scared!"   Embarrassing.  I didn't offer him any of my gum.
Well Timed Raid by the LAPD.  Courtesy of the sting operation at LAX, held during the middle of my week here, thereby busting up the subcontractor baggage theft ring… my luggage didn't get pilfered when I flew out on Friday.  Yaay me!  Thanks LAPD!  Good job.
Years worth of excitement, packed into one week.   I won't deny it, cities have a lot more going on than does my humble Western town.  I'd estimate lumping all the smells, sights, impressions, and encounters of this week together is probably the excitement equivalent of what I'd experience here at home in about a year.  These were neither all good, nor all bad.  So… if that's your thing – well then, LA may be right for you.
I found the ocean.  Although my work colleagues chuckled at my quest to seek out some "peace and nature" before the week's end, on my final night I made it in time for a sunset at the beach.  In a nod to Everclear, I chose Santa Monica.
Why hello there, Pacific… it's always so lovely to see you!
When I was in my 20's, the excitement of the big city held much more allure to me, than it does now.  I guess I've grown quite content with my quiet, family-raising, laid back pace of life.
So that's my adventure filled week in Los Angeles.  The next earthquake waited until Friday evening, after I had already left.  And I didn't even get shot at.
*o*   *o*   *o*
So are you a city lover… or would you rather just visit?