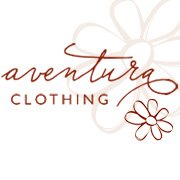 My favorite type of clothing is that which is comfortable, versatile, and practical, leaving me ready for any adventure or activity my day brings.   I work in an office.  I travel.  I play outdoors with my kids.  I love wearing Aventura Clothing because I can do all of these things… and showcase some exceptionally cute style at the same time!
When I became an Aventura Ambassador earlier this year, I already had many of their pieces in my closet.  These are the clothes I reach for time and again, and always feel confident in.   Here's a little bit about why I love them, and a look at some of my favorite items from their Spring collection.
Aventura Clothing for Spring & Summer
My best overall description for the Aventura Clothing brand is "outdoorsy chic", and I appreciate the gap they fill in the fashion industry.   I'm not ready to cash in my chips for the frumpy mom look just yet, but I also don't want to dress like I still think I'm a teenager.
And I love that when I wear Aventura I can look stylish, yet still feel true to my outdoors nature.  They have great earthy colors and designs, and a nice range of fabrics and styles to choose from.  Using eco-friendly fabrics is important to them, and in their collection you'll find pieces made from:
Organic cotton
Recycled polyester
Rayon from bamboo
Hemp, and
Soy fabric
One of my favorite tops this season is the Brooke Short Sleeve Top ($49).  It's made from a cozy soft organic cotton, and is a really nice thickness.   Plenty cool as a summer top, but even in white it's not see through at all.  I like that it's so roomy and forgiving, with a cute hip band at the bottom for a nice shape.
I fell for the 'Dusty Olive' color this season instantly, so I had to try a pair of the Rowan Capris ($72).  Yep, it's official:  olive is my new brown!  (My previous favorite neutral color.)
Here's the issue I often face with comfortable pants or capris.  I like them just that:  comfortable.  This typically means they need to be either a fitness type fabric, or at least have quite a bit of stretch to them.  But what about when you want to wear a "dressier" cotton fabric?
The Rowan Capris are the perfect solution to this dilemma, and are an awesome combination of both features.   They are cotton, and are comfortable and cool.  Yet the waistband is uber comfortable, with the drawstring waist offering you literally the perfect custom fit.
I love how these wear… they stay perfectly in place, no need to continually "hike up" my comfy stretchy pants!  😉  Note they do run large – the size you see me wearing in these photos is one size down from what I normally wear.
Fun Fashion Fact:  Aventura has some of the absolute cutest hats around, so I had to add a Georgia Hat ($29) in matching Dusty Olive.  I get many complements on this adorable hat, and I wear this combination (the olive colored capris and hat together) with many different tops for a quick and easy outfit.
In addition to my love of the dusty olive hue, at the core of how I actually selected the pieces for this Aventura outfit was the lovely Sasha Scarf ($37).
This particular scarf is lush, large, and full of body.  Aventura scarves are some of the best around, and open up all kinds of fantastic options.  You'll love the colors, patterns, and variety of textures these scarves offer.  Build a new outfit around your favorite, or just breathe some life into pieces already in your wardrobe!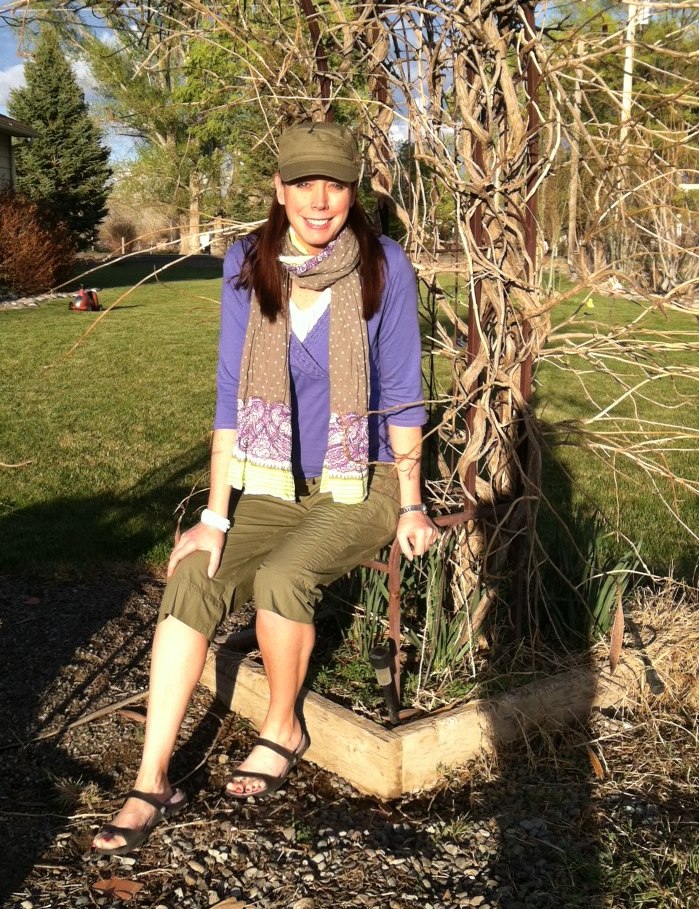 The last component I selected for my Spring Aventura Clothing outfit was the Beverly Top ($60), because it's always nice to have a light cover up when the cooler evening temperatures set in (shown in photo above).  And you just can't go wrong with 'Dusted Peri', although they also have it in white and a couple of other great colors.  Personally, I've always been a sucker for periwinkle!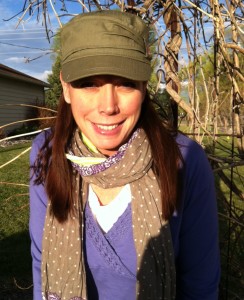 This isn't a huge, bulky pullover.  It's a little more fitted, and is a great weight and warmth level for Spring/Summer.  I'd say it runs true to size, and the cute pin tucks along the sides contribute to the flattering design.
It's made from 95% organic cotton, with just a bit of stretch, so is quite soft.  It washes up nicely in cold water, then line dried, with no loss of the vibrant color.    And check out that beautiful crochet detail along the neckline.
Now who's ready to go shopping for your own Aventura Clothing outfit?
Aventura Clothing Coupon Code
As an Aventura Ambassador, I was given a limited number of Aventura Clothing coupon codes to share.  These are good for a one time use, for a discount of 60% off of your entire Aventura purchase (up to $250).  Wooo Hooo!
I have 5 coupon codes to give out to my readers.  I will send one to each of the first five readers who comment below.  Just leave your name, and tell me which item(s) you love most from the Aventura Clothing collection.  Happy Shopping!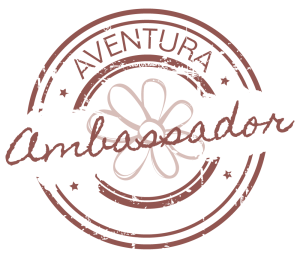 *o*     *o*    *o*
As an Aventura Ambassador, I received the clothing items described here at no cost.  All opinions are my own.