"I've been hearing over the past 2-3 years people asking, 'Where's your mens version of Aventura?'", explains VP of Marketing and Sales Tom Williamson.  Well, as an Ambassador for Aventura Clothing, I got an early peek at Tom's exciting response to this request.  Welcome the newly launched, eco-friendly mens clothing brand:  Ecōths!
This eco-friendly apparel line features clothing that is 100% natural, with a style that features a rugged, outdoor influence and urban vibe.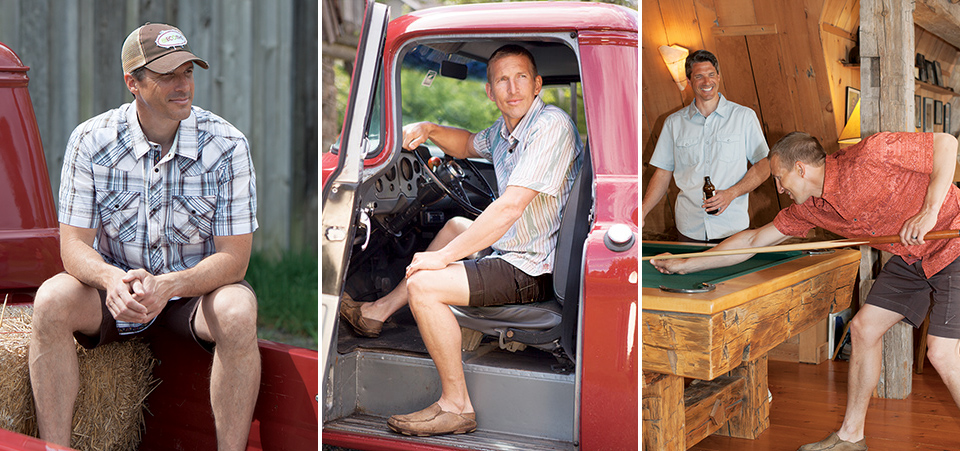 A true cause related brand, Ecōths also gives 3+ meals for each garment they sell.  As of their launch in Spring '14, they have already donated many thousands of meals  to food banks throughout the US in their sales reps territories.  It's something they are truly dedicated to, wanting it to become part of Ecōths brand signature, with full plans to continue this program in the future.
As is true of Aventura pieces, they have really paid attention to the details on the new Ecōths clothing.   My husband has tried three pieces:  the Vernon Shirt, McKinney Tee, and Humbolt Short.  All three feature a discrete, embroidered and tasteful Ecōths logo, and attractive, unique top stitching.  Very cool.
The Ecōths McKinney Tee has a very slight v-neck, not too overstated.   It adds some style, while giving the shirt a really comfortable neckline.  Attractive double seams on the shoulders.  Heathered, very soft, 100% organic cotton fabric.
The Ecōths Humbolt Short.   Awesome all around short, but my first thought was how perfect they'd be as a great travel short.  They are so incredibly light weight, that when rolled up they take up almost no room at all.  Yet the fabric isn't thin, and has a nice woven appearance and slight sheen to it.
And finally, the hip Ecōths Vernon Shirt, my favorite from the entire Spring collection.  Noticeably, crazy-soft for a button down shirt!  Great over stiching details and colors, and also made from 100% organic cotton.
After wearing it, what does my husband think of Ecōths clothing?  He likes it a great deal, his concise & manly feedback being:
"Soft, light weight, and really comfortable"
Ecōths is not yet available for sale online, but is currently being sold at select retailers.  Find a store here.
Ecōths Clothing – The Giveaway
Ecōths Clothing would love to send one of my readers an Ecōths mens shirt to try out!
Subject to size and availability, the winner will receive their choice of either a:
Vernon Shirt (page 14, $67),
Zephyr Shirt (page 14, $69), or
McCall Shirt (page 6, $67).
Check out the Ecōths catalog to see photos of each style.
Enter using form below.  Open to US, ages 18+.
*o*    *o*   *o*
We received the Ecōths Clothing described in this article at no cost.  All opinions are my own.