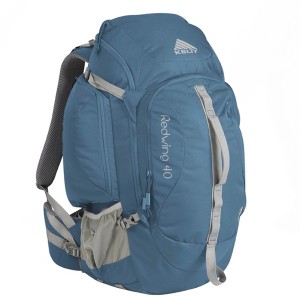 Now that my young son is hiking on his own two feet, it was time for me to scout out a new women's backpack.  The Kelty Women's Redwing 40 is a much loved, classic pack – and with good reason.
Kelty has made varying sizes of the basic Redwing for years now.  There are Redwing styles for both men and women, with or without an internal frame, ranging in size from smaller day packs to full backpacking capacity.
I've been trying the internal frame Kelty Women's Redwing 40 for a few weeks now, and love it both as a backpack and as an ideal and handy travel bag.  Let me tell you a little about some of the great features I enjoy on this pack.
Kelty Women's Redwing 40 Review
The Kelty Women's Redwing 40 features shoulder straps and a hip belt contoured especially for women.  It comes in both black and two other attractive color options (personally, I love the Indigo), and weighs in at 2 lbs 14 oz.  This pack has a fabulous capacity, and even when full the excellent suspension system disperses the load so well that it makes for very comfortable wear.
When I initially tried the pack on, I was concerned that the shoulder straps attachment point at the top was too narrow for me, and that the straps would rub on either side of my neck.   Once the pack was loaded however, the straps settled better into place and this has not been an issue whatsoever.
The Kelty Women's Redwing 40 has all the lovely features you'd expect in a great backpack:
Hydration reservoir sleeve
Water bottle pockets, AND
Zippered size pockets (which can also fit water bottles, if you so choose)
Daisy chain
Large front pocket with organization, including soft lined pockets for no-scratch storage of phone, camera, etc
Side compression straps
Zippered stash pocket, towards the top of the pack (very handy)
Grab and carry handle, to tote in duffle bag fashion when traveling
Although I haven't flown with the Redwing yet, I have used it on multiple trips.  It's just the right size for up to 3-4 days, and has a nice combination of separate compartments to keep things organized… while still offering a huge, main open compartment for clothing and gear.
I love that front grab handle, and find myself using it often.  The zippers open up the main compartment fully, allowing you very easy visibility and access to your contents.
When you see a photo of the side water bottle pocket design, with the zippered pocket right above it, you may wonder (at least I did) whether you'd be able to easily store and retrieve a water bottle from them, while wearing the pack?  I was happy to discover that although it looks like an awkward feat, this is easily done.   Although the combination I've found I use most is storing large Nalgene bottles in the side zippered pockets, and then using a filled hydration reservoir in the pack.
Is this too large of a pack to use as your day pack?  Absolutely not.  I thought maybe it would be overkill for such short-term purposes.  Although I typically don't fill it to capacity, it's awfully nice to have plenty of room to throw in any extra things that come up.  As a mom on the trail, I'm often the one to carry that shed toddler jacket, extra water bottles for the dog, etc.  And it's so comfortable to wear, the added weight just doesn't present an issue.
Which segues nicely into the last area:  the fit.  I've been very impressed with the comfort of the Kelty Women's Redwing 40.   I haven't worn an internal frame pack before, and it felt a little different to me at first.  They say 80-90% of the load weight should rest on your hips.  If you are like me, and have only ever felt the weight of wearing a backpack in your shoulders… you are in for a treat!
After watching a helpful video on how to adjust your backpack fit correctly, and playing with the different adjustment options… I've finally got it just right.  And it's amazing!
There is a lovely lumbar cushion for added support of your lower back.  I'm carrying heavier loads than I ever have in the past, and the Redwing is extremely comfortable.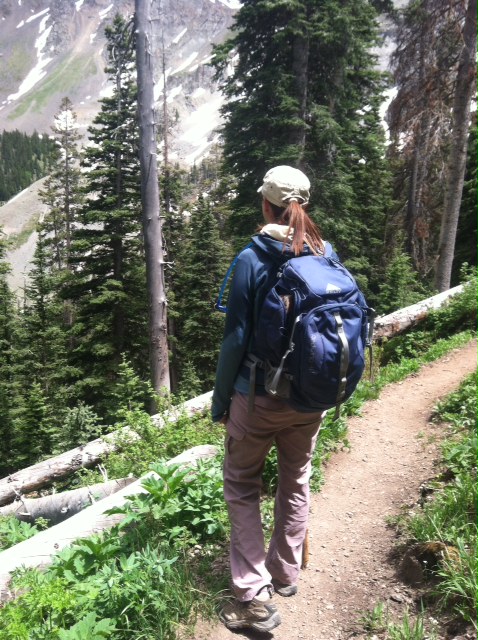 Nice buckles, good quality construction, and a well thought out, time-tested design make the Kelty Women's Redwing 40 an excellent choice that I highly recommend.
*o*    *o*    *o*
I received the bag described here at no cost, for the purposes of performing this review.  All opinions are my own.