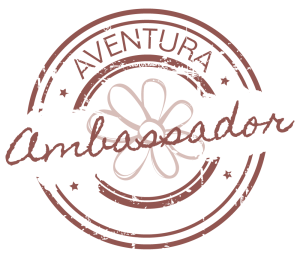 As an Aventura Ambassador, I'd love to fill you in on the fun #FeelGoodLookGreat Challenge they are hosting throughout the month of July.   Find yourself inspired by their creative ideas on enjoying the simple pleasures in life for each week, and even better – join in for a chance to win weekly prizes!
My Aventura Clothing is as comfortable as it is cute, and I find myself wearing it for any range of occasions… from work, to playing with my kids on my day off.  I love their casual yet attractive styles that are age appropriate for us foxy moms who still want to look good, but don't even want to try and dress like a teenager.
For example, here's a picture of one of my favorite outfits from this season… with Aventura's trademark Arden Capris, the lightweight and pretty Kierra Cardigan, the soft and lovely Penelope Top, and red leather Aventura Belt with awesome metal flower buckle.  And I have to tell you – I get complements every time I wear an Aventura scarf – they just can't be beat.  The Merida Scarf is what I'm wearing in this shot.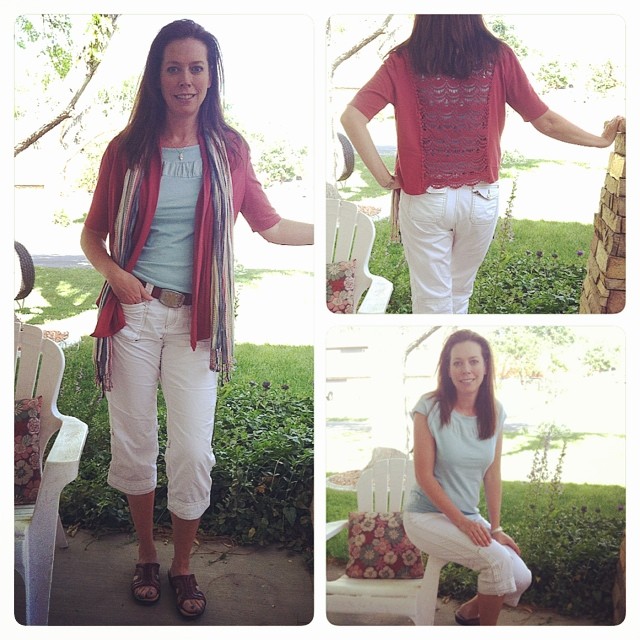 Aventura's #FeelGoodLookGreat Challenge
Aventura Clothing would like to inspire fans to challenge themselves each week in July, with a new way to enjoy life's simple pleasures.  I love this fun concept, and each week I will be selecting one (or more!) of these fabulous, simple yet inspirational ideas to participate in myself.
How can your summer *not* be made even better by adding in some simple pleasure activities such as:
Do Something New
Favorite Place to Be
Grow Something, or
Make Someone Smile?
Just pick a favorite from this list below, and you can enter to win a prize awarded each week!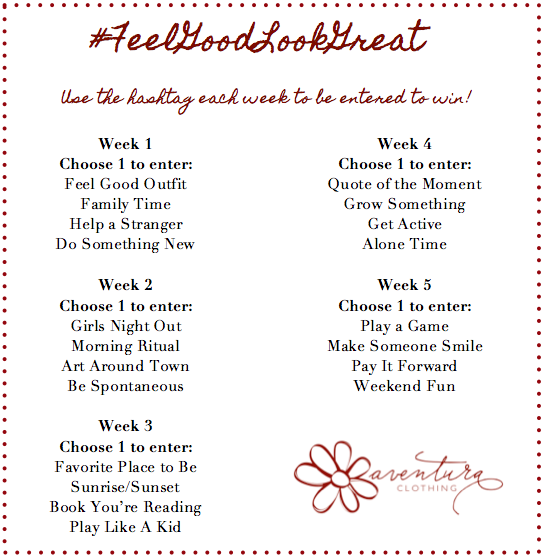 Here's the scoop on your chance to win a weekly Aventura prize…
Start Date: July 1st
End Date: July 31st
Where:  Post your entry photo on Twitter or Instagram
How to Enter:
Pick your favorite #FeelGoodLookGreat challenge inspiration idea for the week from the list above, and post a related image on Instagram or Twitter.
Use the #FeelGoodLookGreat hashtag.
Tag both Aventura Clothing and Colorado Mountain Mom (me!)

On Instagram – @AventuraClothing and @CO_MtnMom
On Twitter – @AventuraClothng and @CO_MtnMom

That's it! This contest does accept multiple entries, so enter once or multiple times throughout the week – your choice.
Prizes: 
I will select 1 winner from all entries I've been tagged in at the end of each week!  (That's 5 winners in July!)  You've got great odds, so let's see your pictures ladies!  🙂

The winner will get 60% off discount code for a one-time purchase and a free Aventura Accessory of their choice.