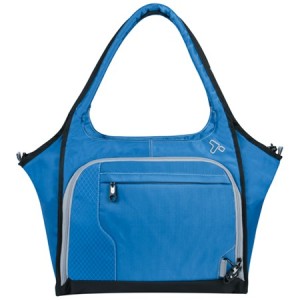 Nothing beats a great tote bag.  Never leave home without one, that's my motto! Totes can be a busy woman's best friend – providing a roomy, hands free catch all for all that "stuff" you end up grabbing before you go.  I've been using the gorgeous and versatile Travelon Anti-Theft React Tote for the past few weeks now, and would love to tell you a little about this great bag.
First, a word about Travelon's fantastic  line of anti-theft bags, since the React Tote falls under this family and as such offers some awesome features you won't get with your average tote bag.
Travelon Anti-Theft Bags
I've tested a Travelon anti-theft bag as a safe travel bag in the past, and am very impressed with the well thought out features they include.
While each style varies slightly, these core anti-theft concepts are incorporated into most of their designs:
slash-proof construction
cut-proof straps (many can attach to the chair you're sitting in)
locking compartments
organizer compartments with RFID blocking
Carrying a bag with these anti-theft features brings you added peace of mind, especially when traveling.  A cross-body style is my personal favorite when on a trip, and the new line of Travelon Anti-Theft React™ bags offers not only cross-body, but a nice selection of great sizes and styles.
But again, for everyday use I'm a big fan of tote bags… so let's talk a little about the Travelon Anti-Theft React Tote.
Travelon Anti-Theft React Tote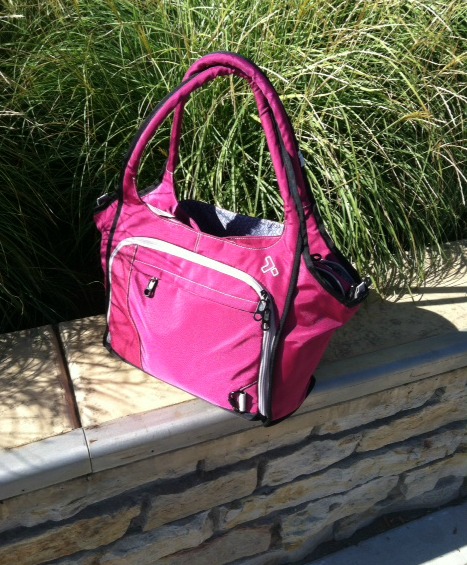 At 15 x 13 x 5.75 inches, I found the Travelon React Tote to be a very roomy, yet still light weight bag with a flexible carrying capacity – a must for me!    I've been using it daily to carry my lunch, sweater, water bottle, book, tablet, and other miscellaneous items to work.  Rushing out the door and decide to also throw in an extra umbrella, travel mug of coffee, and a hat?  No problem.  Scoot over stuff… here comes some more crucial stuff I can't get through my day without.
The React Tote has very comfortable, padded carry handles that stay put nicely on your shoulder when carrying.
This tote is well equipped to carry both a laptop and tablet simultaneously.  Although I don't see it mentioned on the website description, I was pleasantly surprised to see it's equipped with both an interior padded computer sleeve in the main compartment, and a soft padded tablet sleeve available in the front organizer pocket.  This electronic storage combination makes it a great choice for travel.
And if you do choose to take it on a trip, you'll enjoy having the "Add-A-Bag" panel.  When unzipped at the bottom, this panel/pocket allows the tote to slide over the handle of wheeled luggage.  It even has an extra, tighter strap on the inside, so your tote bag isn't likely to slip off.   Such a great feature!
If you've ever rushed through an airport with both a carry-on and fair-sized personal item (which could be your new Travelon React Tote!)… you know how much you appreciate having your "top" bag firmly seated and attached to your carry on, so it doesn't slip off as you're rushing towards your gate.   Don't need the slip sleeve?  Then leave the bottom zipper closed, and it's a nice exterior pocket.
The main body of the bag has two full sized compartments, each with their own double zipper access, with locking rings available at each end.  While it is nice to have one for the computer sleeve area, and one area to keep your "non-electronic" personal items separate… I honestly think I may like it better if it were just a single main compartment.  It works fine the way it is, as the divider is very pliable, and I have no trouble fitting contents on either side.  This is just a personal preference, as I'm used to my tote bags having one main cavern to throw things into.  At times I just feel I have to do a bit of "arranging" to get things fit into the React tote.
I'm very pleased with the quality construction and materials used to make the Travelon React tote.  The "berry" color is even prettier in person than the photos, and is very rich looking.  The two soft electronic sleeve areas are covered in thick, very soft material.  And the zippers all glide with ease.  I like being able to completely zip closed my tote bags, especially if you'll be traveling or in busy areas where you may be distracted.  You can even "lock" your zippers with the D-rings at each end of the bag… your anti-theft features hard at work for you!
There is a slick, hidden water bottle pocket built into one of the sides of the tote.  This is nice, as the bag is already fairly wide, and it prevents adding even additional girth with a pocket being on one of the ends.   It's fairly slim, and seems to work best for 12-16 oz sized bottles.  When I'm using my 24 oz water bottle, I just put it inside the tote.
Last, but not least, is the front organization panel.  This fairly large section on the front of the Travel React tote adds both an attractive design feature, and very handy way to locate your smaller items.  It's like a mini-purse, and is a wonderful bonus that you don't typically find in a tote bag.  There's even a tethered key clip with a little LED light, to locate things in low light conditions.
Overall, I've never seen another bag quite like this, and I think it's fantastic.  With so many use options, comfort, and capacity… you can't go wrong investing in this tote bag.  The Travelon Anti-Theft React Tote comes in four lovely color choices:  black, stone, aqua, and magenta.  It's available for purchase online, and sells for $110.
Follow Travelon here, to learn more about their great travel products:
Note:  www.travelonbags.com does not ship products outside the US and Puerto Rico. To find an international retailer in your area that sells Travelon products, please visit: http://www.travelonbags.com/where-to-buy
Travelon Anti-Theft React Tote Giveaway
Travelon has agreed to give one of my readers an Anti-Theft React Tote bag!
Open to US and Canada residents, ages 18+.  Enter using the form below.
*o*     *o*     *o*
I received the tote bag described here at no cost, for the purposes of performing this review.  All opinions is my own.