One could argue that the combination of Aspen trees turned golden, interspersed with evergreens, against the back drop of the Rocky Mountains is one of the most beautiful sights offered up by nature. Behold Fall in Colorado!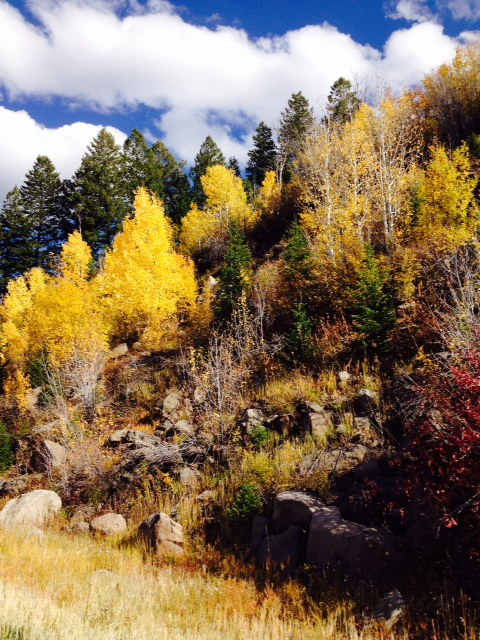 From my valley home location, I can literally gaze up and do a visual check of the Fall color level on the ginormous, nearby Grand Mesa.  It was clearly peaking.  So it was clearly time for my family to head up last weekend and soak it all in.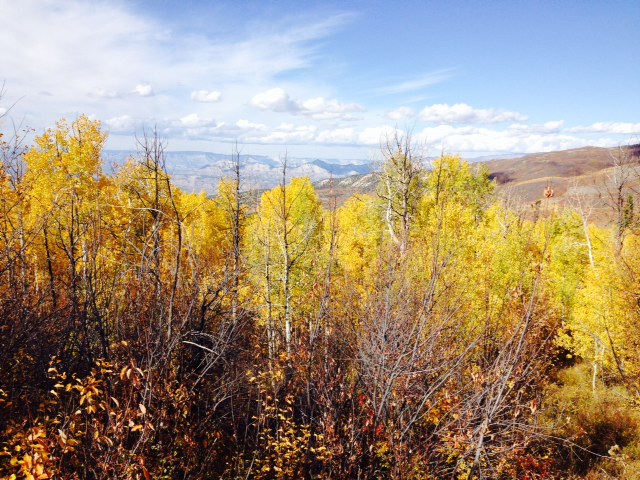 As you drive up the Grand Mesa Scenic Byway (Hwy 65), you'll pass the Powderhorn Ski Area.  Shortly after that, on your right will be a rest area and fairly large parking lot pull off, at the base of a cleared hillside.
This is what locals call "Old Powderhorn", the site of the original ski hill, turned  to the very-fun-yet-somewhat-treacherous sledding hill of today.  There's a scary disclaimer sign with death and paralysis warnings.  No life threatening ice and snow last weekend, though… and this is a great spot to get out and explore the numerous trails.
If you veer along the right, you'll hear and quickly spot a stream in the trees.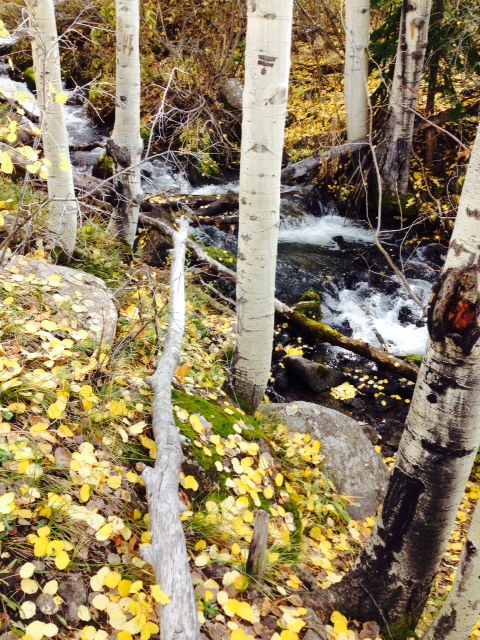 …aaaand now we've got peaceful, relaxing audio to add to our idyllic scene.  Bliss!
Many families were taking Fall family photos in the area that day.  The available backdrops, natural seating props, and range of colors were perfect.  Such a such a great idea!  I wish we had been prepared to do the same.  As in, I wish I had showered that day, and that my growing-like-weeds children weren't both wearing mismatched play clothes pants that were 3 inches too short.  Bygones.
If you follow the stream uphill a ways, you'll come across a foot bridge so you can explore the other side.
Some more of our finds…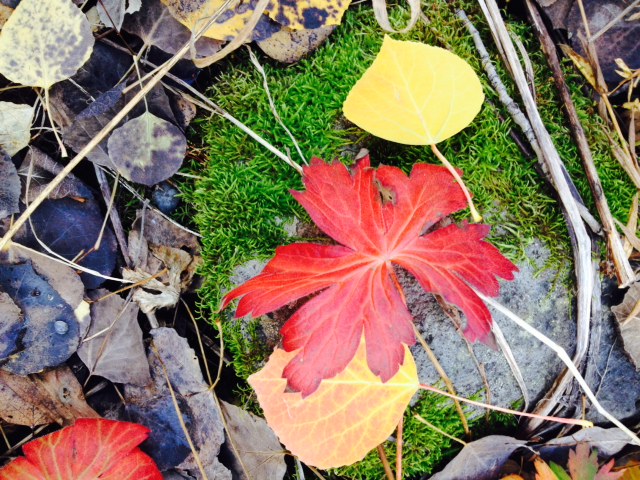 Seriously. So pretty!!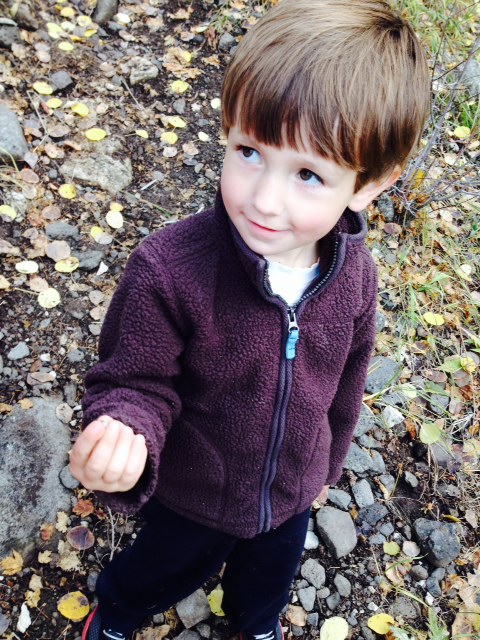 I don't claim to understand why they're here, but there are always tiny snails to be found embedded in the muddy trail.  The kids get a real kick out of finding them.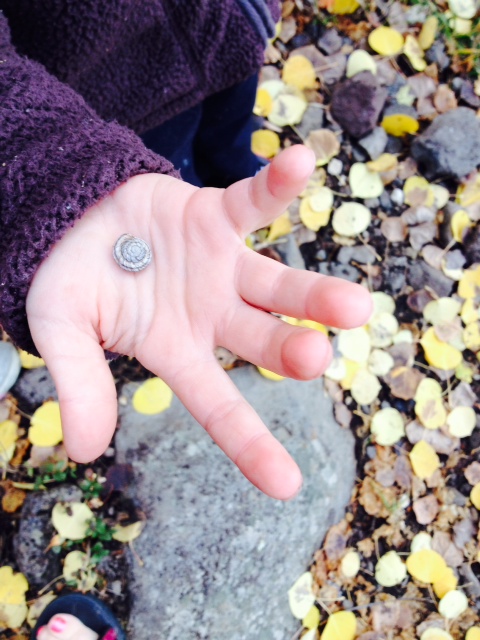 And the dads get a kick out of doing daring things like trying to capture video footage of waterfalls.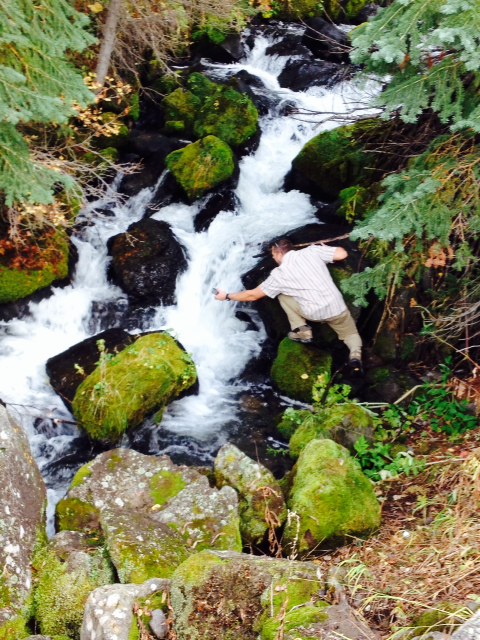 That's pure Rocky Mountain stream water, baby!  Nice.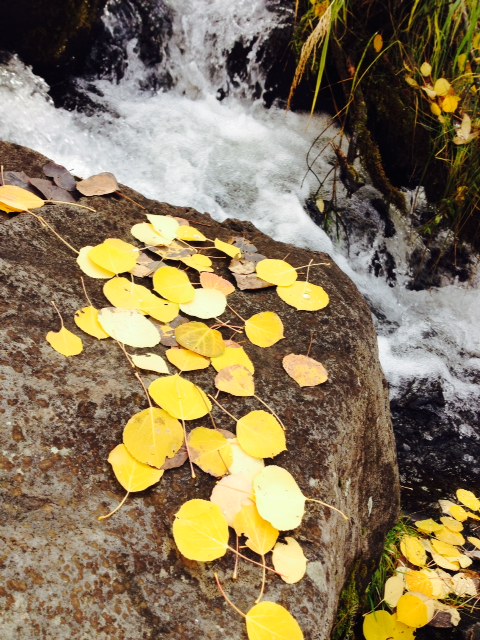 And this, as we turned to head back down the mountain.  Be still my heart.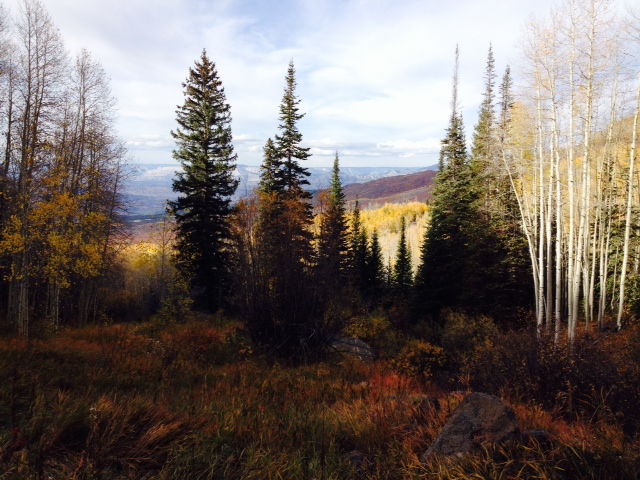 Our snacks all consumed, and still a ways from home… alas, it was suppertime and we were hungry.  We decided to stop at a local's favorite diner, the Wagon Wheel in Mesa, CO, on the way home.
But first, a sad background tale.
Growing up, my husband used to receive a special edition Hess model truck every year from his father.  He has meticulously saved them all, and has been slowly sharing them with our young son.  The hands down favorite?  A police car, with a sweet glide and a no-longer-found-in-toys quality heft of just the right amount.  My son loved, loved, loved his police car… and took it with him everywhere.  Until one day it was gone.  We lost it about a year ago, and he was very sad for a very long time over the ordeal.
Ok, fast forward back to our "Fall in Colorado" gorgeous adventure day.  We head into the Wagon Wheel on this fine Saturday evening, and mosy (because that's what you do at the Wagon Wheel) back to a corner table.  They have good fries here, and we're all pretty stoked about eating.
As if this day could get any better, an Authentic As You Can Get Cowboy Band sets up in the corner and starts serenading us with live music.  I don't know about you, but I totally dig experiencing part of the local flavor at moments like this.  (I posted a short video of them singing Johnny Cash on Instagram.)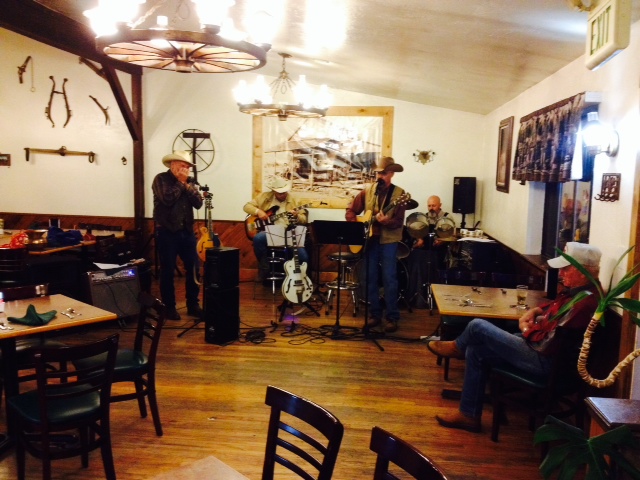 And then something wonderful happened.
The cowboy on the left started playing the harmonica.
No, wait. That wasn't it.
My 4 year old son points up to something high, and squeals with glee, "MY POLICE CAR!!!"
There it sat, patiently waiting for him to return one day, carefully set aside on a high shelf.
Now that's something that doesn't happen every day. A perfect ending to a perfect day.
*o*    *o*    *o*