Being a savvy, hassle-free traveler these days means being organized, and traveling light. The bad news is, that can be very challenging. The good news is, there are many great travel organization products out there that can help a great deal – including those offered by Travelon.
This month I've teamed up with Travelon to identify some of their best selling travel accessories, toiletry bags, and organizers to help give you a travel packing makeover, so you can start packing smarter.
Travelon Travel Accessories, Toiletry Bags, and Organizers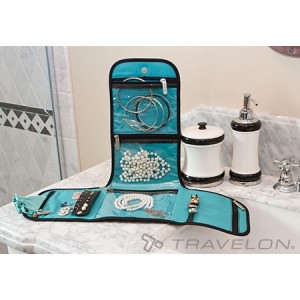 Let's start with your accessories.  Have a tendency to pack way too much jewelry?  Or have a hard time finding those small pieces in your suitcase?  Try out the compact, organized solution offered by this cute Folding Jewelry Organizer.  It has plenty of zippered compartments, clear vinyl to see contents, a snap down ring strap, and even a place to hook your earrings.   (Which I thought was kind of silly at first, but I tried it on my last trip and LOVED having my earrings displayed like that!)
I'm often daunted at the thought of using exclusively a carry-on bag for airline travel, and not being able to take more than 3.4 oz of liquid along.   Actually, it's called "the 3-1-1 Rule":
For carry-ons, liquids, gels, aerosols, creams and pastes must be 3.4 ounces (100ml) or less per container; must be in 1 quart-sized, clear, plastic, zip-top bag; 1 bag per passenger placed in screening bin. The bag limits the total liquid volume each traveler can bring.
Here, how about you try this?  Travelon's Wet/Dry 1 Quart Bag with Plastic Bottles just took all the guesswork and anxiety out of that for you.  What a slick little case!  Totally 3-1-1 compliant, and there are even 2 mini .5 oz jars.   Plus it folds up into a compact case that's easy to pack and takes up minimal space.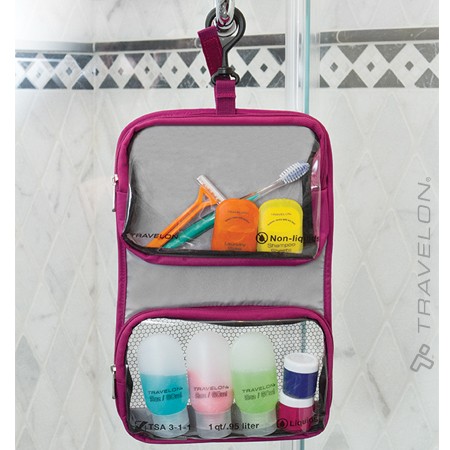 Packing cubes are gaining in popularity, and make it much easier to find your things and keep them organized in your travel bag.   I really like Travelon's set of three lightweight packing organizers, with rip stop fabric along the edges and a mesh cover for ventilation (works great to separate dirty clothes during your trip) and visibility of contents.  They have a carry handle on the end, are feather weight, and the set features three different colors.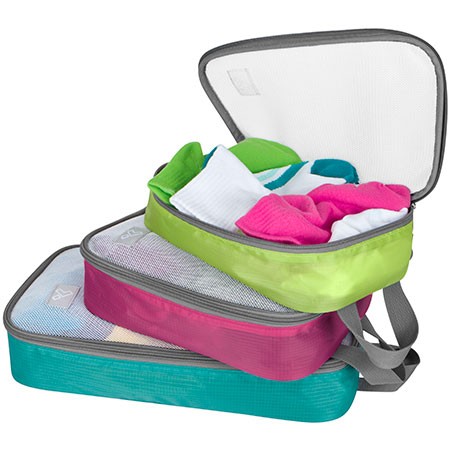 And if you do decide to check your bags, a small travel bag scale can be a lifesaver.  We use one before every trip, and actually even take it along so we can make sure our souvenir-laden bags don't tip the scales over the 50 lb limit.  It's so stressful to get to the airline counter and find out you need to trim 5 pounds from your suitcase contents!  Like I said.  Lifesaver!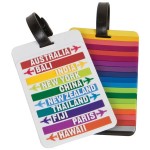 Don't forget to add some practical flair to your bag, for quick and easy identification.  Travelon offers some unique, high quality identification luggage tags.   (How cute are these?  My 9 year old daughter wasted no time in asking to "share" them with me!)
And I love this idea for spotting your black bag instantly on that turnstile… pick from three vibrant colors of molded handle wraps.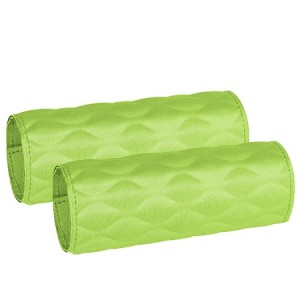 And although I have not had a chance to personally try them out yet, Travelon also offers Space Mate Compression Bags.  These are airtight and can triple your storage space.  They are reusable, and can be used with or without assistance from a vacuum.   You could definitely fit more into your 18″ carry-on by using a couple of these in the medium size.
Their travel accessories are quite handy and well thought out, but let's not forget about one of Travelon's core specialties:  Bags!
Travelon Bags ~ Crossbody Tote and Wheeled Underseat Carry-On
Check out the awesome new Packable Crossbody tote.  When folded, throw this lightweight and compact pouch into your vehicle or your airline bag, and you'll be prepared for any day adventures that spring up.
This brilliant new offering by Travelon folds compactly into a 7.75 x 5.75 x 2 size, has two generous exterior water bottle holders on each end, and unfolded is an absolute ideal size to carry your camera, picnic lunch, hoodie, camera, and tablet.  I love that it can be worn either over the shoulder or cross body.  It's crazy light, and made from stain resistant and durable ripstop fabric. I will be using this smart tote for much more than just travel.
And now on to the headliner:  the sleek and compact 18″ Wheeled Underseat Carry-on Bag.  Underseat, you say? Yes, and while this guy is not huge… I love being able to slide it under the seat in front of me.  Whether it's a smaller plane with overhead compartments that don't accommodate full sized carry ons, or just the typical battle zone the fighting for overhead storage space has become – no worries here.  You can keep your bag with you, no need to gate check.
I'd estimate that you could pull off a 2-3 day trip with this bag, plus it has both a pocket for a tablet AND a padded interior sleeve for a laptop.  It's curved shape makes it a very attractive design, and the handle glides nicely out to a generous length even for a tall girl like me to pull effortlessly.
Now that you're all excited and impressed with this great lineup of packing and travel products by Travelon, how about a giveaway?
Travelon Packing Makeover Giveaway –  #TravelEasier #PackFlat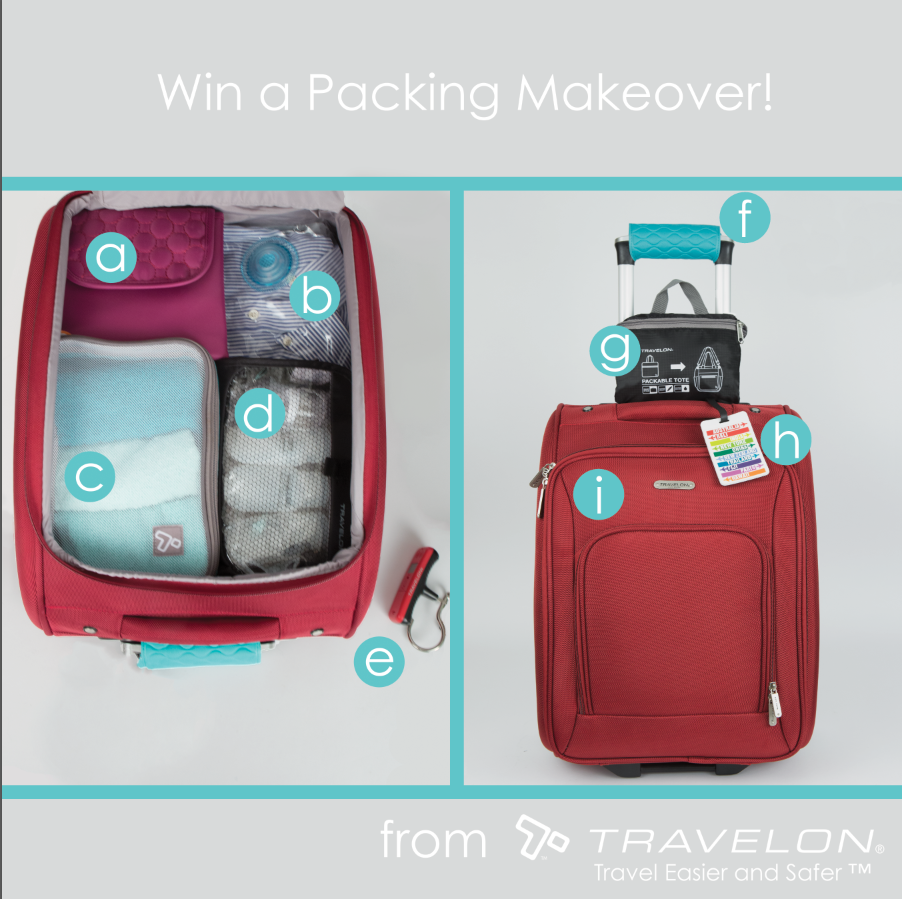 This amazing "Travel Makeover" Travelon Product Giveaway Package includes:
a – Folding Jewelry Organizer
b – Set of 2 Compression Bags, Medium
c – 3 lightweight packing organizers
d – hanging Wet/Dry 1 quart+ bag with bottles.
e – micro luggage scale
f – Set of 2 Modable Handle Wraps
g – Packable Crossbody tote
h – Set of 2 luggage tags
i – 18″ Wheeled Underseat Carry-On
This prize package will help you #TravelEasier and #PackFlat, and has a combined retail value of $281! And I will be selecting not one, but TWO winning readers!
We'd love to hear from you – leave a comment below: Are you an organized traveler, or could you use some packing organization help?
BONUS: During this fun Travelon Packing Makeover Campaign, be sure to Tweet any pictures of your current luggage or packing items to @Travelon_Bags and receive bonus entries! You can also just tweet any packing tips or tricks you have to share, or ask the Travelon experts any questions.
Open to US residents ages 18+, where not prohibited.
*o*     *o*     *o*
I received the products described here at no cost, for the purposes of performing this review.  All opinions are my own.