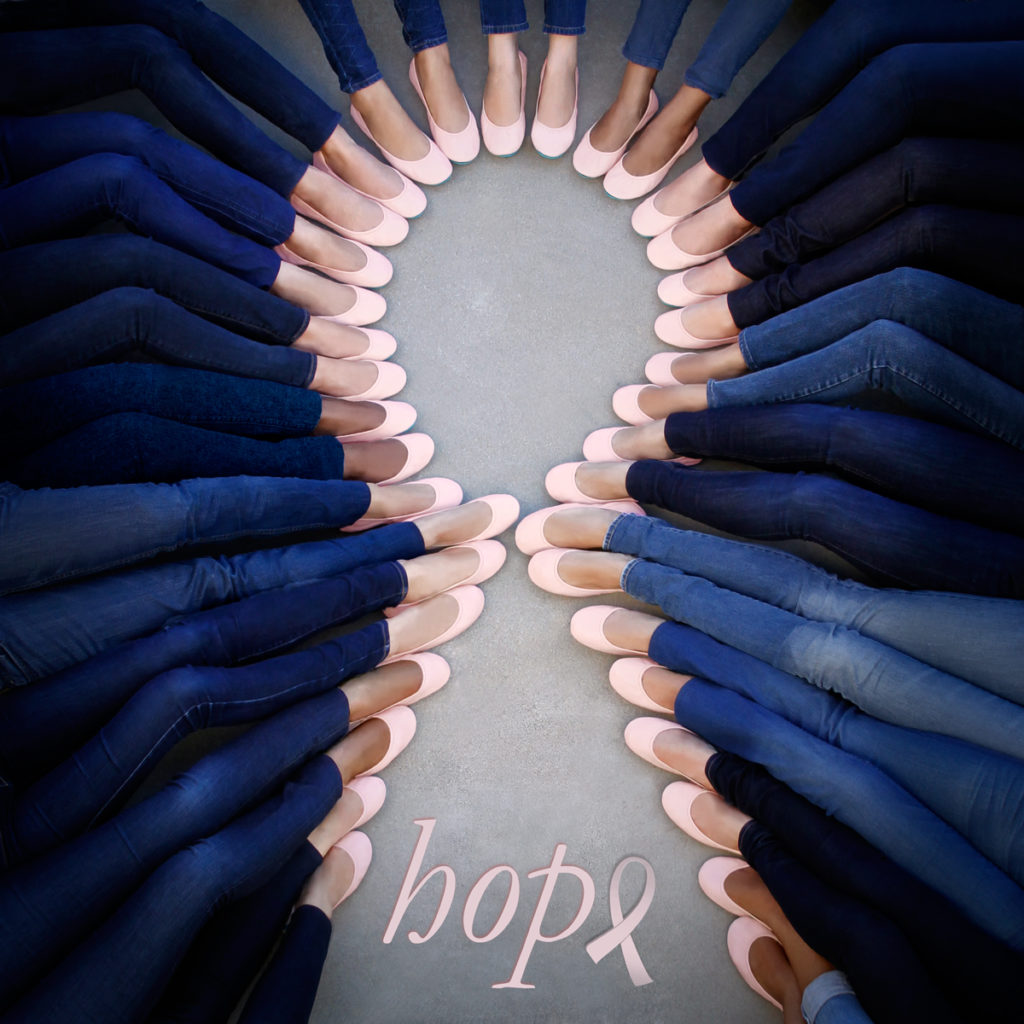 During the upcoming month of October, you will hopefully see some buzz about it being the month of Breast Cancer Awareness.  This may come in the form of spotting the pink ribbon which serves as an emblem of sorts, a friend or coworker wearing an inordinate amount of pink, or perhaps in a blog post like this one.
Honestly, I typically pay no mind to such things.  But thanks to a timely nudge from Tieks, who has teamed with the American Cancer Society to help promote awareness during October, I realized just how important this informational campaign is and decided to join in.
Because 1 in 8 women in the  United States will be diagnosed with breast cancer in their lifetime.
What?
Scary.  BUT… the good news is:
When breast cancer is detected early in the localized stage, the 5 year survival rate is over 95%.
Ok, now do you see why supporting your pink sisters this month is such a good bandwagon to jump on?   That even though breast self-exams, clinical exams, and mammograms are not exactly a party… they are simple, and could be life saving.
This last year I went in for a mammogram, and was happy to see an old friend working at the receptionist desk.  "How are you!?" she cheerily inquired.  Not one to mask my emotions, I had to confess, "Heya, kinda crappy!  Yeah, I really HATE coming here for this." She chuckled and instantly empathized with me.  "I know", she said kindly.  "No one likes coming here for this."
But it made me feel better.  Because let's face it, we girls are all in this together.   And it's certainly not too much to ask to take care of yourself in such a way, when ignoring detection methods is something that could have such long term, deadly consequences.
#BreastCancerAwareness During October
This is a survivable cancer.  Let's all join together to spread the pink love and support #BreastCancerAwareness during October.  Whether it's by wearing something cute and pink that spurs someone to ask you why, or just by helping share articles like this.  And please give serious thought to adding detection strategies to your personal health regimen.
MOST IMPORTANT TAKEAWAY:  Here are some ways to increase your chance for early detection:  http://www.cancer.org/cancer/breastcancer/detailedguide/breast-cancer-detection
 *o*     *o*    *o*
As a tried and true fan of Tieks, they sent me a lovely pair of Ballerina Pink Tieks – gorgeous, foldable Italian leather flats – to help celebrate and promote #BreastCancerAwareness this month.  Professional image courtesy of Tieks.