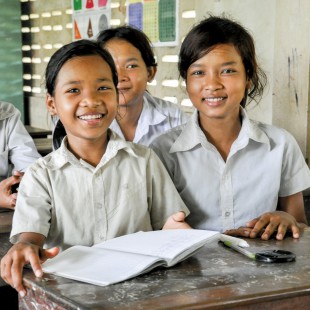 If you aren't familiar with them, World Vision offers a fantastic concept in gift giving. Featuring more than 250 items which are available either online or from their print catalog, each purchase you make will help improve the quality of life for women, children and families in the U.S. and around the world.
Browsing their catalog is heart warming, full of beaming, smiling faces hoping for a chance to go to school, have clean water become available nearby, or to welcome a new goat to the family!
Yes, those are real things you can purchase through World Vision, and donate to a family or child in need.
Here's a cool example.
For $35, you can donate 5 ducks to a hungry family in the Phillipines! They'll benefit from hundreds of large, protein-rich eggs all year long. Extra duck eggs and hatched ducklings can be sold to buy medicine or help send a child to school.
A duck also offers valuable down-feathers, famous for their thermal insulation and padding — great for use in bedding materials and warm clothing, or to fetch much-needed income at the market. Ducks even produce fertilizer that can dramatically increase crop yields.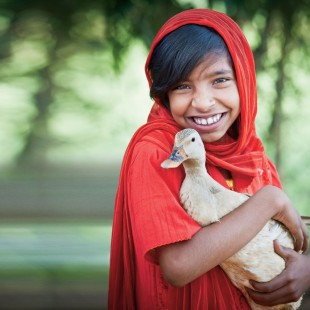 World Vision Handcrafted Gifts ~ Balinese Necklace
Another great option is to select from World Vision Handcrafted Gifts that include a nice variety of beautiful accessories.  These purchases in turn help support the diverse and talented craftsmen who make them – in countries such as India, Vietnam, Guatemala, or Kenya.
Chose from a lovely variety of everything from silver cuff bracelets, hand carved African soapstone boxes, hand woven silk scarves, a tote or purse, to a variety of necklaces and bracelets.  I chose this lovely Balinese Multi-Strand Necklace….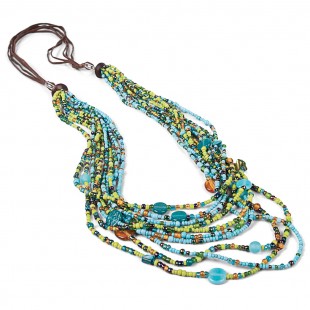 It arrived in a pretty jewelry pouch, gift wrapped in a sheet of white paper with a heart drawn on it in red marker – awwww!  I thought that was a really neat, personal touch.  It's long and quite beautiful, I love the ocean blues and earthy greens and browns.  This particular necklace is handmade by an artisan in Bali who helps children get the education she never received herself.
Watching this short video clip (less than 1 minute) will give you a great look at a few of their most popular World Vision Hand Crafted Gifts.  Beautiful!
World Vision Gift Catalog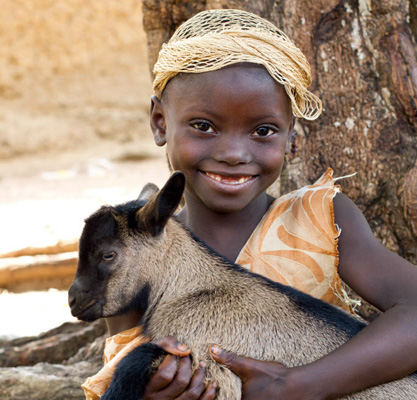 Since it began in 1996, the World Vision Gift Catalog has grown in popularity as a gift-giving alternative; last year alone more than 822,000 people were helped through the Catalog.
To order from World Vision's Gift Catalog, visit www.worldvisiongifts.org or call 855-WV-GIFTS.
Learn more about World Vision on their Facebook page at /WorldVision and Twitter at @WorldVisionNews using the hashtag #GiftCatalog.
Balinese Necklace ~ The Giveaway
World Vision has offered to send one of my winning readers a beautiful Balinese Multi-Strand Necklace, which sells for $85.
Enter using the form below.  Open to US residents, ages 18+.  Void where prohibited.
*o*      *o*      *o*