Last week my family vacationed at Disney World.  And as is true of anyone reaching the conclusion of a fun filled vacation… we were very sad to see it come to an end.   This is how we felt, waiting for the Disney Magical Express to pick us up and take us back to the airport.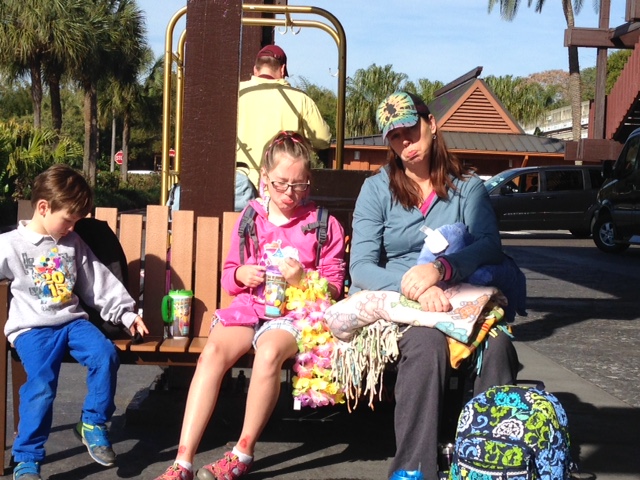 Even if you are generally a positive person, this is something that's hard to rally from.
You save, and plan, and save, and wait, and save, and anticipate, and save… for us, a year or more.  The trip is fantastic, but a total whirlwind that feels like it passes in the blink of an eye.  And then it's over.
As we were frantically zipping up suitcases, and stuffing souvenirs in every nook and cranny we could find, we heard the bell hop's knock on our hotel room door.  He's there to help us with our bags, and when we finally make clear to our 4 year old "we're leaving Disney, we have to go" – he breaks down in tears.  Not really even tantrum-type tears (he's got those, too), but more the heartbroken-type tears.
The elderly bell hop gentlemen steps into our room, and immediately assesses the situation.  "We see a lot of this", he kindly remarks.  He tries to reassure my young son that he'll get to come back and see Mickey again some day.
My husband attempts some levity, as frankly we're all pretty much feeling like what J is so verbally expressing.  "I guess all good things must come to an end, right?", he jokes to the Cast Member.
To which our wise bell hops replies, "Well, I prefer to think of it as 'all good things must relocate'".
Bam.  Awesome.  There it is.
I wanted to give him a hug.  It not only cheered me up, it was a perfectly timed perspective check, and reminder of positivity.
We have so many good things in our life to be happy about, and grateful for.  The 7 days of vacation each year are not, and should not be, the only time we feel happy.
Relocate your good things wherever *you* go.  Take your happy with you.  🙂
*o*    *o*   *o*