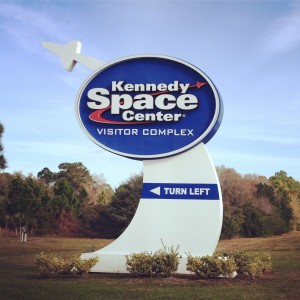 Spurred on by a great blog post I read featuring Kennedy Space Center (KSC) as a destination for families, we recently carved out some time from our Florida vacation for a visit.
Not having been there since I was a kid in the 80's, I wasn't quite sure how much activity it still had, or what they showcased there these days?  Turns out it's a robust and thriving visitor complex, with more to see and do than ever before!  It was a pleasant surprise, which offered both learning and fun for my entire family.
While we did not get to see everything (there's a LOT to do and see!), or experience every tour, here were our Top 5 Experiences at Kennedy Space Center favorites, along with a couple of tips for your family's visit.

Top 5 Experiences at Kennedy Space Center (KSC)
When you arrive, the beautiful entrance way greets you in style.  Maps are available, and you'll want to grab one to check out all that's available.  Hours are typically 9am – 6pm, although please reference the website for information regarding the day you plan to visit.  The most common complaint comes from people who *didn't* arrive early, wishing they had known there was so much to see!
Let's roll through these in countdown BLAST-OFF fashion, shall we?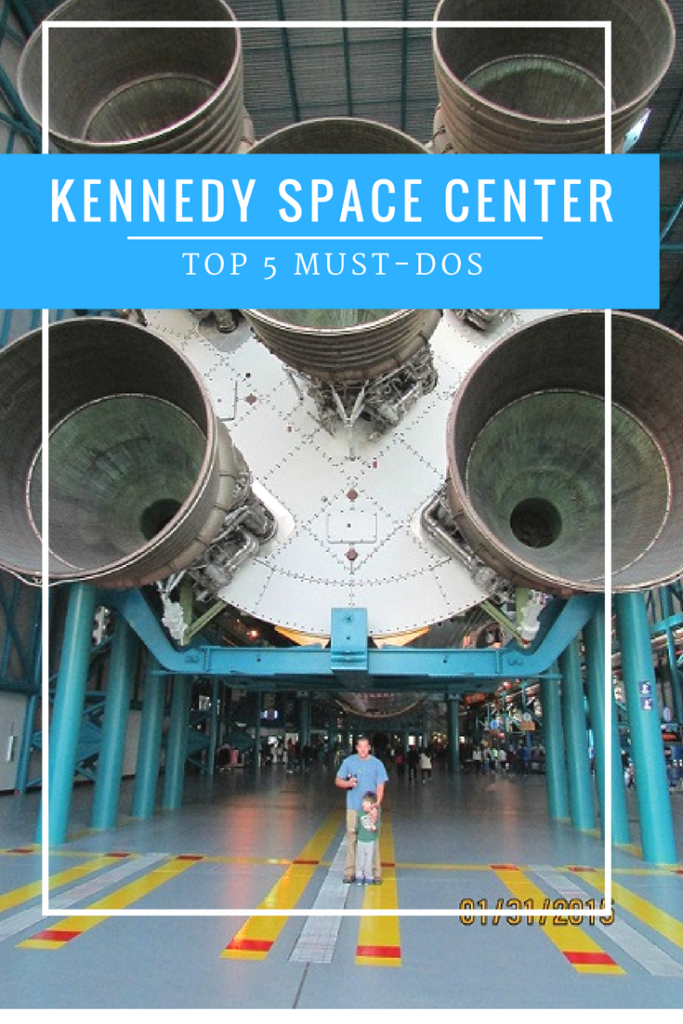 KSC Favorite #5:  Children's Play Dome
This is one of the first things you'll come to once entering KSC, and both my 4 and 10 year olds begged to stop and play for awhile.  It's a nice shaded area with tables for the adults, and would be a great place to stop and eat mid-day while the kids play.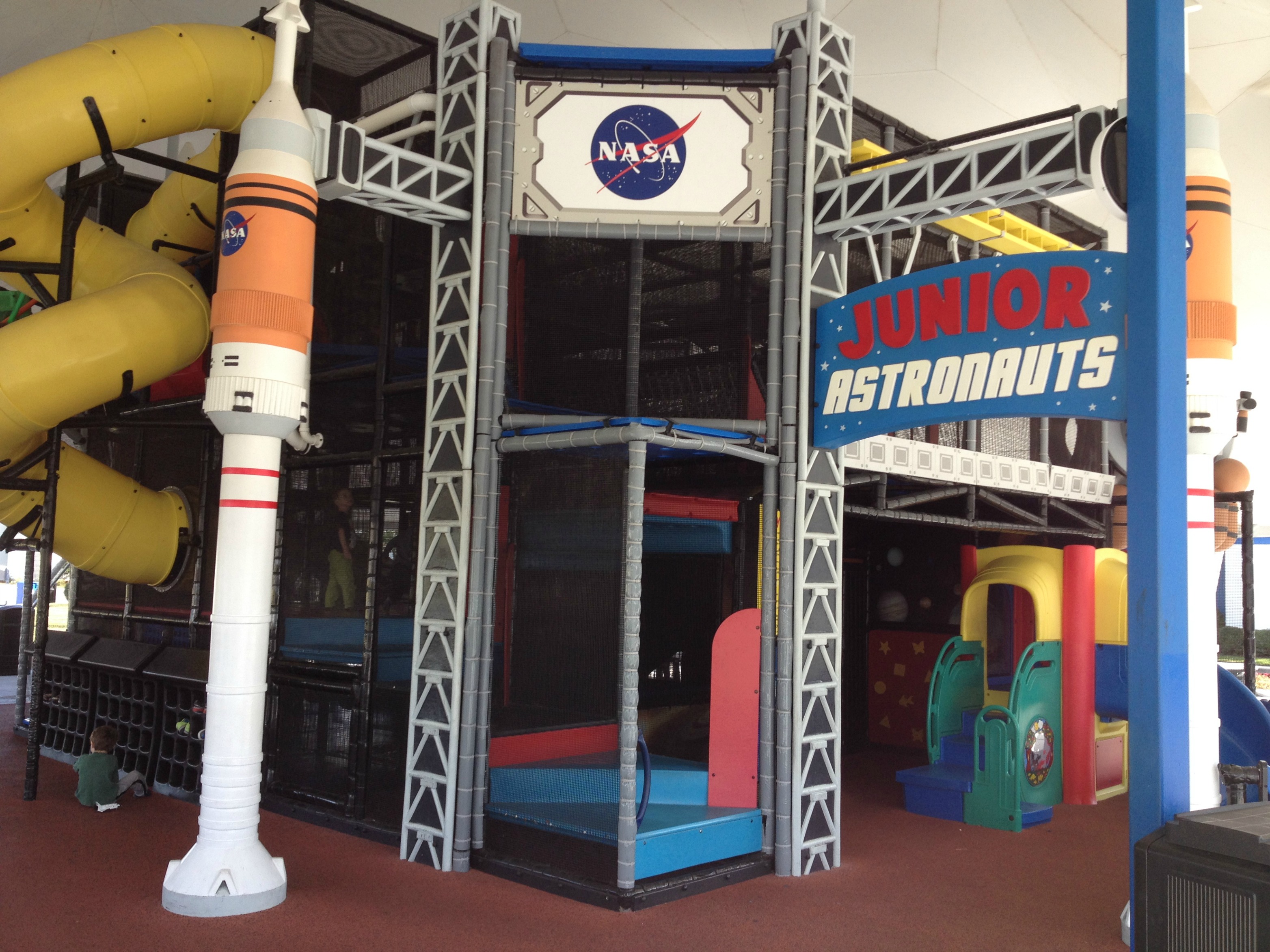 KSC Favorite #4:  KSC Bus Tour
A must-do, you could say this is the heart of a visit to Kennedy Space Center.  This tour will take you past some iconic and legendary KSC buildings, sites, and equipment that are well worth taking the time to see.  The end destination is the Apollo/Saturn V Center, giving you an appreciation (and even real life simulation!) of what it was like to send a rocket to the moon… and the size of boosters it took to get there!  Buses are available every 15 minutes.
Here are some highlights: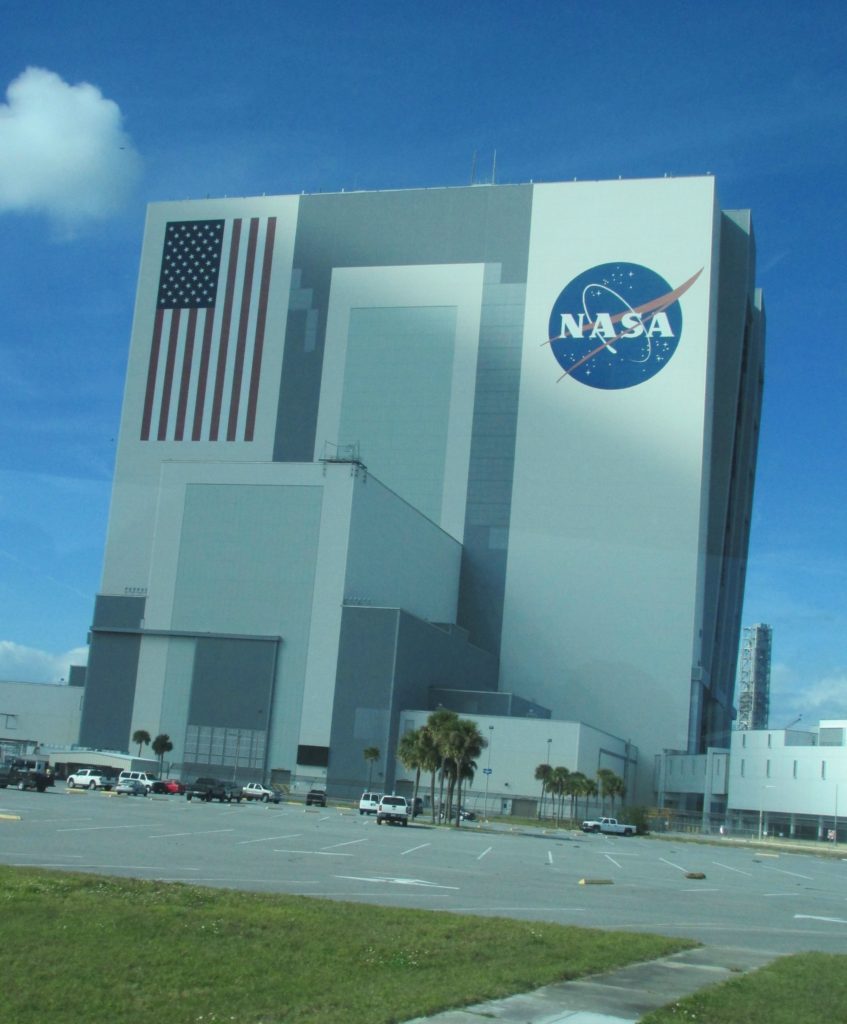 The mighty VAB:  Vehicle Assembly Building.  (One of the main things I remember from my KSC trip as a 13 year old was this impressively huge building, and that the stars on that flag are 6 feet tall!)  Our bus driver filled us in on some interesting details.  Built in the 1960's, before computer drafting software, by engineers with paper, pencils, rulers, and erasers.  It was the largest building by cubic volume in the world.  It's a marvelous feat of sturdy and useful architecture, has withstood multiple hurricanes, and is still the 4th largest building by cubic volume in the world.
We saw some great Florida wildlife during the tour as well, including some awesome birds, 2 bald eagles, 3 alligators, and an armadillo!  (Perhaps they are glorified rats to some, but I found my first-ever armadillo sighting pretty exciting.)
KSC Favorite #3:  Hubble 3D, IMAX Theatre
Two IMAX movies are offered, and are included with your admission price.  You could attend both, but because they are 45 minutes long, we just chose one:  Hubble 3D.  We all thoroughly enjoyed it – it was fascinating, breathtaking, and mind blowing all at the same time!
KSC Favorite #2:  Astronaut Encounter
Each day a real astronaut who has spent time in space is at KSC and available to meet at Astronaut Encounter.  They give a brief talk to slides, at show times throughout the day.  "Our" astronaut was Barbara Morgan, and this turned out to be one of my absolute favorite things we did during our visit to Kennedy Space Center.  She showed slides, and talked us through what it was like to travel to the international space station to work for 2 weeks, along with answering questions from the audience.  Highly recommend this!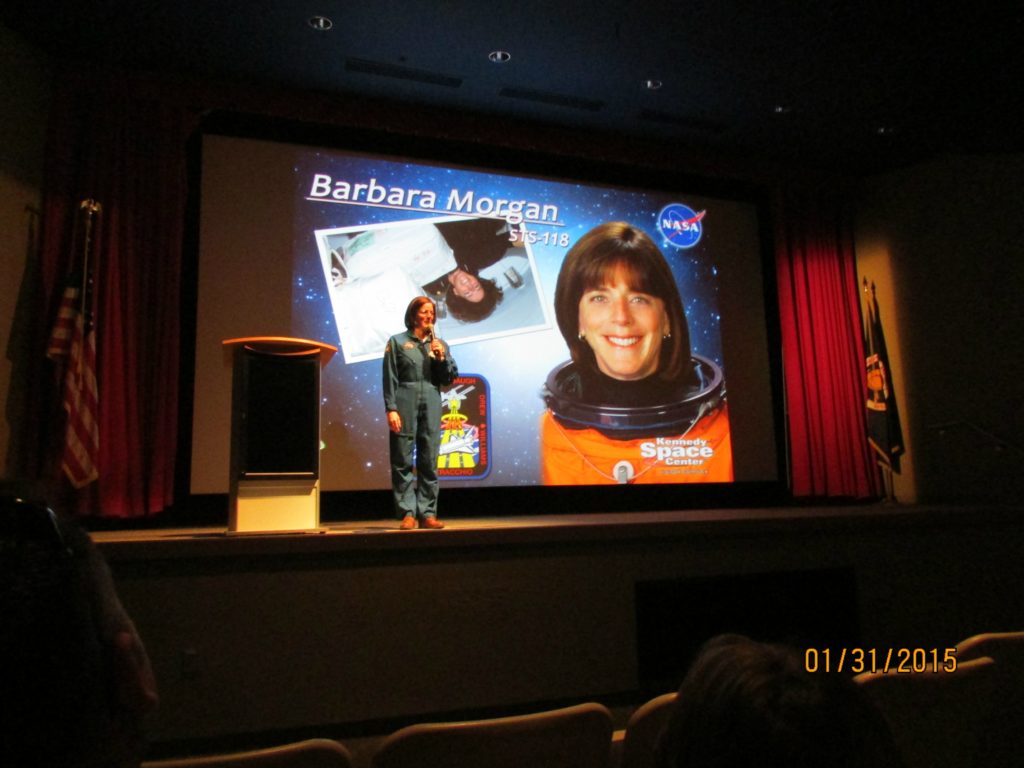 KSC Favorite #1:  Space Shuttle Atlantis
THIS blew me away.  Perhaps it's because space shuttle trips flights have been in my lifetime, but for me seeing the real Space Shuttle Atlantis up close and in person was the most thrilling part of our experience at Kennedy Space Center!
The Atlantis was amazing, and beautifully displayed.  It's suspended as if floating in space, and you can see it from below on the first floor, or at eye-level from the 2nd floor.
And if you attend Astronaut Encounter, your astronaut describes to you how they work out of the shuttle and that open top compartment, along with the types of tasks they go to perform at the international space station.  Very interesting stuff!
Although now retired, the Atlantis has a most impressive history: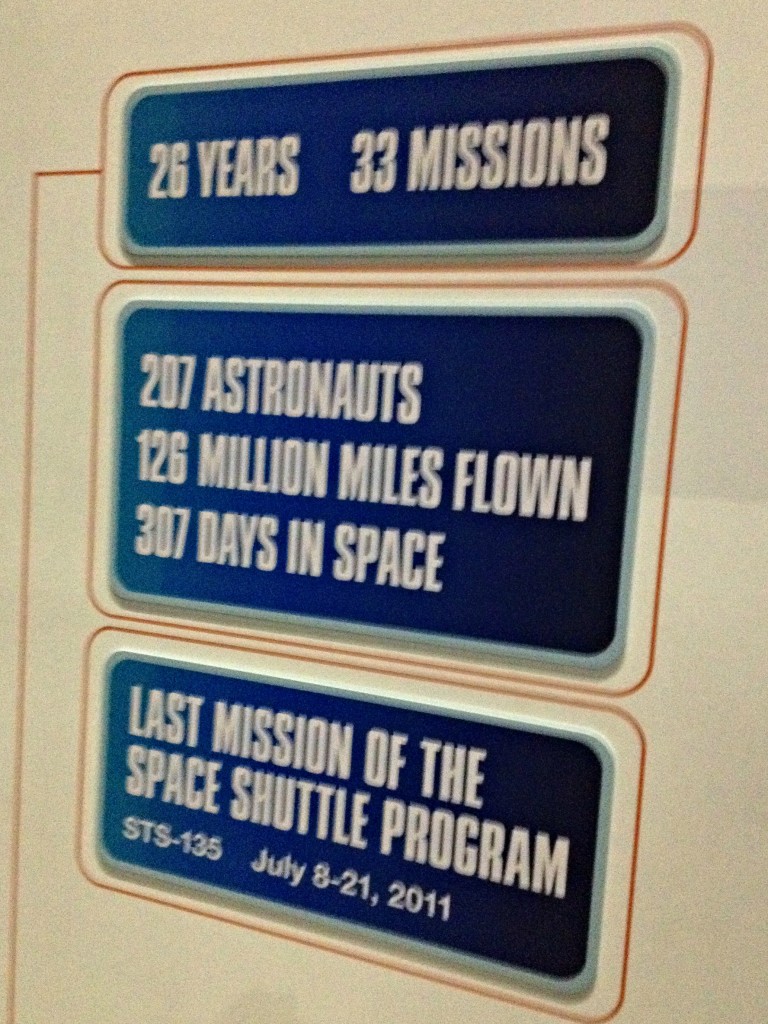 My Best Kennedy Space Center Tips:
Head to Space Shuttle Atlantis Center first.  It's towards the back of the visitor complex area, almost behind and to the left of the bus tour loading area.  We went there last, had very little time (and were tired by then), and I know we missed some incredible stuff.  It's the newest pavilion, and in my opinion, it was the most impressive exhibit they have.  Awesome!
Even Pre-schoolers are not too young to experience KSC.  I worried we should perhaps wait, as most of the impact would be lost on our 4 year old?  Not true.  There are many kid friendly, hands-on and interactive exhibits to engage, interest, and entertain them.  They can even climb into a space capsule!   Both of my kids thoroughly enjoyed our day here.
We can't wait to return to Kennedy Space Center and do some more exploring!  I highly recommend adding this to your family's Florida trip itinerary.  It's as fun as it is inspiring and educational.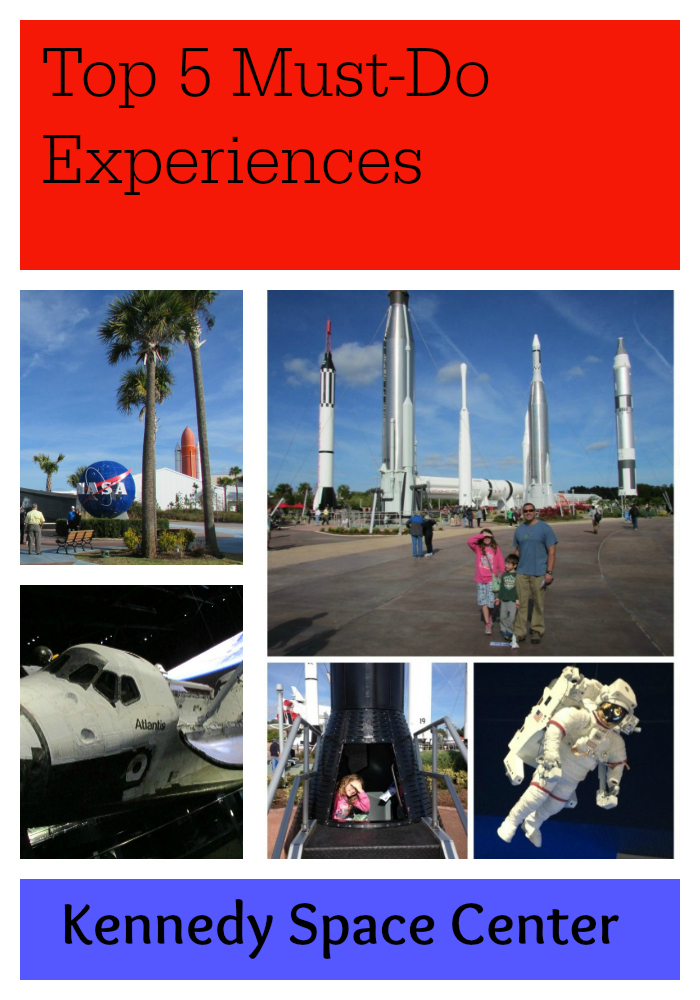 *o*    *o*    *o*
I received complementary passes for myself and my family to Kennedy Space Center, but all opinions are my own.