We recently had a chance to participate in the Disney at Home Celebration campaign, where Disney parks sent out a big box of party goodies to host our own #DisneySide party with family and friends.  My preschooler son is age 4, and a fan of all things Cars.  Here are the highlights of our recent party, plus some Disney Cars Party Ideas you can use to host your own party!
Also, be sure to check out this great resource Disney has put together for anyone to use, full of Disney Side Celebrations themes, activities, and recipes inspiration.  I've got a free printable that I created for you to use at the end of this post, but they have many cool game and activity resources you can print for free from that website, too.
D
isney Cars Party Ideas ~ Food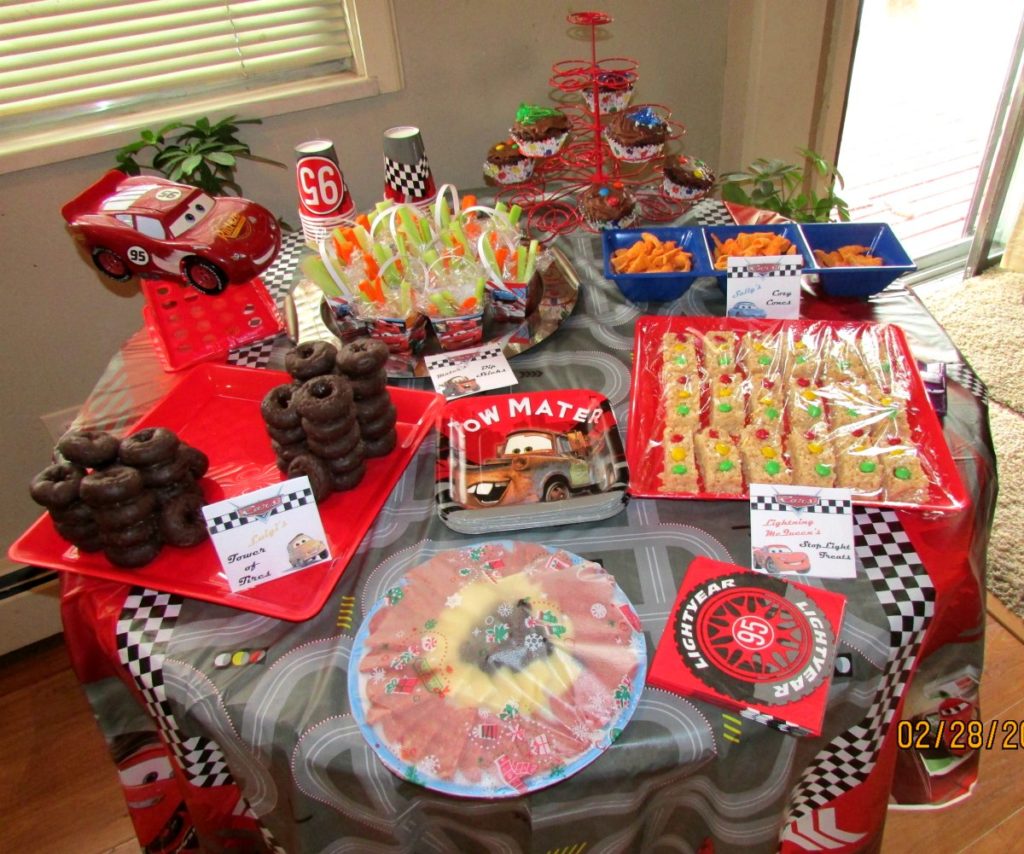 I liked the idea of theming the food with cute Cars logo names and labels.  We went with:
Sally's Cozy Cones (Bugles)
Luigi's Tower of Tires (mini chocolate donuts)
Lightning McQueen's Stoplight Treats (brownies or rice krispie treats with 3 colored M&Ms)
Mater's Dip Sticks (carrots and celery, in hopes of offsetting the sugar overload)
A friend and my mom also volunteered to make some luscious, frosting laden and fudge-filled cupcakes.  Wreaking havoc on my 6 Week Fitness Challenge, but a welcome party addition nonetheless!
Although I'm not too creative when it comes to party food, Pinterest certainly has a plethora of ideas… some of them even simple enough for me.  My kids helped the night before, in making our "stoplight treats".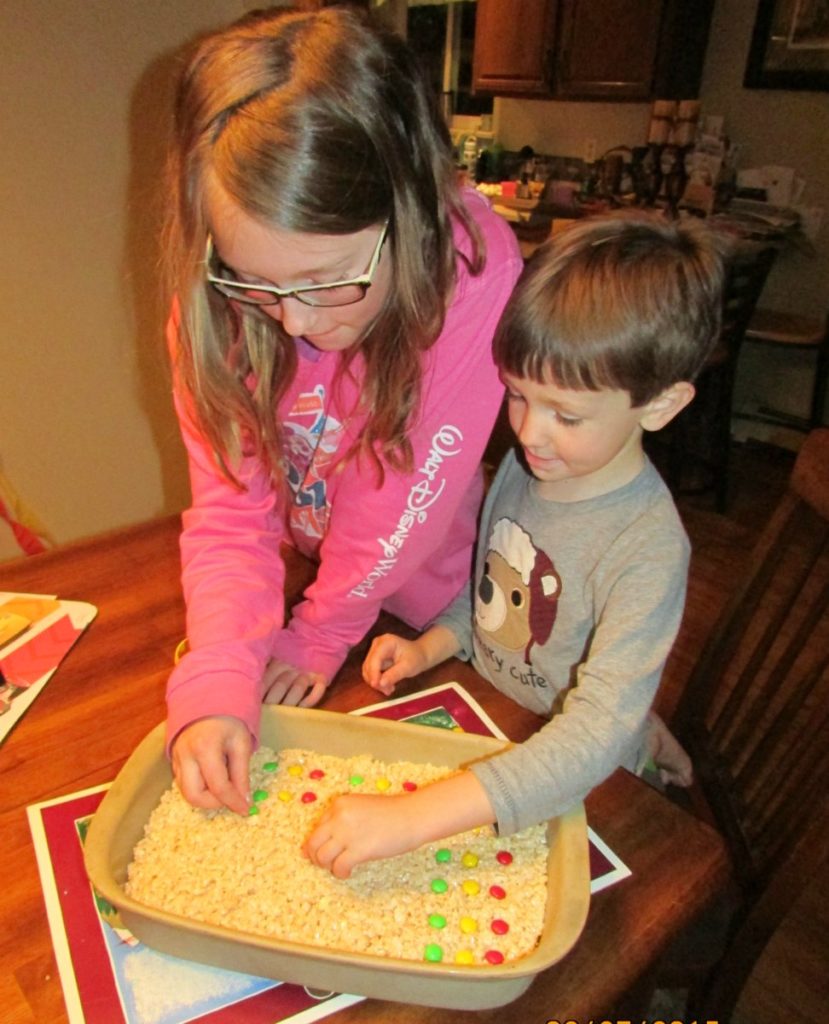 I'm always mildly surprised when kids grab some of the healthy food at a party like this, but honestly most of them do.  Perhaps offset the stomach-aches?  🙂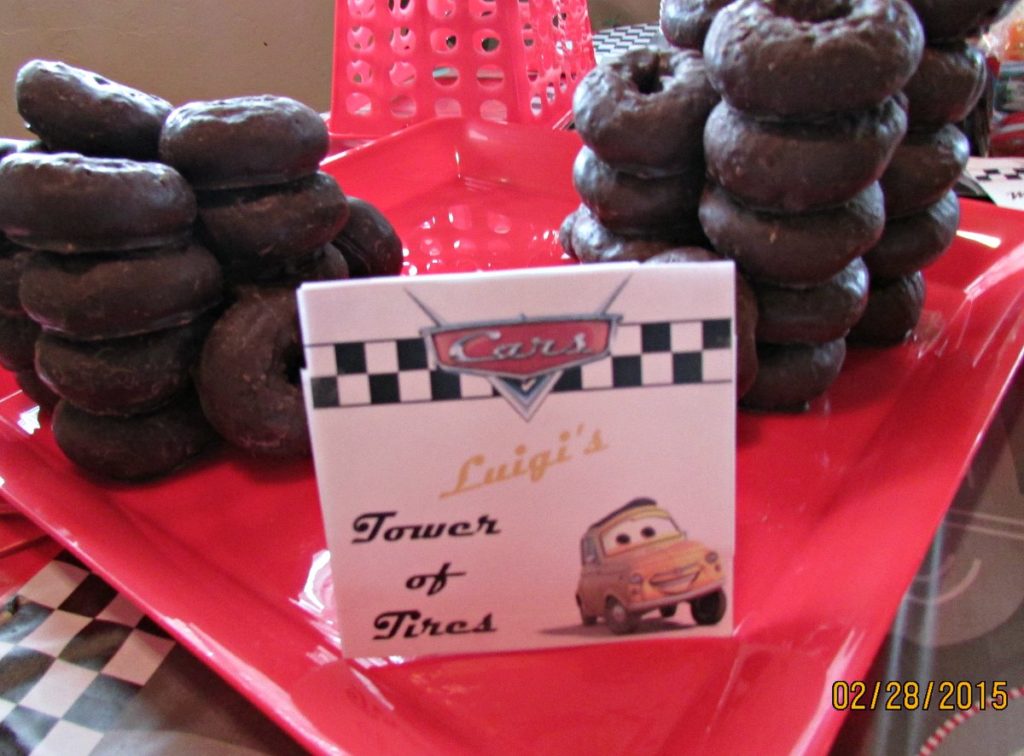 We need to have some cute themed drinks, too  – right?  We went with Filmore's Organic Fuel (iced tea), and Mack's Rust-eze / Antifreeze (blue raspberry lemonade).
Just a note for a party with little boys, a good tip I overheard from my friend lecturing her 5 year old son.  If you're serving blue "antifreeze" at your Cars party, be sure to clarify, "Now when you see this in daddy's garage… do NOT drink it!  That's different – that would make you sick."  Funny, but if you have an adventurous son (is there any other kind?)… it's a valid warning.

Disney Cars Party Ideas ~ Games
One of the things I love about hosting a Disney Side at Home Celebration is that they include party game ideas.  Hands down, I find this the most challenging aspect of throwing a kids party!  All of their same ideas, and even printables, are also available to you at that great DisneySideCelebrations.com site.
I decided to keep it low key this time, and just let kids do what they do best:  PLAY!  On our invitations, I even called it a "Disney Cars Party Play Date".   We just let them eat sugar, had a few fun group toys out available for group play (a race track and train set), and kept the planned games to a minimum.   It went fabulously, but it was nice to have a couple of games ready at the helm.
Disney Bingo: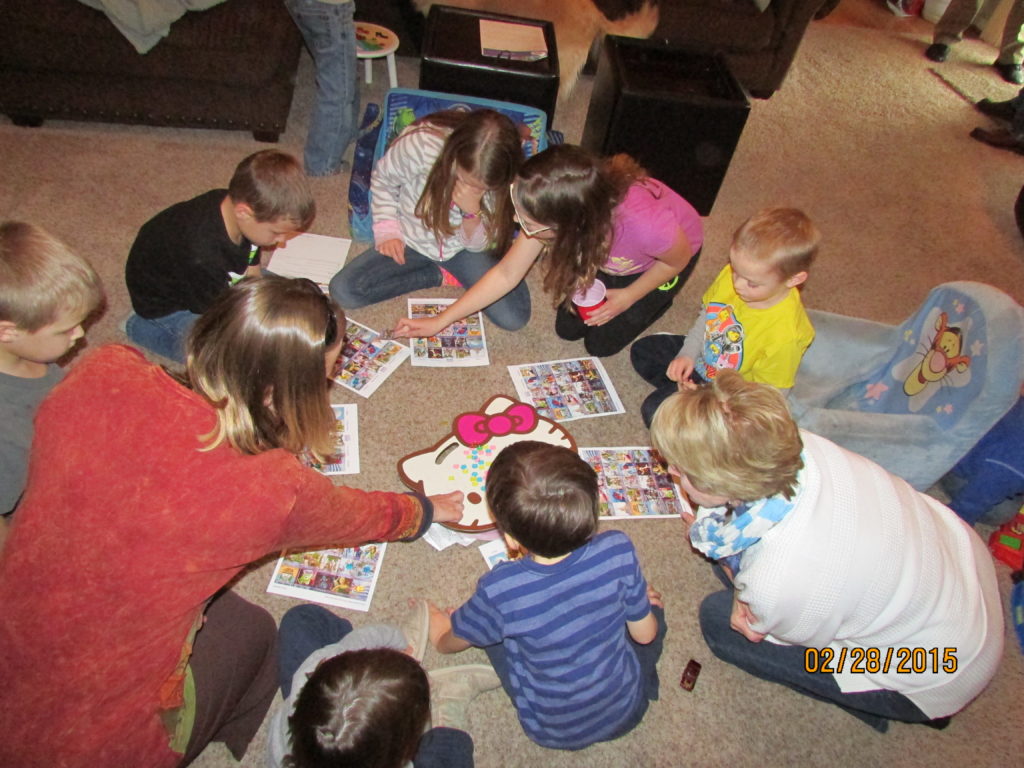 My talented friend Cassie drew this awesome Lightning McQueen, and we played "pin the wheel on McQueen".  They all lined up right away… it's comical how much kids love being blindfolded.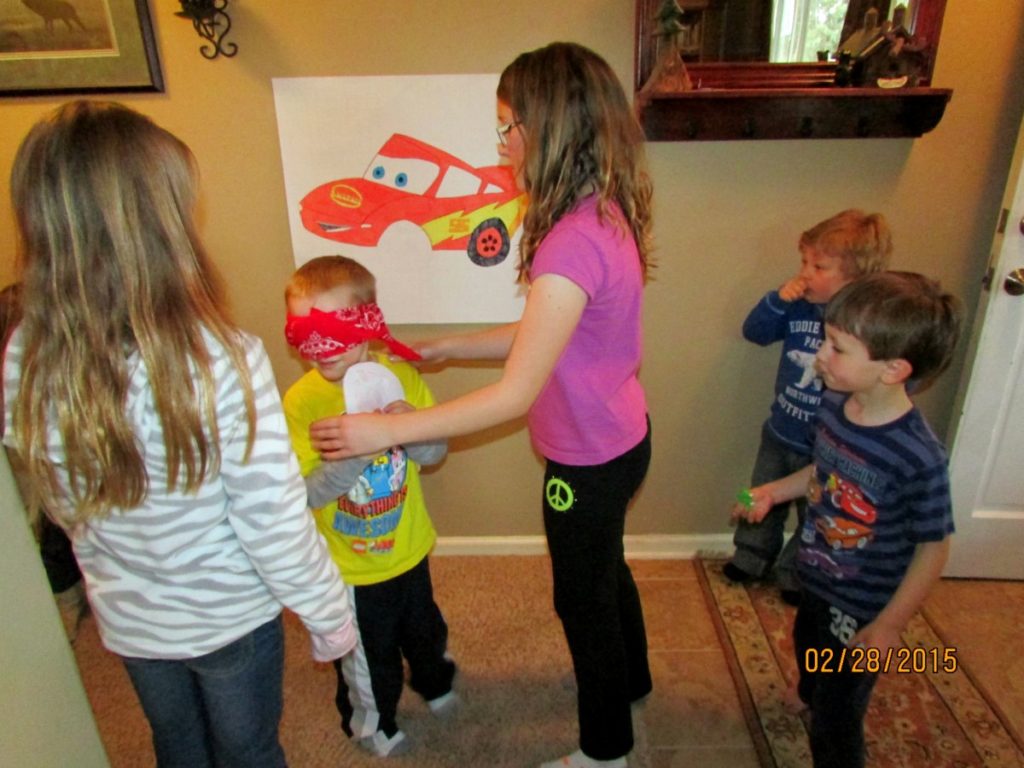 Can you have a party without candy?  I don't think so.
I ordered this Cars pinata online, and boy was it a big hit!  No pun intended.
Actually, the new "safer" style of pinata is to have ribbon pulls in the bottom, each kid gets to pull one, and the pinata eventually releases the candy.  Nice for an indoor option (and avoiding those unfortunate, awkward kid-on-kid-concussions).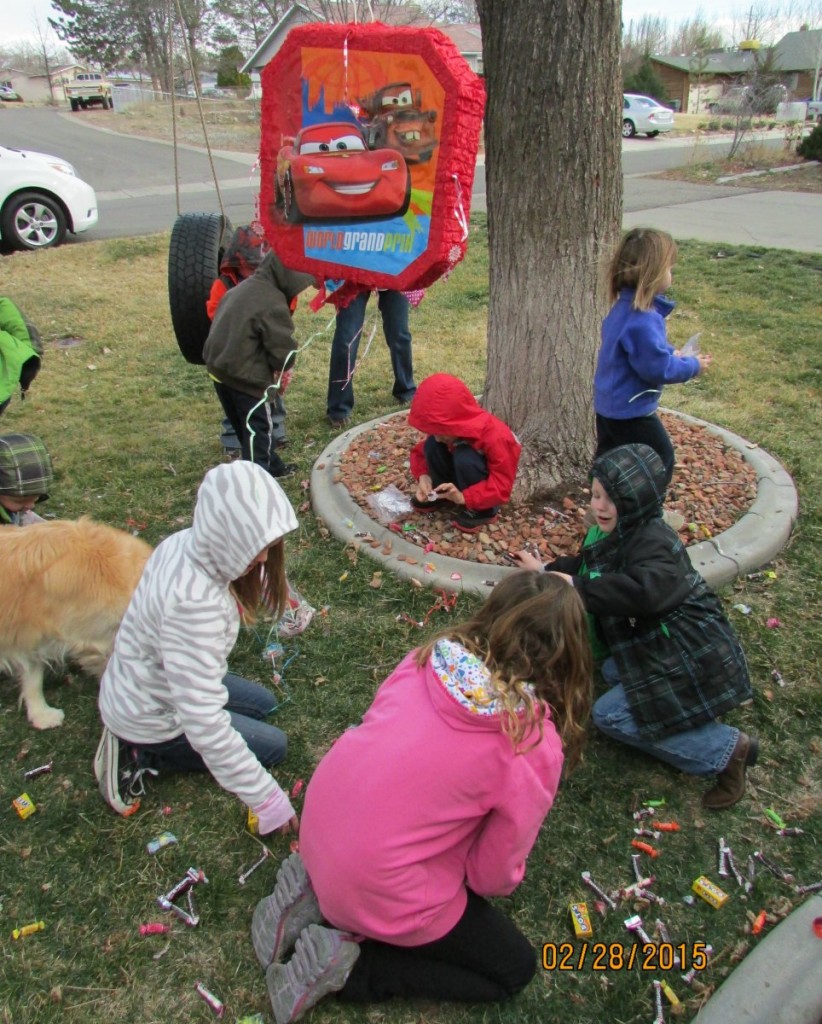 And my favorite game: eating!
And honestly, it doesn't matter how fun your indoor activities are… kids love to play outside!  Towards the end of our party, the crew discovered the swing set in our backyard and all headed out to burn off some of that pinata candy energy.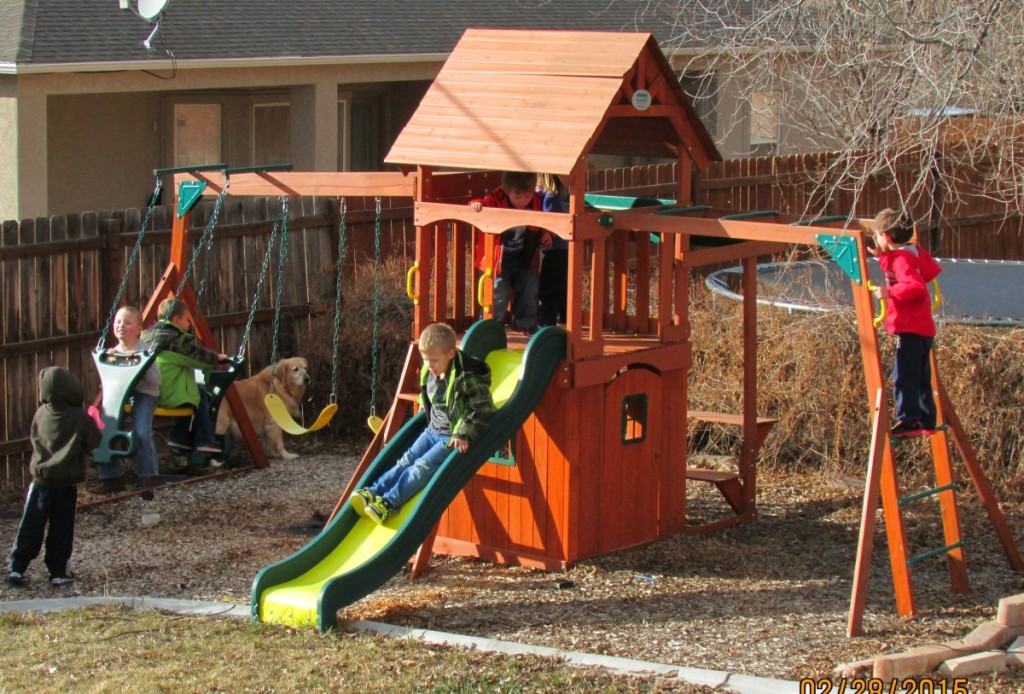 Disney Cars Party Ideas ~ Free Printable
I did get a little frustrated trying to find *free* Disney Cars Party printables on Pinterest.  So with my limited resources and skills, I ended up making my own in Adobe with pieces and images available.
Here is the sheet of Cars themed food labels printable that I created… feel free to print and use them.  🙂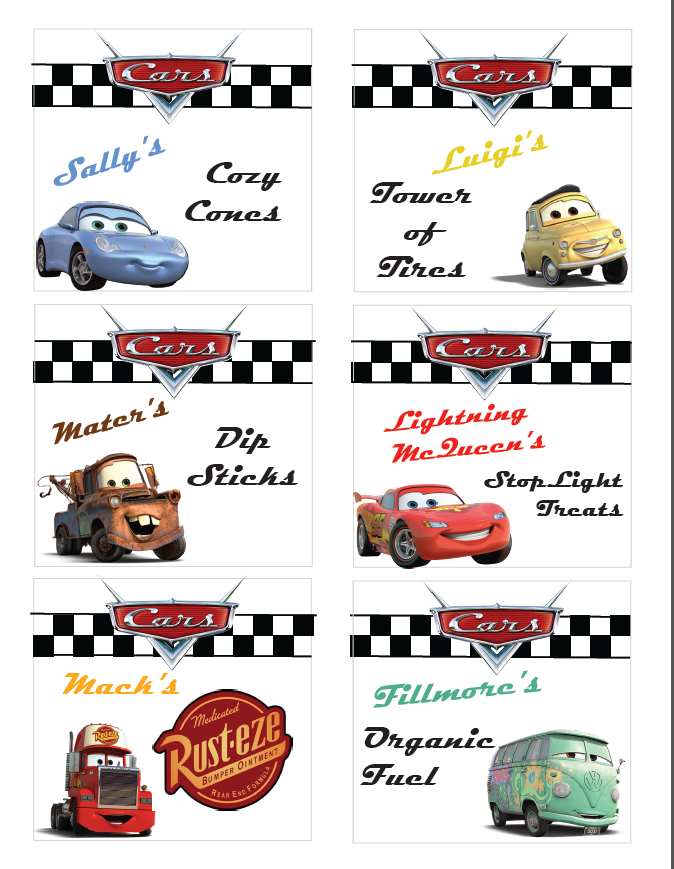 Thank you to Disney Parks, Maria Bailey, Mom Select, HP and all other supporting party pack vendors.  We had a great time at our party… hope you do, too!  *o*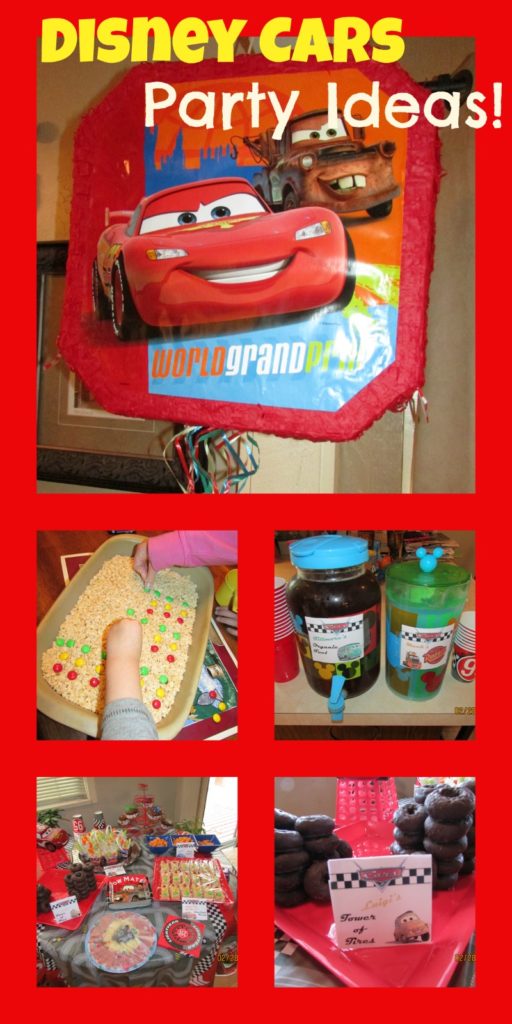 *o*     *o*    *o*
I received free products from Disney Parks and affiliated vendors, to help facilitate this Disney at Home Celebration party.  All opinions are my own