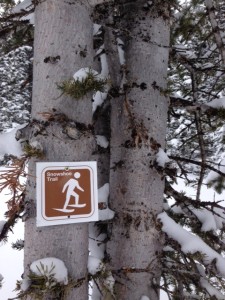 Living in a valley in Western Colorado has it's definite advantages.  Take the Spring weather, for instance, where days can be sunny and 60+ degrees… yet snowshoeing in 6 feet deep fluffy snow is just an hour away.  We recently headed up to the Grand Mesa, to try my family's first Colorado snowshoeing adventure.
Although I've snowshoed a couple of times in the past, and my daughter's grade school class has taken two snowshoe field trips, this was our first outing as a family.  How would my 4 yr old son do, who although in possession of boundless amounts of energy, often proves to be a lazy hiker?
Family's First Colorado Snowshoeing Adventure
We drove up to the top of the 10,800′ Colorado Grand Mesa on a Saturday in late February, and conditions were great. Temperature in the high 20's Fahrenheit, with no wind.  Having some gorgeous high-altitude sun beating down would have been even better, but we still weren't cold.  We dressed in layers, and brought snacks and water.  And of course, we loaded up the three pairs of Tubbs Snowshoes (plus one pair of men's Atlas) that we were trying out.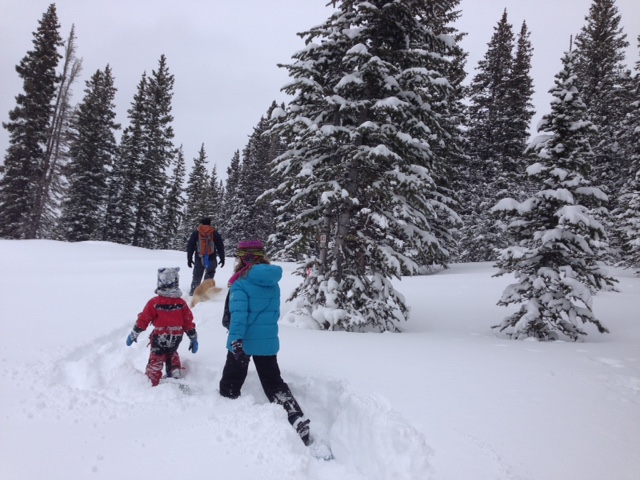 The snow was several feet deep, yet light and fluffy.  I don't have much experience in this winter activity yet, but I'm guessing this was ideal snow for the ultimate fun family snowshoe adventure!  It wasn't nearly as laborious as I was expecting it to be, and my kids had so much fun that even my young son kept up on the trail with no complaints.
Plus, there are so many other things you can play when you go on a family snowshoe adventure!  Take, for instance…
Icicle Hunting.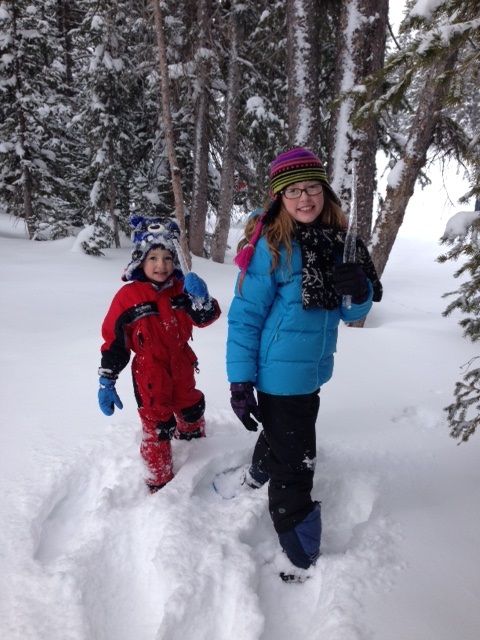 Snow chair carving.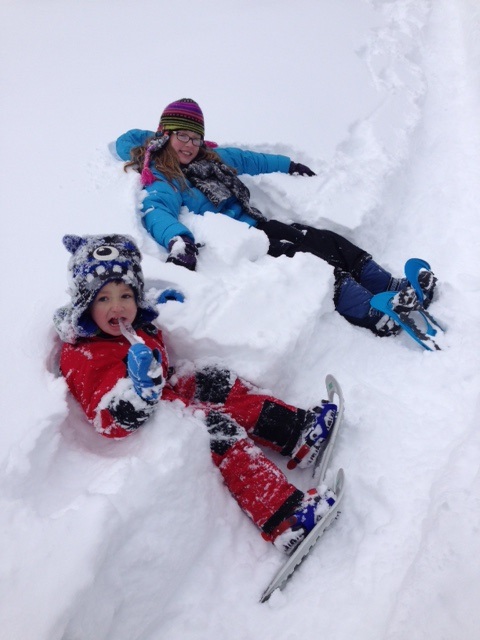 And let's not forget snow angel making.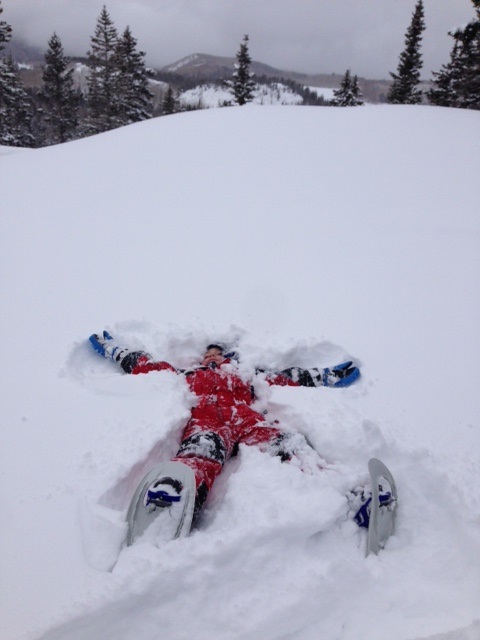 Let me also point out, that we came to this same trail area a few weeks ago, sans snowshoes.  We floundered around that day with our sleds a bit, but really couldn't maneuver much without the right gear – the snow was just too deep, causing us to sink hip-deep.
Not this time!  This time, with the aid of their showshoes the kids could charge right up a hill.
Colorado Grand Mesa Snowshoeing Trails
The location we visited that day is a vast cross country ski and snowshoe area.  As soon as we arrived in the parking lot, we were approached by some skiers, and "schooled" a bit on the etiquette of trail sharing.  Seems snowhoes tear up their nice smooth cross country ski tracks/trails… and they simply ask you to be aware and tromp off the to the side a bit.  The trail we ended up on (which was deeper, and much more fun anyways) was a dedicated snowshoeing trail.
This is such a gorgeous and fun area, with an extensive trail system available that's maintained by the Grand Junction Nordic Council, you'll find a winter trail map on their website.  They groom three trail systems on the Grand Mesa:  Skyway, County Line and Ward.   The snowshoe specific trail is at Skyway, which is where we went on this adventure.  Near the Skyway trail head, there's even a lovely warming hut, complete with fire burning stove and benches.  Next time we're bringing some hot cocoa mix!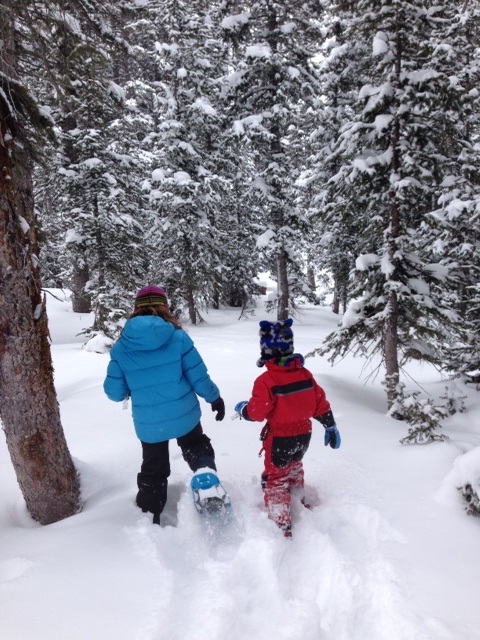 Our Snowshoeing Gear ~ by Tubbs & Atlas
On this trip (and I'm hoping a few others, yet this winter!) we were testing out some snowshoes sent to me for a gear trial by Tubbs Snowshoes.  I was impressed at how the kids moved so well with them.  My 10 year old daughter wore Flex Jr. (the bindings *almost* too small for her boots – if your child wears a shoe size 6, consider an adult pair instead), and my 4 yr old son wore, and totally loved, a pair of Snowglow.  They light up!  How cool is that?
Both of these Tubbs snowshoes for kids options allowed them to be very mobile, and they stayed on even when my son scrambled up hills, made snow angels, or decided for some inexplicable reason to crawl on his hands and knees.  My first reaction being, "Don't do that… your snowshoes will fall off!"  But it never happened.  Which is awesome.
Now I don't mean to brag, but I love my pair the most of all.  I tried the Tubbs Women's Journey Snowshoes.  Of all the styles of (front) bindings, this was my favorite.  They felt amazing, and totally secure – stayed put, and didn't need adjusting once.  Pretty much like not wearing anything at all… only noticeable by my super human ability to walk through drifts of snow without sinking up to my hip.
I love them.  Very much, a lot.  And it's going to be a sad day when I have to send them back!
And lastly, my husband tried out a pair of Atlas Men's Endeavor showshoes, and thought they were great.   These baby's are wicked looking, and high tech.
His bindings gave him a little struggle a couple of times on the trail, but keep in mind we have basically zero knowledge of the workings of snowshoes.  So that was just a learning curve issue, I'm sure.  He felt rather invincible in his Endeavors!
We are all new fans of Colorado snowshoeing adventures, and Tubbs Snowshoes!  We definitely plan on adding this to our list of favorite winter outdoor activities.
*o*    *o*    *o*
I received snowshoes on loan from Tubbs and Atlas for my family to wear on a trial basis, for the purposed of performing this review.  All opinions are my own.