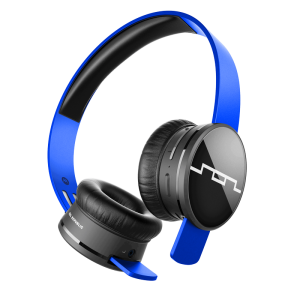 Sol Republic is a relatively young, and definitely up-and-coming, company that's dedicated to "enhancing people's lives through better-sounding headphones and accessories."  They are music lovers, which is a great place to start.  And they offer a variety of cool looking and great sounding headphone and speaker options.
I've recently tried out two Sol Republic wireless sound products, and was very pleased:  Tracks Air Wireless Headphones, and the Punk Wireless Speaker.
Sol Republic ~ Tracks Air Wireless Headphones
I use ear buds a lot, but have a love hate relationship with them.  I love to hear my music.  I hate ear buds that constantly – and I mean constantly – fall out of my ear.  Annoying, and a very sad lack of bass.  What ever happened to the good old fashioned REAL headphones, like I used to borrow from my parents, as a kid in the 80's?
What happened to them is that Sol Republic took them, morphed them into some eye catching, comfortable and perfectly padded headphones, and…. wait for it… removed the wires.  The resulting Tracks Air Wireless Headphones feel, look, and sound amazing.
At the risk of sounding behind the times, this is my first experience using Bluetooth devices with wireless headphones.  I floundered a bit, trying to figure out how/what devices I could use my Tracks Air headphones with.  In general, it's typically 3 main categories:  laptop, phone, and tablet.
My new favorite thing to do:  "Watch" TV with my family (which means cartoons), while I sit in the corner streaming Netflix on my nook and wearing my Tracks Air.  
I get giddy with excitement over this recent entertainment development, just in describing it to you.  I get to watch what I want!  I get to watch what I want!  It's liberating.
The packaging it comes in is awesome and secure.  The battery life very impressive – 8 hours on the initial charge right out of the box, up to 15 hours of play time after re-charged.  Cables are included to charge the battery, or plug into a device, so you aren't limited to just using them with Bluetooth.  Nice.
So how do they sound?
After years of listening to music with ear buds, the Tracks Air bass sounds so beautiful I could cry.   Very nice balance though, the bass is not overwhelming and they still deliver clear treble and vocals.
The Bluetooth broadcast range frankly blew me away.  My phone was in the back bedroom, playing "Dark Horse", when I had to run out the kitchen.  Free, like a bird – I flit four rooms away wearing my Tracks Air Wireless Headphones… while Katie Perry (don't judge me – that's a cool song!) continues to croon in my ear, uninterrupted, the entire time.   Wait, what?  It was surreal.  And awesome!
In summary, here's my list of Tracks Air Wireless Headphones Best Features:
Comfortable and secure fit – eliminated annoying ear buds
Blocks out other sounds – can hear tablet (Netflix!) much better than just via its speaker
Fantastic sound – great bass yet balanced, with nice clear treble, higher sounds, and vocals (like on Netflix!)
Sleek look, attractive design
Easy to control power, connections, pausing, volume – all on the right ear piece
Easy to adjust
Excellent Bluetooth range
Long Battery Life –  up to 15 hours
Can order and/or customize your headband
No static, no sound problems – equivalent to wire headphones
If you're in the market for wireless headphones, I highly recommend them.  Sol Republic Tracks Air Wireless Headphones are available in 4 colors, for a retail price of $199.  They're also available for purchase from Radio Shack.  If you've not yet shopped for wireless headphones of this caliber, that' s a very competitive price.  Other popular brands cost up to nearly twice as much, yet I've seen Sol Republic win multiple review comparison competitions against the others.
Sol Republic now offers a 100-day money back guarantee on their Tracks Air Wireless Headphones.  So check them out for yourself, risk free!
Sol Republic ~ Punk Wireless Speaker
Next up, this little cutie:  The PUNK Wireless Speaker.  It's small, but durable… and it sounds great.  Much louder than you'd expect.  How can you go wrong with this easy to take along option?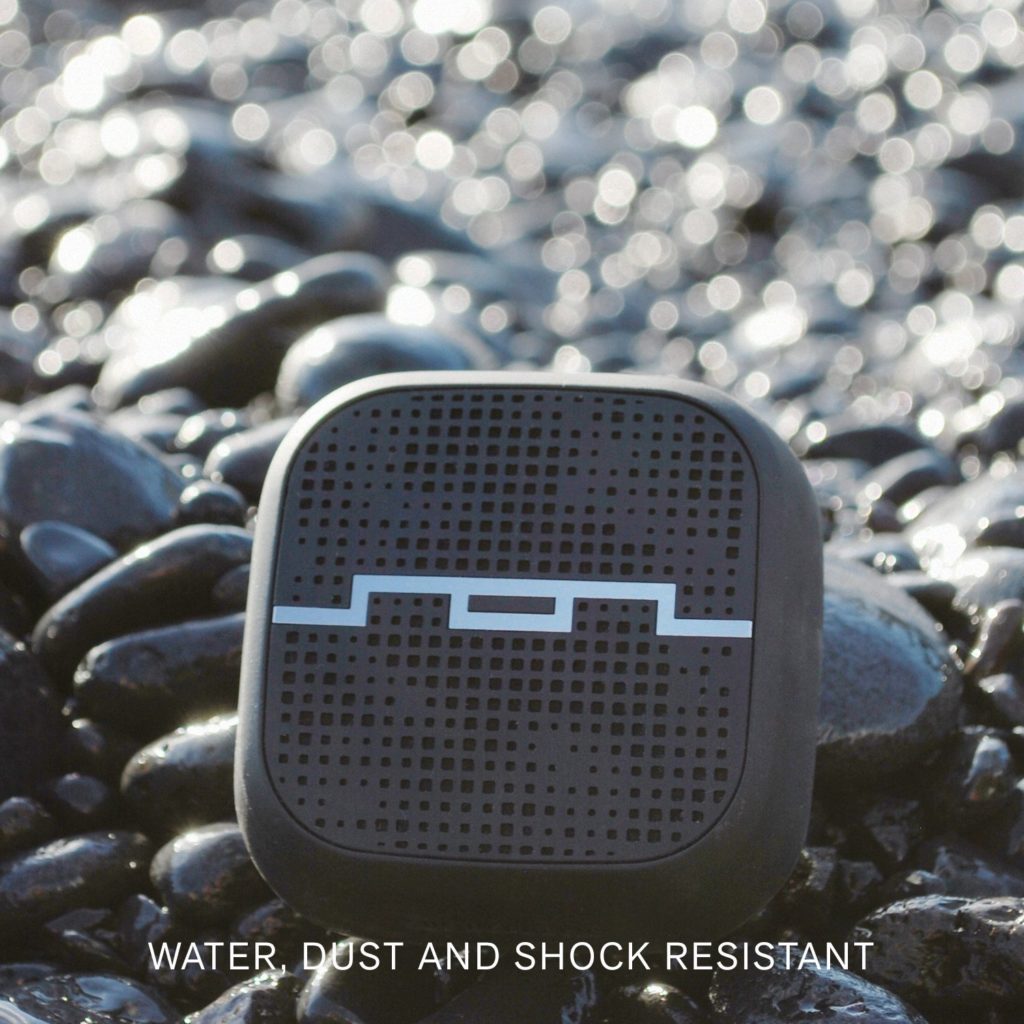 Punk Wireless Speaker Best Features:
Shock, Water, & Dirt Resistant – in case you drop it. It's tough. Which is good.
8 Hour battery life
Comes in a funky rainbow of colors
Small and light, yet powerful sound
Wireless range up to 60 feet
Affordable price, especially compared to a larger speaker or system to broadcast your music.
Music can now flow freely through my house again!  Since the move to digital music, I never really did obtain a decent option for still being able to play some tunes out loud.  The Punk is practical and fun, and my entire family has been enjoying it.
Sol Republic Punk Wireless Speaker is available in 7 colors, for a retail price of $199.  Take your music anywhere!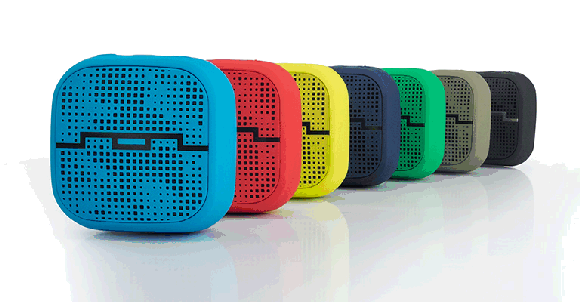 *o*     *o*    *o*
I received the products described here at no cost, for the purposes of performing this review.  All opinions are my own.