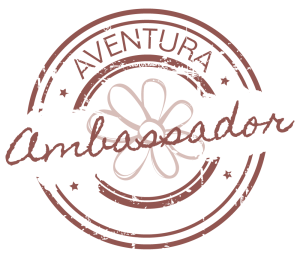 As an Ambassador for Aventura, the makers of eco-friendly women's clothing, I've been able to try out several pieces from the new Spring/Summer line.
One of my favorite things about this season is the infusion of bright and cheery color. When I spent a week in downtown LA for business, I was surprised and saddened by the dreary sea of neutral wardrobe colors.  Sorry, but that's just not me.  Especially during these warm weather months I propose that wearing fun, gorgeous colors both bolsters your mood and sends a message to others that you are full of life, and up for adventure!
You really can't go wrong with Aventura Clothing, as their fabrics are all soft and comfortable, the styles versatile, and the designs typically generously cut and flattering.  But if you are looking for some core staple pieces for your wardrobe, which you can use to create outfits for pretty much every occasion – I'd love to share with you some of my favorites.
Aventura Clothing ~ Best Warddrobe Staple Pieces
BOTTOM:  Each season, Aventura releases a new line… but a few enduring, wildly popular classics stick around.  Which leads us to my first pick for you – either Arden Capris, or Arden Shorts.
They are offered in a rainbow of colors, but also come in some great neutrals (check out "silver sage").
With just a bit of stretch they are incredibly comfortable.  Both the capri and shorts styles roll up and include cute side tabs, for 2 different wearing length options.  These are absolutely my go-to Aventura pants, for both work and play.
JACKET:  Next let's add a classic jacket.  The Redford Jacket is the perfect summer wardrobe addition, as it's very lightweight cotton and adds just the right amount of casual polish to your look.
It looks just as great with a dress, as it does with capris.  Again, this comes in 7 great color choices.  I wear my white one from last summer all the time.  So that might be my vote for you, if it's your first Redford.
I admit kind of broke my own "GO FOR COLOR" rule on this one, but I chose another neutral again this year because you can then pair it so nicely with bright scarves, tops, or bottoms.
TOP:  There are many great Aventura top options to round out your summer wardrobe.  They offer a nice range – some more fitted if that's your style, and others a little more generous and forgiving.  So you'll be able to find something tailored to your style, that's most comfortable for you.
Aventura Clothing tops are made from eco-friendly fabrics such as super soft organic cotton, modal, or rayon from bamboo.
Here's my absolute favorite from this season:  the Louisa Tank.  The fit is perfect, it gives you some shape but doesn't unflatteringly hug your mid section.  The neckline adds a pretty touch, but doesn't overwhelm your outfit.  It's cool and comfortable, covers bra straps effortlessly while still giving you the look of a tank.  I fell in love with mine the second I tried it on!
SKIRT:   If you ever wear skirts, you need an Avaline Reversible Skirt!   This style is absolutely brilliant.  The fit is fantastic – it's so comfortable, and looks great on.  It's my favorite knee length, so I can wear it anywhere from shopping to the office to religious meetings.
In purchasing just this one piece, you get both a lovely patterned skirt… AND a soft, flowing solid colored skirt.  This is not a reversible piece of clothing you will never reverse.  I wear, and love, mine equally on both sides.  People would think they were two skirts, if I wasn't such a goofball and end up excitedly showing them, "Look at this!  It's reversible!!".  It's all good, though… because then they go buy one.  🙂
Honestly, words fail me as I try to convey to you how much you'll love it.  I've received numerous complements on mine.  I've never seen anything else like it anywhere, and I've tipped many, many friends off to it.
DRESS:  This is the softest, cutest, most comfortable dress I think I've ever worn.  Don't let the simple tank style fool you into overlooking this cute little number.  The Rory Dress is made from very soft organic cotton, and feels wonderful next to your skin.  It has a super cute embroidered flower logo along the back neckline.
I've talked to women of varying body types, and they all feel it's a flattering style.  I brought it along to a recent conference in New Orleans, and it was a fantastic, wrinkle free, versatile travel piece.
Oh, and also some college boys yelled at me out their car window, "I LIKE YOUR DRESS!" 😉 Are  you convinced yet?
SCARVES:  I can't tell you just one Aventura summer scarf to get, as they are all flat out wonderful.  It's up to you, and I've included some of my favorites in the image below.  This season's infinity are particularly nice.  They are soft, burnout patterned material that can be worn in two loops or three.
Craft your wardrobe additions from your favorites of the Aventura staple pieces above, and then just browse to see which beautiful Aventura Scarf will work best to add pizzazz to your outfit.   (Better yet, pick 2 scarves and turn it into 2 outfits.)  Summer scarves are also great to help take the chill off when you are indoors in air conditioning.
I could go on, and on, and on!  I love this brand, and it always makes me feel good to put on some Aventura Clothing.
Aventura Clothing ~ Coupon Code
If you'd like to try out some Aventura Clothing at a FANTASTIC DISCOUNT… just leave a comment below telling me your favorite Aventura piece!
I'll send the first 5 commenters an Ambassador discount code good for 60% off your entire Aventura purchase, up to $250.
Happy shopping!
*o*     *o*     *o*
As an Aventura Clothing brand ambassador, I receive some items each season at no cost.  All opinions are my own.