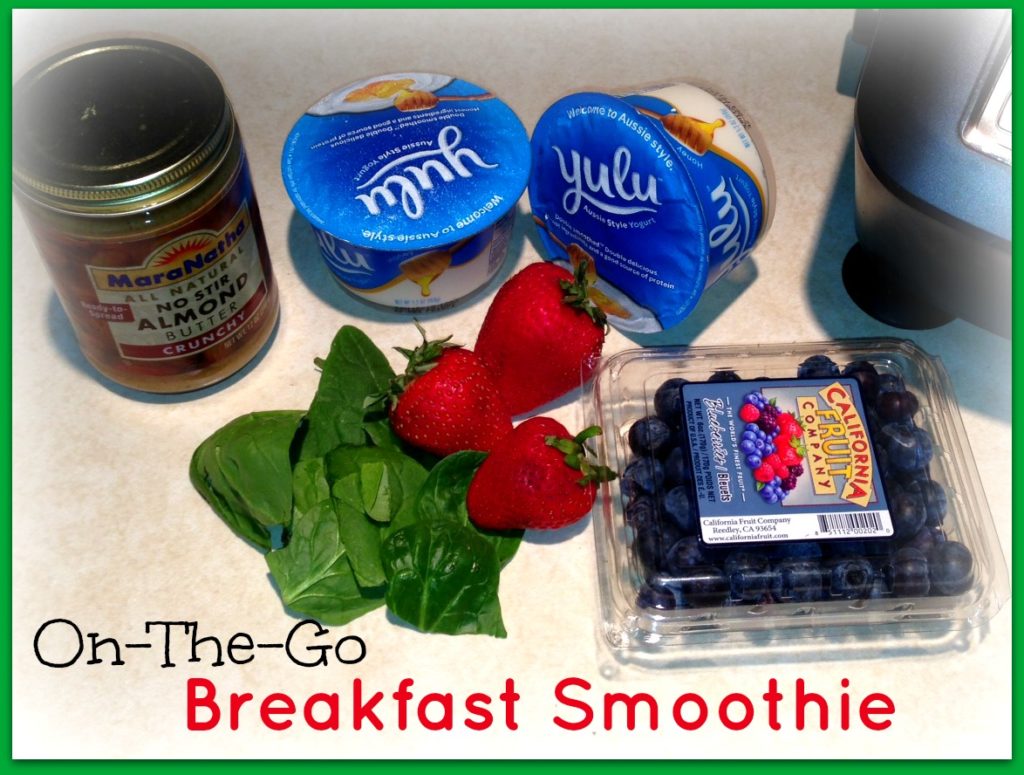 Recently I participated in a 6 week fitness challenge that included a session with a nutritionist.  She had so many good ideas, but the most lasting healthy lifestyle take-away that I've continued to use daily is the on-the-go breakfast smoothie.
If you are like me, you need to eat breakfast.  But doing so first thing in the morning, when you are stressed out, rushing around getting ready for your day… just isn't your stomach's favorite time to chow down.  Breakfast smoothies are so much easier for me to digest versus trying to eat something, both on-the-go convenience wise (I drink mine on the way to work), and stomach-tolerance wise.
But will it leave you feeling hungry, 45 minutes later?  It doesn't have to.
The key to a healthy on-the-go breakfast smoothie that will stay with you is this:  Protein.
If you include some ingredients with protein in your smoothie, it will stick with you and keep you feeling full much longer.  When you make your smoothie at home, you can control cost and easily modify ingredients to your taste.  And adding protein and healthy stuff doesn't mean they can't be delicious!
I mix my on-the-go breakfast smoothie a little differently every time (often based on what I've got available), but here's my favorite combination:
On-The-Go Breakfast Protein Smoothie Recipe
1 banana
1/2 cup frozen blueberries
1 Tablespoon almond butter (protein)
handful of fresh spinach (or frozen)
1/2+ cup of yogurt with protein, such as Yulu
milk
ice
When selecting your yogurt for the smoothie, just be sure it has a higher protein content.  I really like Yulu – it's flat out delicious, right out of the carton!  Yulu is a creamy, double-smoothed Aussie-style yogurt with a higher protein content than regular yogurt.  The 5.3 oz individual size (perfect amount for a smoothie) contains 10 grams of protein.  It comes in 5 flavors (Vanilla Bean, Strawberry, Blueberry, Raspberry, Honey) and is a natural way to sweeten your breakfast smoothie.
Discover your own personal favorite breakfast smoothie, starting with the same core ingredients and then experimenting with additional tastes.  I always include the basics (yogurt, milk, ice) and then just add whatever healthy and flavorful additions I have on hand… whether it's fruits, veggies (this is a great way to sneak in some spinach or kale), ground flax seeds, avocado, almond butter, or sometimes a little honey for sweetness.
You can sign up for the Yulu Newsletter for coupons, giveaways, and more.  Now go enjoy rockin' those on-the-go breakfast smoothies!
*o*     *o*     *o*
This is a sponsored conversation written by me on behalf of Yulu. The opinions and text are all mine. Comments submitted may be displayed on other websites owned by the sponsoring brand.