Last week, I had the opportunity to hear some of the women involved in Coca-Cola's 5by20 initiative speak at World of Coke in Atlanta, GA.  This is where I heard from Judy Achar, one of the most inspiring people I've ever met.
Here is her moving story, of how she's been able to channel her passion for helping others into empowering impoverished women in Mexico to obtain a better life.
Judy Achar, Mitz Founder and President
"The only real change and opportunities in Third World countries is through education.  Not just in a classroom, but also in life." ~ Judy Achar. 
Living in Mexico and working as a teacher at the only Montessori school serving underprivileged children, Judy wanted "to help kids have an easier and more delightful life".  
This school was their Garden of Eden, a great source of pride for the children.  In many cases, it was the best thing they had in their life.  A clean place to come and learn each day, and receive a good meal.
Yet it was a constant fight to find resources.  "Not unlike my child's elementary school", you think to yourself?  Well, Judy tried to help us gain some insight into what that really means in a Third World country.
It means some days they had no electricity for lights.
It means they had no toilet paper for the bathrooms.
When she asked the parents to help, they explained to her they did not have toilet paper at home, either… they used newspaper.
With that perspective, Judy determined she could help these kids more if she focused her efforts on fundraising, and learning how best to obtain donations.  At the same time, her desire to help the moms become more involved and not just be bystanders began to grow.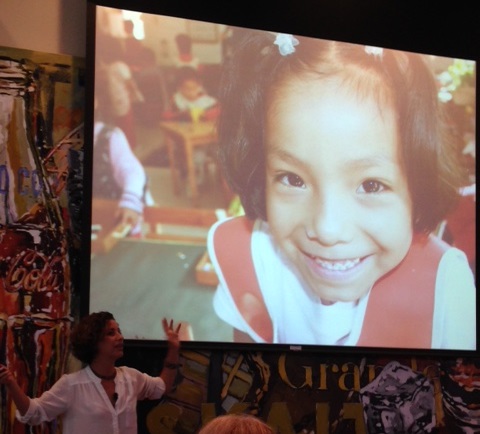 Along came the economic upheaval of 2007, and most of these construction employed parents lost their jobs.  Judy saw their time, willingness, and desire to  move forward in doing good work… and came up with the a pilot project for them all to try.
A Bag Made of Garbage ~ "Mitz"… For You
When visiting a nearby mountain town, a native Nahuatl woman approached Judy and handed her a bag made from garbage.  "Mitz!  Mitz!", she insisted.  Meaning "for you".
This sparked an idea for Judy.  These people have garbage surrounding them everywhere.  And they have time.  Could this be the key to an answer for those parents who need a way to help themselves, and their families?
The inspiration for the Mitz Foundation was born.
Working together as part of the 5by20 initiative, Coca-Cola now supplies Judy's Mitz Foundation with recycled "over-run" and outdated Coca-Cola plastic labels.  Using an antique method of the Mexican natives, they devised a line of woven products that could be hand made and now sold through Coca-Cola's website.
100% of the proceeds goes all the way back to the artisan.
Consider the conditions that many who have benefited by this program come from.  There is a community of 9,000 Mexicans who live on the 3rd largest landfill in the world.  That's right, they live in a garbage dump.  They wear it, build homes from it, and live their entire lives on it.   Starting as children, they make $1.05 per day, working 18 hours sorting garbage for the owner of their landfill area.  They are completely off the grid.  They have no birth certificates.  There is no record of them whatsoever.
But for those who participate in the 5by20 program through Mitz, they are now brought in twice a week for education and training.  One day for them to learn weaving techniques, so they can start producing bags and earning money.  And a second day to teach them basic business concepts, including topics such as money management, saving techniques, and goal setting.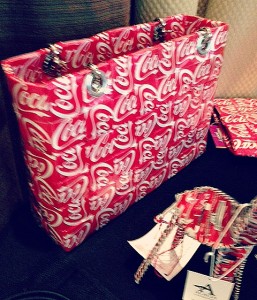 Now they can take pride in their beautiful artisan, hand made bags, iPad covers, and notebooks being sold on Coca-Cola's website.  And work towards a better life.
Judy Achar has combined her huge heart, compassion for people, and entrepreneurial spirit to pioneer a way to change lives for the better.  It was an honor to hear of her journey to help others, putting her talents and love to such good use.
And kudos to a large corporation like Coca-Cola for helping making it all possible, including the final, vital merchandising step of making the #5×20 artisan products available for sale.
*o*     *o*     *o*
I attended Coca-Cola's #5by20 Art of Entrepreneurship Event in Atlanta, at World of Coke.  My travel and accommodations were provided by the company, but opinions are my own.  I find the #5by20 initiative truly inspiring.