We joined the Backyard Chicken Club!  Yes, that's a real thing.   Although we live within city limits, we are allowed to have up to 6 chickens on our property.  Meet Peaches, Tink, Bambi, Clementine, and Flynn Rider!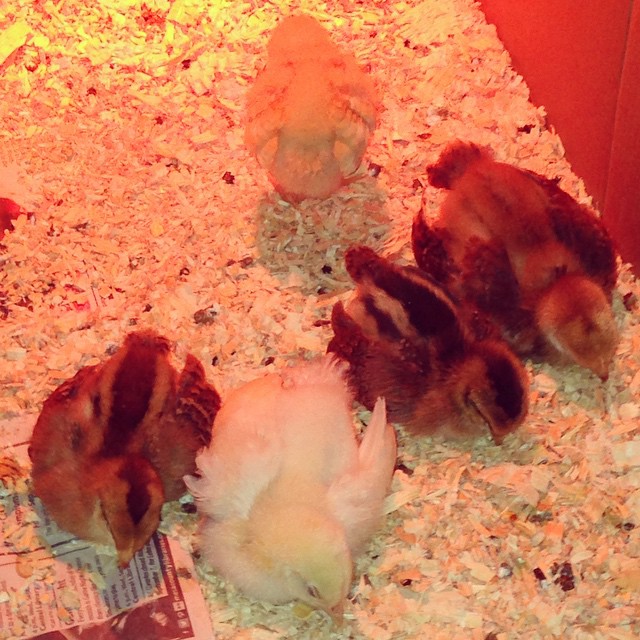 Sleeping.  Seriously… how cute are they?!  When you cup them in your hand, the warmth makes them nod right off.
So, yes.  Unknown to us, owning "urban chickens" is apparently a hip new thing to do.  Personally, we just got suckered in by the adorable, fuzzy baby chicks at our local feed store this Spring.  And my husband has a soft spot for birds.  So there you go.
We almost didn't get Peaches.  We had a different chick in our box, and the teenaged employee at Murdock's clarified to me, "Do you realize that one is actually a meat bird?"  *gasp*!  We don't need any MEAT BIRDS, forgoodnesssakes!  So that one went back, and Peaches was added into the mix.
Right now they live in our garage, with a heat lamp.  They are surprisingly affordable and low maintenance.  The night we brought them home, we watched a bunch of YouTube videos on "Backyard Chickens"… and realized the craze we had just stumbled into.  Mostly we're excited about the healthy, delicious eggs.   The concept of having access to some non-chemically-tainted, non-animal-abused food is very appealing to me.
Videos warned us backyard chickens are the gateway drug to wanting to own a small farm.  Sure enough, within a half hour of their arrival at our house, my husband was musing, "Maybe if we like this, and it works out… in a couple of years we can look for some land." There you go.  Hooked already.
It's amazing how quickly they change, and start the grow real feathers out from the fuzz.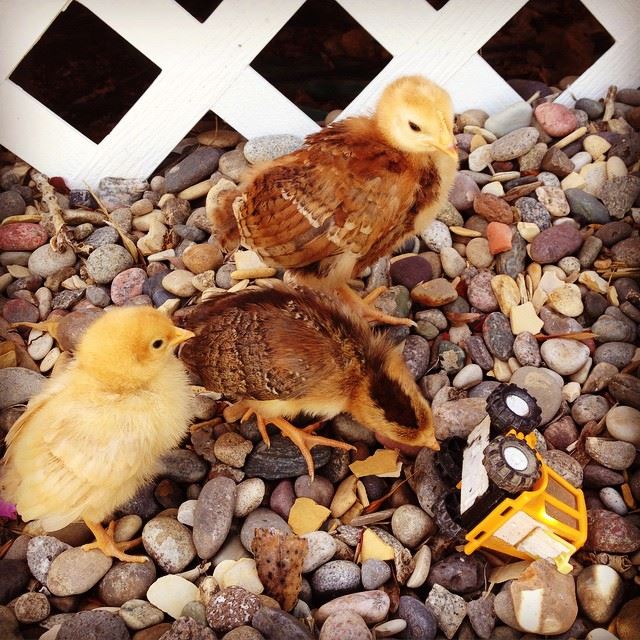 They eat bugs, and can even catch them mid-flight, it's impressive!  You'll think I'm crazy when I say this, but they are very entertaining to watch.  Funny little personalities.  Grab an iced tea, kick back in a lawn chair, and watch some Chicken TV!  😉
Never thought I'd have affection for a bird, but I already love our little peeps.  I have a few smarty-pants friends online who have plenty of "Mmmm…. hot wings." and "Let the pooping begin" comments to share.  That's alright.  No farm-fresh omelettes for them.  (Eerrr… backyard-fresh omelettes?)
I'm told they eat any food scraps you have leftover.  My husband has been hard at work building a coop in our backyard.  We plan on experimenting with the true "free range" concept… but I may be underestimating the poop thing.  We shall see.
So far, so good.  They are growing up quickly.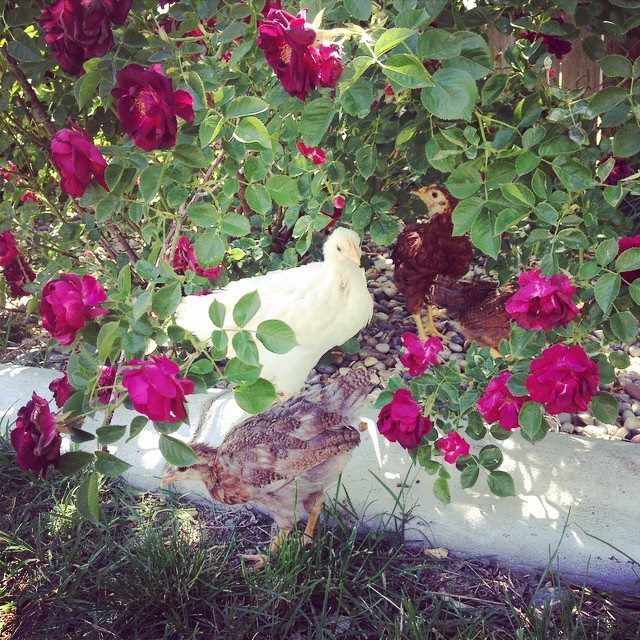 I'll keep you posted if this turns out to be a fantastic, or a not-so-fantastic idea.   For now, we're loving the new members of the family.  They're such a cool addition to our backyard, I find myself wondering why did we ever *not* have chickens…?
*o*     *o*     *o*