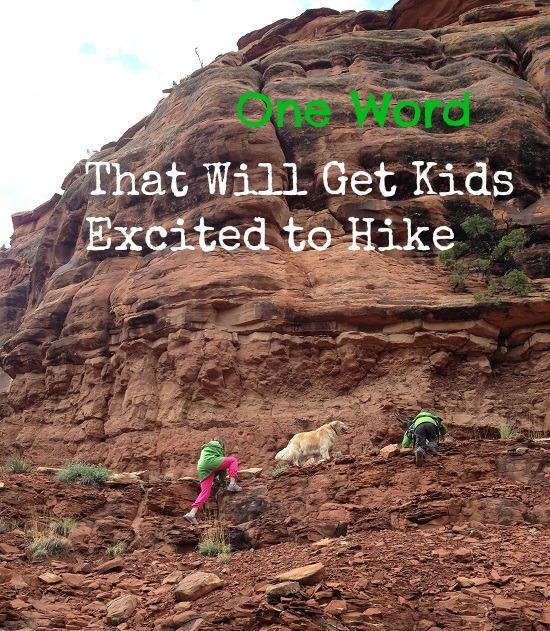 As a family, we enjoy spending time outdoors and hiking whenever we can. We've been "all systems go" on this activity for years now… until this season when my son no longer rides in the child carrier backpack.  Alas, as full of boundless energy as this kid is – he doesn't get that excited about HIKING.  Little stinker.
Five minutes in to the trail:  "My legs hurt!  Carry me, mommy!"
He's just not the trooper that his big sister has always been, when it comes to hiking. She used to cover miles, starting at age 3, sporting her own little mini Camelbak.  Aaaah…. good times.
It's all a bit frustrating, and rather ironic, as my son is one of the most active and adventurous kids I've ever met.  What a minute.  Adventurous.  Hmmm… let's tap into some of that…
So on our camping trip a week ago, I wanted to take one last hike with the kids before returning to civilization.  I find a pulloff area near a pretty red mountain and rather than ask, "Do you guys want to hike?", I say, "Should we get out and explore here?"
A resounding, excited, "YES!!!!" from the backseat.  Bingo.
So we didn't hike.  We explored.  Here's some of the neat things we found along the way.
After hiking… err, exploring… for about a half hour, focused on the red rocks we were climbing, my daughter turns around and exclaims, "Mom!  Look behind us!".  This was what we saw:
Awesome.
On our way back to the car, my 4 year old anti-hiker son declares, "I wanna go on 10 hikes!!".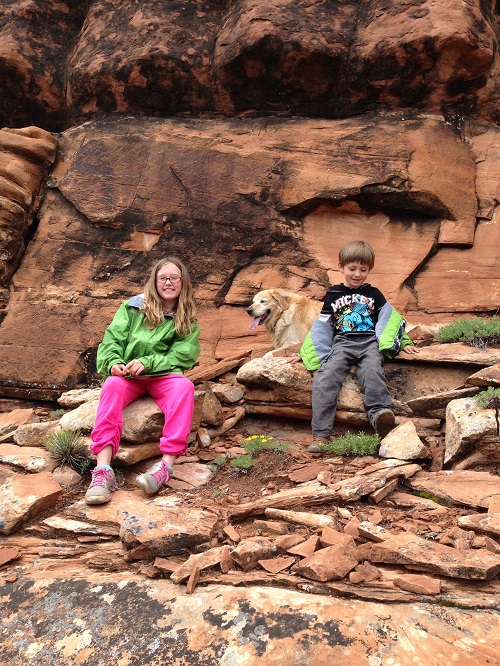 So yeah, he wasn't totally fooled by my play on words.  And this sneaky technique may not help you make steady, linear progress down a set trail.  But we sure had a lot of fun exploring that day.
If you've got a reluctant hiker in your crew, I recommend taking them exploring next time.  🙂
*o*     *o*     *o*