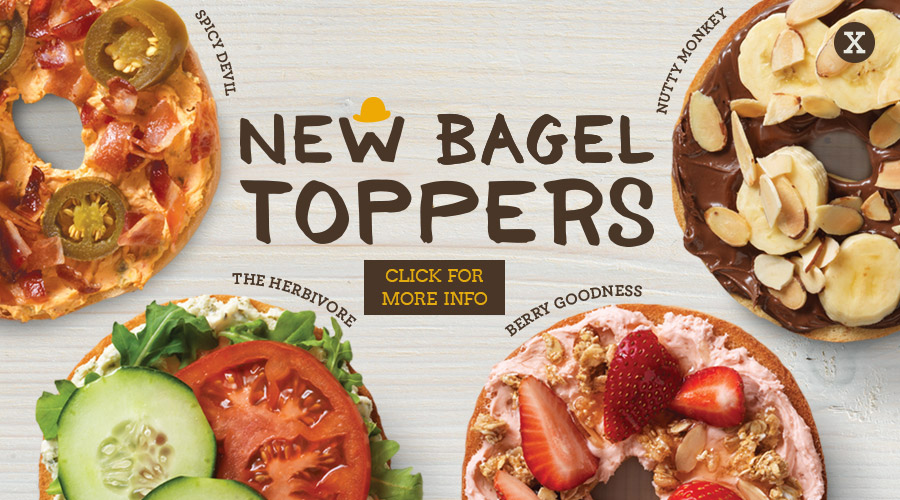 My family and I have an absolute favorite bagel shop:  Einstein Bros. Bagels.  They have an awesome variety on the menu, and we love it all!  We order the gamut, from frosted sugar cookie for my son, to a egg-spinach-mushroom-and-swiss bagel sandwich for me.  Mmmmm… I can taste it now!
Well, now the order decision making process just got even more challenging, with some delicious new options!  Einstein Bros. Bagels just added a new menu item to inject some fun and creativity into how people "top" their bagels – beyond the basic cream cheese and lox: Bagel Toppers.
Served open-faced, new Einstein Bros. Bagel Toppers are available in four innovative flavor combinations that are sure to please everyone from the certified chocoholic to the vegetable lover. To find out which Bagel Topper is your match please click here.
Spicy Devil: a toasted bagel with Jalapeno Salsa shmear, bacon and sliced jalapenos
Nutty Monkey with Nutella: a toasted bagel with Nutella hazelnut chocolate spread, fresh banana slices and slivered almonds
The Herbivore: a toasted bagel with Garlic & Herb shmear, sliced cucumbers, tomatoes and fresh arugula
Berry Goodness: a toasted bagel with Strawberry shmear, fresh sliced strawberries, granola and a drizzle of honey
Einstein Bros. Bagels Coupon
To get you started, here's an Einstein Bros. Bagels coupon for one free bagel topper with any purchase. Please click here to view and print.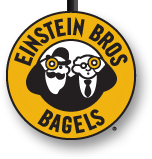 *o*    *o*     *o*
I will receive a gift card in compensation for this post.  All opinions are my own.