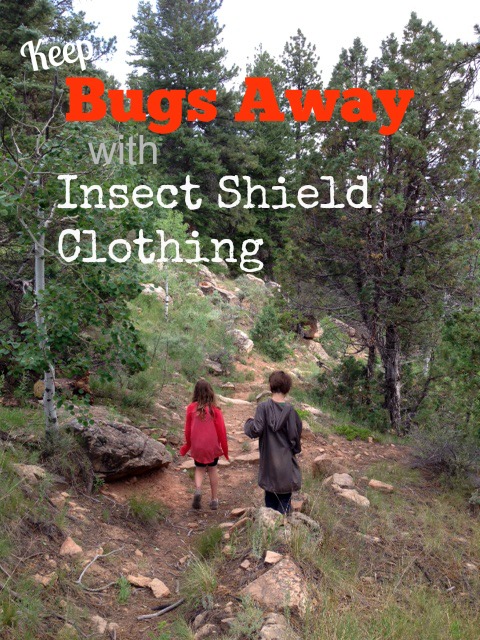 Did you know there's an awesome fabric technology available that repels insects?  This season I've noticed many of the outdoor gear brands have started incorporating it in with their product line. Insect Shield clothing allows you to keep bugs away, and avoid having to use sprays and lotions which can be stinky, too strong for sensitive skin, and at times ineffectual.
Insect Shield is actually a proprietary permethrin formula that is tightly bound to fabric fibers.  It's completely odorless, and offers long-lasting, effective and convenient protection.  Insect Shield apparel has been proven and registered to repel mosquitoes, ticks, ants, flies, chiggers, and midges (no-see-ums).
A concern for many, especially during the summer months when we often spend more time outdoors, is ticks.  In one of my more popular blog posts Tick Safety for Families This Outdoor Season, I mentioned Insect Shield technology as a good option to try.
Now my family and I have had a chance to test out some Insect Shield clothing this summer, from three different outdoor gear brands.  The Permethrin repellent is used in them all, and lasts for 70 washings (about the lifetime of a garment).
We felt they all did a great job in keeping bugs away – so much so, that I've purchased some additional Insect Shield clothing pieces for us, to add to our camping gear stash.  In my opinion, as the permethrin is used in them all – it boils down to your preference in the actual piece of clothing.  The Insect Shield repellant technology can be added to a variety of types of fabric (cotton, polyester, etc).
Here's a look at some options for you.
Insect Shield Clothing from ExOfficio
Known for their quality "world travel" clothing, it just makes sense for ExOfficio to offer some pieces with Insect Shield.  Their line is called BugsAway, and offers items for men and women.  My daughter and I have been sharing the Women's BugsAway Lumen Crew, and it is the softest fabric of the Insect Shield pieces that I've tried.  Very lightweight with nice mesh sleeves, so you get SPF and bug protection while still staying cool.  It's made from a technical wicking, quick-dry fabric.
Runs true to size, if you don't mind a close fit (my regular size is a little more fitted on me than is shown on the model above).  I still enjoy wearing it, but given the chance to get a second one I'd size up for a slightly baggier t-shirt type fit.  I like to be comfortable when I camp and hike.  🙂
Insect Shield Clothing from White Sierra
Recently available for online sale, White Sierra offers the most affordable option of the three brands I'm featuring here.  I'm glad to see they sell Insect Shield not only for men and women, but also kids.  I don't want ticks on my kids!  I tested out a White Sierra Bug Free Pullover Hoodie.  If you prefer the feel of cotton (which I often do), definitely take a look at this piece. I also think selecting a top with a hood is a good idea if you're going to invest in just one Insect Shield apparel item, as it can also provide head protection when needed.
This hoodie is a standard t-shirt type material, of average quality and softness, fairly light weight and stays wrinkle free.  They have some really nice color options, and it's a great price point at $50.  Runs true to size, but if you want to layer it over something or prefer a looser fit – size up.
Insect Shield Clothing from CragHoppers
Originally an outdoor apparel brand from the UK, Craghoppers is now also available in the US.  They have dedicated a new NosiLife line to offering clothing options with Insect Shield.  It includes tops and bottoms for men, women and kids.
I tested out a Darla Long Sleeved Shirt, which in additional to an outdoor adventure top, also makes a versatile travel piece option.  The Darla is a lightweight shirt which offers SPF and dries quickly, in a button down style with ventilated back and rollup sleeves – a solid basic style often marketed as an ideal travel shirt.  I was very impressed with the extra detailing, such as floral stitching along the seams, a hidden side zippered security pocket, sunglasses loop, and a ribbon tape providing extra securing of the buttons down the front.   Very good quality piece.
They also sent me a Craghoppers Women's Asmina Jacket, and I'd have to say this is my favorite Insect Shield piece.  You can't go wrong with a hood, when the flies and mosquitos are persistent and still trying to swarm around your neck and head.  This fabric is an extremely lightweight mesh, that is cool and breezy.  It runs true to size, with a roomy, comfortable fit that can be easily added over your other clothing once the bugs come out.
My wild 4 year old son borrowed it on a few occasions, and it ended up receiving a thorough durability test.  No snags or tears whatsoever, and although I thought it looked filthy… the dirt and dust brushed right off the fabric.  Impressive.
Keep Bugs Away During Outdoor Adventure
I think the Insect Shield technology is a fantastic idea in outdoor gear, and one my family intends to use from this point on.  Mosquitoes, ticks, ants, flies, chiggers, and midges are not just pesky… they can carry diseases and inflict painful bites.  We've found this Insect Shield clothing to be effective in keeping them at bay, and highly recommend adding some of this apparel to your outdoor gear arsenal.
*o*     *o*     *o*
I received some of the clothing items represented here at no cost, for the purposes of performing a gear review.  All opinions are my own.