Caught in a fitness rut?  We all get there.  As I learned last Spring during a 6 week fitness challenge, if you don't mix things up once in awhile during your workouts… you start to lose the benefits of your exercise, as your body acclimates to the same old activity.
I recently tried out something I've heard of, but that was entirely new to me:  a barre workout, using the "Pure Barre, Pure Results" DVD.
Barre workouts have been described as a combination of postures inspired by ballet and other disciplines like yoga and Pilates. Exercises focus on isometric strength training, combined with high reps of small movements.
And I'm here to tell you… It's tough!  You will FEEL it working, literally minutes into the workout.  I honestly couldn't get through an entire workout, but don't let that discourage you.  It's effective, and something I plan on continuing to try in order to improve in.
Pure Barre, Pure Results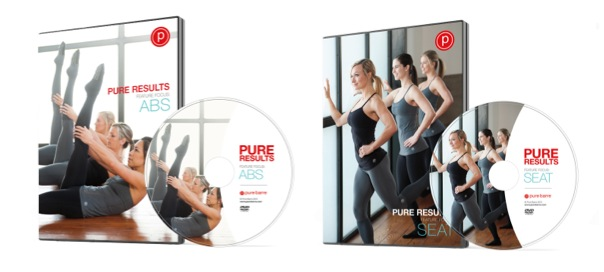 The abs-focused workout "Pure Barre, Pure Results" is a recently launched DVD series, and stars Colorado's own Shalisa Pouw.  Shalisa is a Pure Barre Master Trainer who owns and operates one studio in the area, and has also spent time as a regional trainer and quality assurance specialist.  As an industry influencer, Shalisa has grown the brand in Colorado over the past 3 years and serves on the board of Pure Barre's Strategic Development Committee.
Pure Barre is expanding its extensive collection of DVDs with a new PURE RESULTS series.  The compilation includes two DVDs, each with a 60-minute full body workout that is designed as a highly effective workout that fits in easily to your at-home or on-the-go lifestyle.
One DVD is led by Master Trainer Shalisa Pouw and has a feature focus on transforming abs, and the second DVD features a complementary workout led by Master Trainer Sami Sweeney with an emphasis on toning the glutes (or "seat" as they refer to it at Pure Barre).
New for this series and amazing for travel, Pure Barre will be offering an HD streaming option, ensuring barre enthusiasts are well equipped when time is too tight to make it to the studio.
Where to Purchase Pure Barre's PURE RESULTS
Pure Barre's PURE RESULTS workout series and streaming options are now available for sale!
Purchase options include:
*o*     *o*     *o*
I received the Pure Barre, Pure Results workout DVDs at no cost, for the purposes of performing a review.  All opinions are my own.