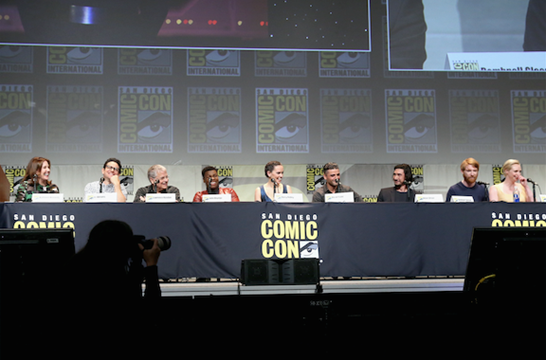 Fans at San Diego Comic-Con's Hall H were treated to a special look behind the scenes of STAR WARS: THE FORCE AWAKENS.  The filmmakers were joined on stage by cast members Daisy Ridley, John Boyega, Adam Driver, Oscar Isaac, Domhnall Gleeson, Gwendoline Christie, Mark Hamill, Carrie Fisher and Harrison Ford to the surprise and delight of fans.
Following the `Star Wars` Hall H presentation at Comic-Con International 2015 at the San Diego Convention Center in San Diego, Calif., the audience of more than 6000 fans enjoyed a surprise `Star Wars` Fan Concert performed by the San Diego Symphony, featuring the classic "Star Wars" music of composer John Williams, at the Embarcadero Marina Park South on July 10, 2015 in San Diego, California.
STAR WARS:  THE FORCE AWAKENS Behind the Scenes Trailer
It's exciting to see the use of new movie making technology which has advanced so impressively, while still staying true to the original feel.  And I love how they've combined a new younger cast alongside the *real* Princess Leah, Hans Solo, and Luke Skywalker from the first trilogy.  So awesome!
Check out this behind-the-scenes trailer that shows the kick off of filming on Day 1, costume room prep, and some filming.

*o*     *o*     *o*