Last weekend my family attended a convention in Denver.  Living on the "Western Slope" (west side of the Rocky Mountains), this meant a scenic road trip across the state of Colorado to reach the "Front Range" (the more populated east side of the Rocky Mountains, where Denver is located).  Plus, we had the exciting opportunity to borrow a 2015 Subaru Legacy for our mini vacation.   Among other things, this meant a sunroof. Sunroof's are always a good time!
I love traveling on I-70 for a Colorado road trip, and think it's one of the prettiest and most impressive stretches of  US interstate in the country.  In many places, it hugs the Colorado River.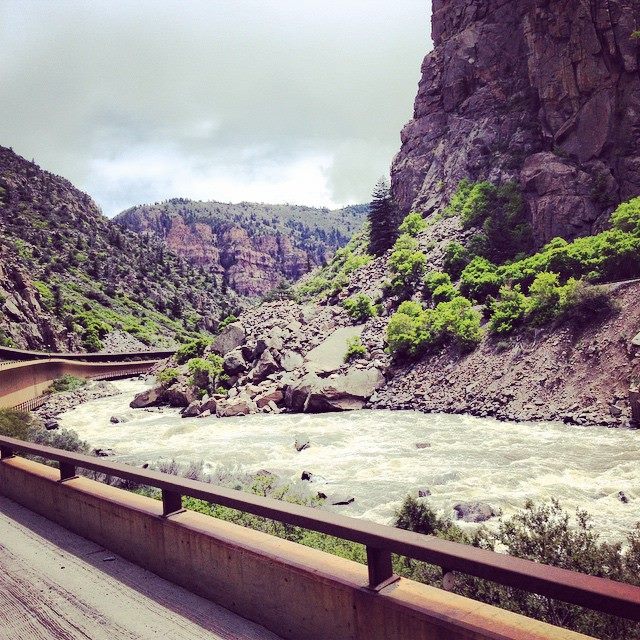 Where the mountain passes were too steep, or geography just didn't lend itself well, they've built a tunnel or two through which you'll traverse.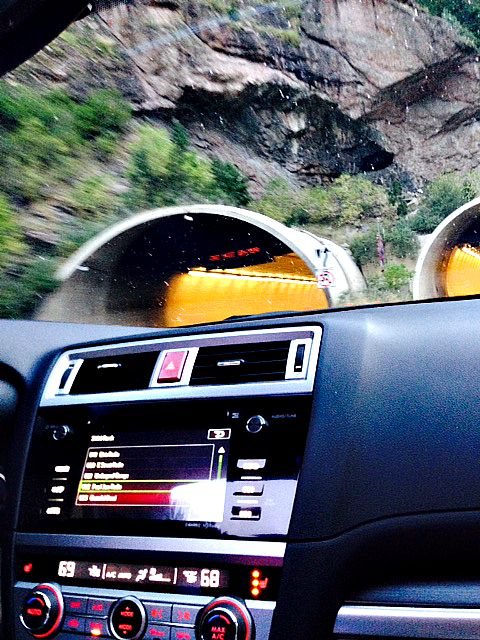 Terrain through a few stretches (just east of Glenwood Springs is my favorite) will wind you through breathtaking canyons.  This was my first time doing so in a car with a sunroof, and I left it open the entire time to gaze up at the mountain walls on either side.  Gorgeous!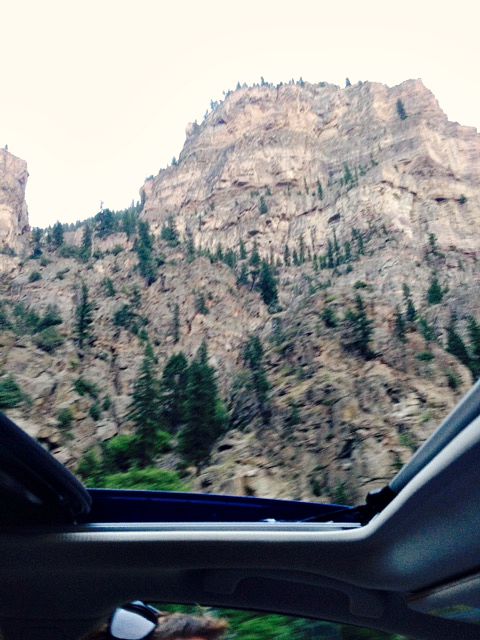 Even the rest areas are a highlight.  Many of them, such as the one marked "Grizzly Creek", are right alongside the Colorado River and offer access points to easily trek down to the water for a moment of respite.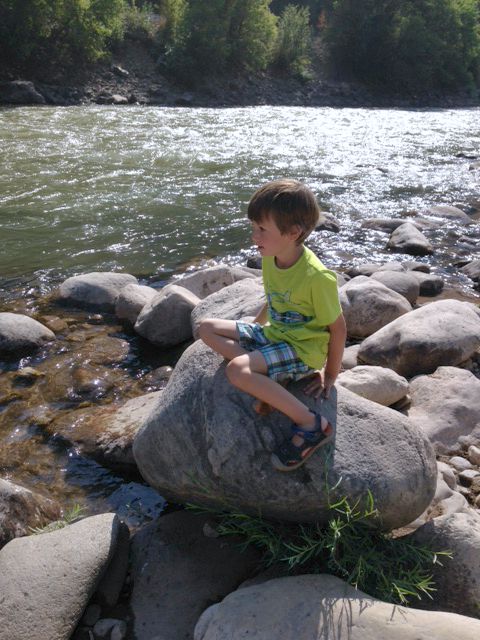 Hiking trails are also offered, if  your journey allows time for a leg stretching break.  We always stop here and let the kids play around the water for a little bit.    The danger, being you *may* spot someone doing something even more fun than you.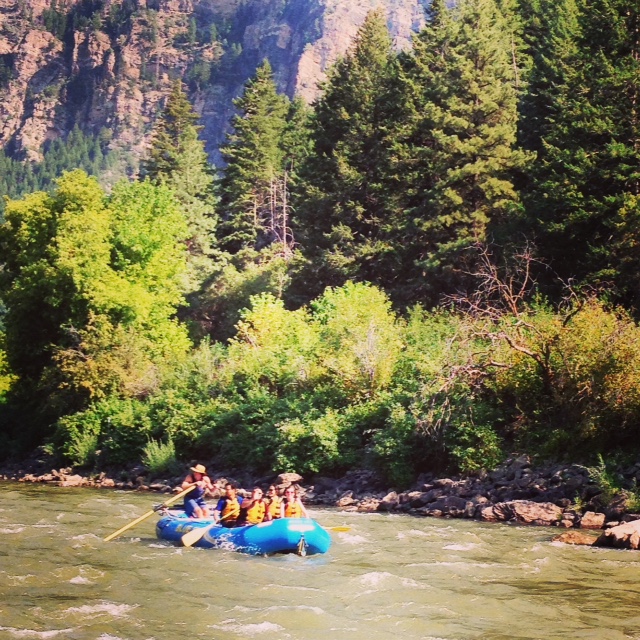 If you really do have time for a hike and the snow season hasn't yet hit in full force, I highly recommend the Hanging Lake trail… again, located right along I-70 during your Colorado Road Trip.  It's mildly strenuous but breathtaking, and will give you a great taste of why we Coloradan's love our mountains!
My husband does most of the driving on our family road trips, and really enjoyed the 2015 Subaru Legacy.  His favorite feature was probably the auto sensing cruise control, which allowed him to select a preferred distance to maintain between us and the car in front of us.  The Subaru did the rest!  No braking when approaching a slower car, no accelerating and re-applying the cruise once you've past the slower car… everything is handled automatically by the Legacy.  When my husband switched to the left lane and the way was clear – the Subaru automatically increased speed back to the set mph.   Relaxing and impressive.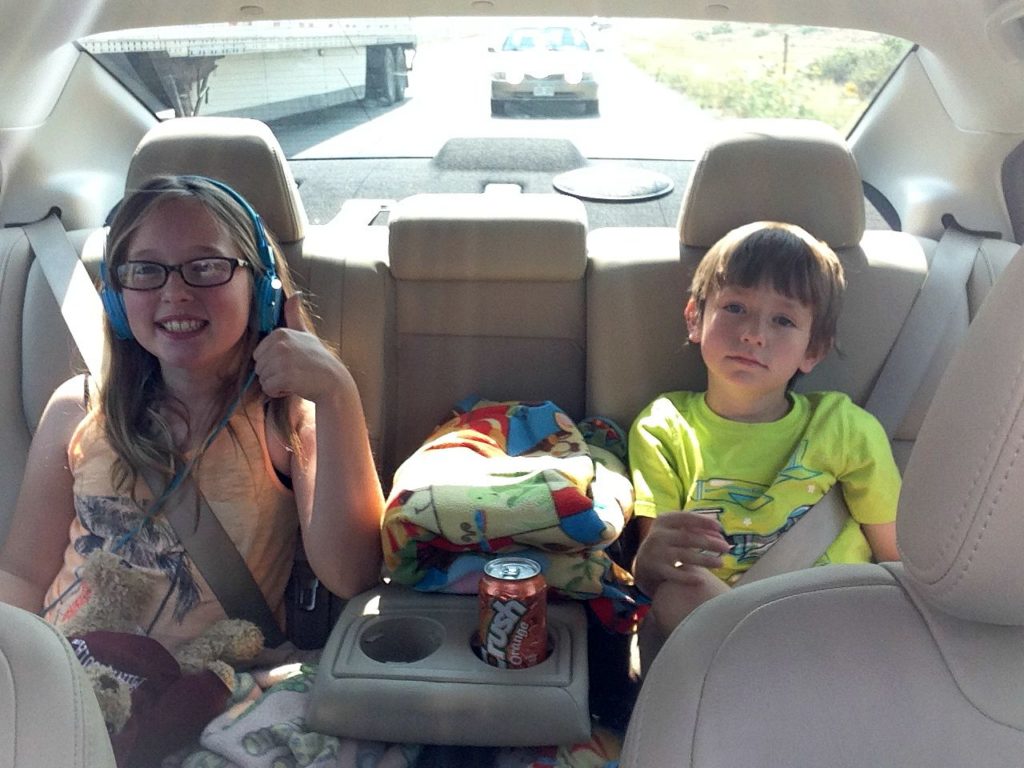 As passengers, we enjoyed the noticeably smooth ride.  We were also very happy with the gas mileage.  This is an AWD – all wheel drive – vehicle, which is great for having extra performance and added security on sketchy roads.   And we still averaged 31.5 mpg, which included a 250 mile highway drive, plus 4 days of city driving.
Back home now, and can't wait to visit Denver again soon!  If you ever have the opportunity, we highly recommend this I-70 East / West Colorado road trip.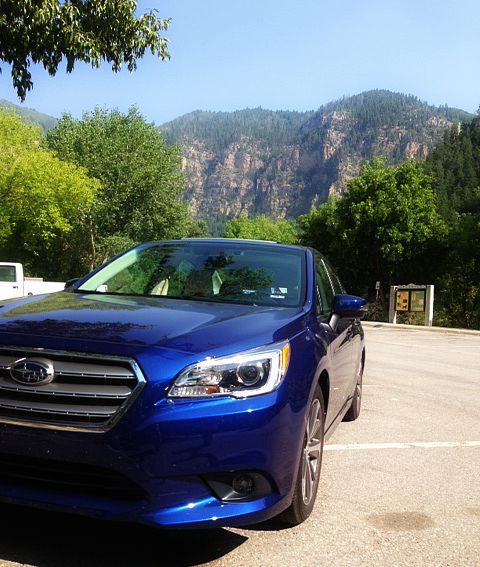 *o*     *o*     *o*
I am a participant in the Subaru Legacy Blogger Program, and received a Subaru vehicle loan, gas card, and promotion items at no cost.  All opinions are my own.