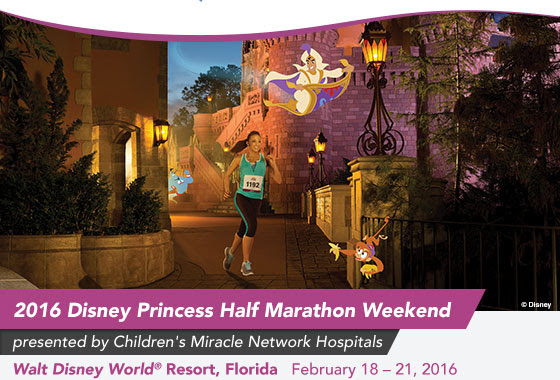 For literally years, I've spent hours "dabbling" in running… along with absorbing photos, blog posts, and social media buzz about runDisney events, with longing in my heart.  Running with other tutu-clad, Disney-loving princesses THROUGH THE CASTLE?!  Are you kidding me?
Because my family takes trips to Disney World as frequently as possible, I just didn't think such an extra trip/expense would ever be feasible.  But I kept wanting it.  Badly.  And I kept getting another year older, each year when they held the runDisney Princess Half Marathon registrations.
If you're not familiar with runDisney, they host weekend events of races, typically held early mornings on routes that wind through Disney Parks before they're open to the public.  They are spendy, spectacularly fun, and fill up very, very quickly.  Plus, you have to be ready to commit far in advance – registration was in July, for the February runDisney Princess weekend.  (FYI, there are other ways to get in… joining with a fundraising organization's block, if you missed this deadline and are interested.)
Anywhoo… so about a month ago, I was moseying around Facebook when I noticed a friend's post that she had just registered for the Princess Half Marathon.
What?  What??  What's this??  IT'S TIME???!!!
I couldn't do it.  I couldn't let another year pass me by.  I'm just gonna throw this out there (never before in print, on this blog):  I'm in my 40's, people!!  To quote one of my favorite inspirational pins on Pinterest… "Run while you still can!"
(I also really like "Run like you stole something"… but that doesn't necessarily apply here.)
I logged on the runDisney site, and navigated to the Princess Half registration page.  There are various length races for the weekend, but the half marathon is my dream.  The Big Kahuna.  And by the time I was checking – 3 hours after opening up – registration was already 85% full.
I hyperventilated a little.  I checked my measly vacation savings account.  I checked my teeny-tiny blogging money account.
Registration jumped to 95% full.
With a heart rate of about 140 bpm, I clicked REGISTER and DID IT!  I DID IT!!  I DID IT!!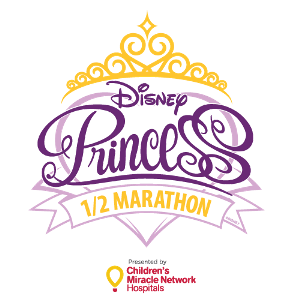 "Dear Tami xxxx,
Congratulations! You are now registered for the 2016 Disney Princess Half Marathon Weekend – Disney Princess Half Marathon – Individual."
But wait, it gets better.  My 10 year old daughter and I had an amazing time running a Girls On the Run 5k together this year for the first time.  Henceforth, I hereby declare this shall be a GIRLS DISNEY-AND-RUNNING WEEKEND!
So I nabbed 2 additional registrations for the Friday's Princess 5k, for my daughter and I!  And my mom is going with us that weekend.  She loves and misses Disney World, too.  Oh, the memories we three girls shall make together!
I hadn't said anything on my blog, because to me, telling readers on my blog about it is an official commitment.  And frankly the 13.1 miles thing scares me a little a lot. And I wasn't sure if I'd really be able to swing this trip, money wise.  But it's time.  I'm gonna make this happen!
There.  I just told you.  LET'S DO THIS!
It may kill me.  But I'll die in a princess tutu.  And that's not a bad way to go.
So stinkin' excited, I can't even tell you.  🙂  Grueling training to commence soon… stay tuned, and I'd love it if you join me on this journey!
*o*     *o*     *o*
Have you done a runDisney race before?  Or would you like to?