If you haven't tried compression socks since your last pregnancy… it's time to get them another shot, girlfriend!  And a great place to start when looking for some compression socks with cute designs and excellent quality is VIM & VIGR.
Benefits of Compression Socks
Compression socks and leg sleeves are taking the fitness world by storm lately, and with good reason.  Billed as a running recovery tool, some people choose to wear them during long runs… others, afterwards.  The key is that they increase circulation, which helps get the blood flowing in your feet and lower legs and aids in disbursement of that post-exercise lactic acid in your muscles.  This is a much lovelier alternative than having lactic acid build up and incapacitate you from walking normally the next day after a solid run.
Are the Benefits of Compression Socks scientific?  No idea.  I'm not a scientist.  But in my personal experience I find the sensation of compression very soothing to my feet and calves, when I wear my VIM & VIGR compression socks after running.
Some people need to wear compression socks for health reasons.  A few years ago, I found myself wearing them when pregnant, to try and cut down on ankle pain and swelling – especially when traveling.   But I was surprised how comfortable and beneficial they can be for everyday use, even if you don't "need" them.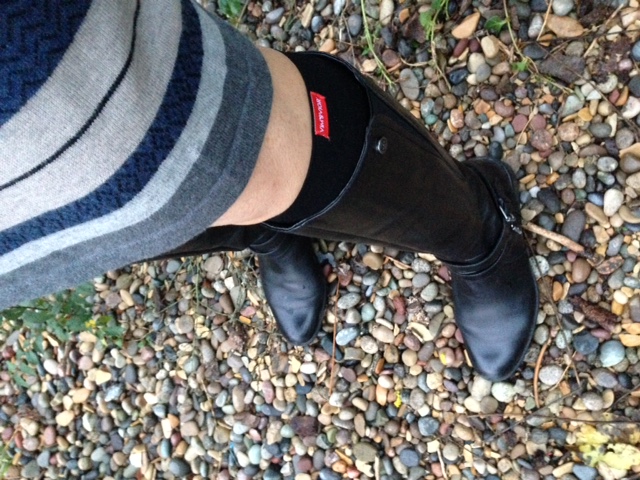 I've been wearing mine with boots to work.  It does seem that about 8-10 straight hours of wear is my max.   If I've worn them all day, I am ready to take them off when I get home. Other times I wear them for a couple of hours when my feet feel tired.  Or sometimes I slip them on at night, after my running-during-lunch days.
True story.  I'm currently training for my first runDisney half marathon, and today I ran during my lunch break at work.  By afternoon, sitting at my desk… my feet and legs were really starting to bother me.   Must have been an off day.  As luck would have it, I had a pair of my VIM & VIGR compression socks in my backpack, so I slipped them on.  Truly and honestly:  instant relief.
That's good enough proof for me!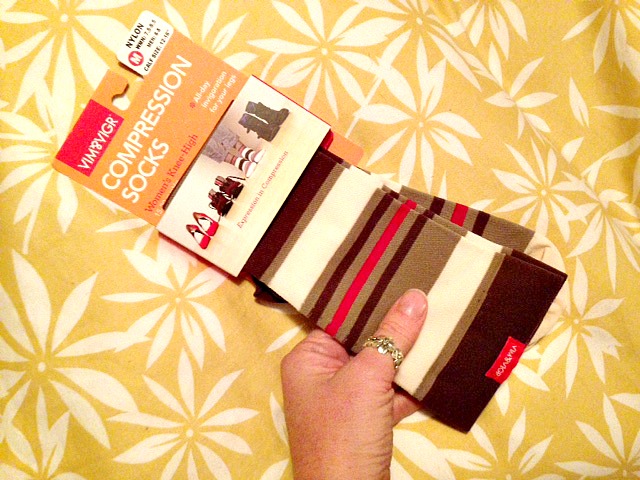 VIM & VIGR Compression Socks
I was recently introduced to the compression sock company VIM & VIGR.  I liked their compression socks when I checked out the website, and loved their whimsical styles and photos.  Then they sent me this, and I fell in love.
Hand drawn.  The coolest package I've ever received as a blogger!  An awesome personal touch, and it told me something about their attention to details and pride in their product.
Style selections include nylon, moisture-wick nylon, wool, or cotton.  All feature the same compression, so it's a preference of design and fabric.  I chose nylon so they could be used for fitness purposes and dry quickly.  It was a tough choice, though… the cute cotton argyles are adorable!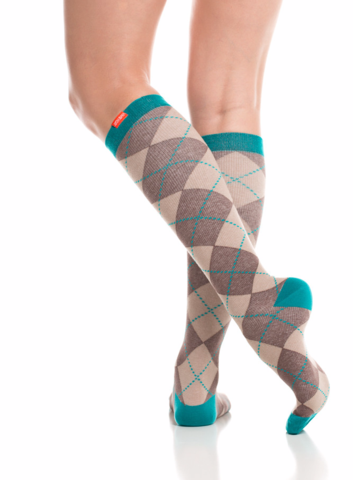 So many cute choices…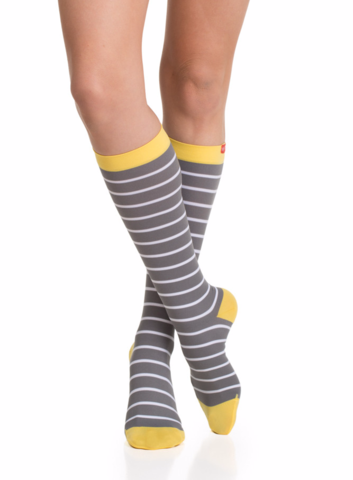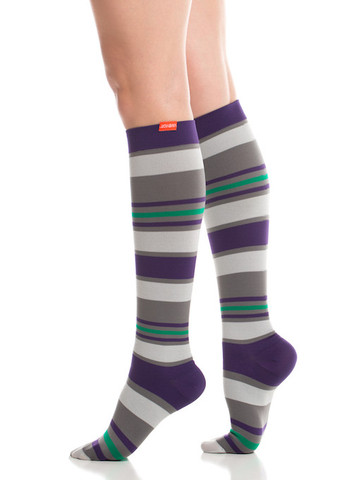 Each sock has a cute little red logo tag sewn along the top elastic cuff.  Construction is excellent, and I was really impressed with the quality.  I've had no issues with snags or runs, and anticipate years of wear from my VIM & VIGR socks.
And perhaps most importantly… they feel fantastic on!
A final note – when purchasing compression socks, make sure they're going to actually do the job they claim.  VIM & VIGR compression socks come with a satisfaction guarantee, and are all ISO certified to deliver true graduated 15-20 mmHg (and now offered in 20-30 mmHg) compression.
VIM & VIGR Compression Sock ~ Giveaway
VIM & VIGR has offered to send one of my winning readers their choice of any VIM & VIGR compression socks.  You may select any color or style.
Open to US Residents, ages 18 and up.  Enter using form below.  Void where prohibited.
*o*     *o*     *o*
I received sample socks from VIM & VIGR at no cost, for the purposes of performing this review.  All opinions are my own.