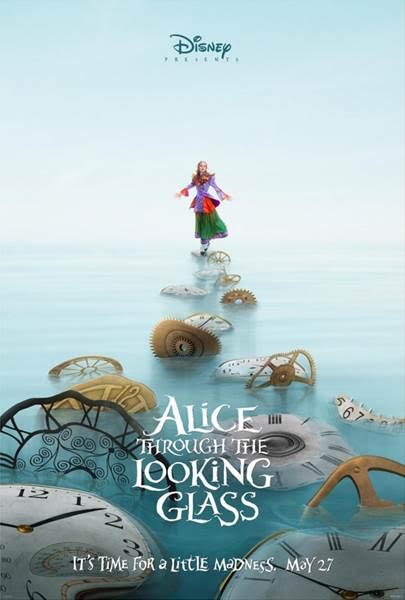 What an adventure this new Disney film promises to be!  The Mad Hatter is in grave danger, and Alice returns to Underland to save him.  Today Disney released the new teaser trailer for the upcoming Alice Through the Looking Glass.
Although it's got that Tim Burton feel to it (a draw for some, but it's not my cup of tea), this definitely peaked my interested enough to want to see the movie!
The scoop…
"Alice Kingsleigh has spent the past few years following in her father's footsteps and sailing the high seas. Upon her return to London, she comes across a magical looking glass and returns to the fantastical realm of Underland and her friends the White Rabbit, Absolem, the Cheshire Cat and the Mad Hatter, who is not himself.
The Hatter has lost his Muchness, so Mirana sends Alice on a quest to borrow the Chronosphere, a metallic globe inside the chamber of the Grand Clock which powers all time. Returning to the past, she comes across friends – and enemies – at different points in their lives, and embarks on a perilous race to save the Hatter before time runs out."
Alice Through the Looking Glass Teaser Trailer
Alice Through the Looking Glass opens in theatres next summer of 2016.  The all star cast returns for this creative sequel, including Johnny Depp, Anne Hathaway, Helena Bonham Carter.  They've also thrown in Sacha Baron Cohen as Time himself.  Curiouser and curiouser…
The fantasy adventure ALICE THROUGH THE LOOKING GLASS opens in theaters everywhere on May 27, 2016.
You can follow along here:
On Facebook: https://www.facebook.com/DisneyAlice
On Instagram: https://instagram.com/DisneyAlice
Walt Disney Studios on Twitter: https://twitter.com/disneystudios
*o*     *o*     *o*