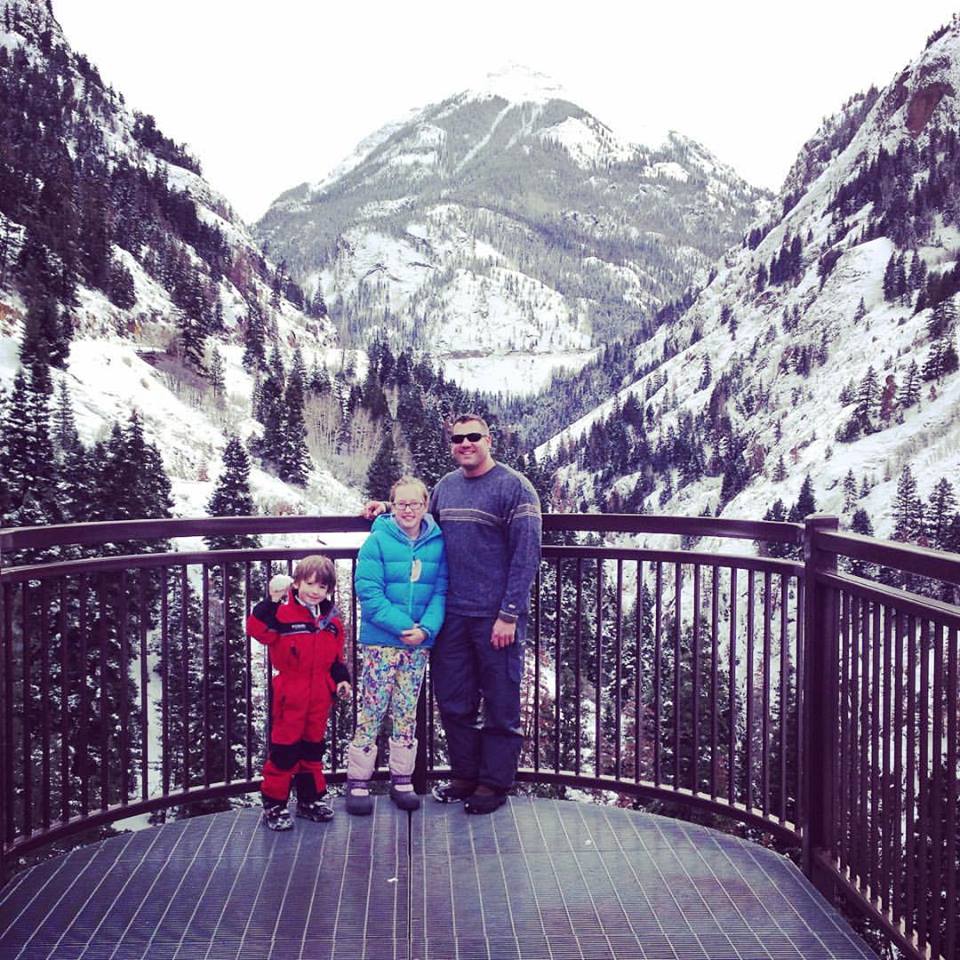 I've written in the past about my family packing up and heading out for a no-definite-plans Family Adventure Day.  We love to explore our area through day trips, and see what outdoor fun we can find.
Winter is not exactly my favorite season.  Sometimes I just feel like ADVENTURING by reading a book next to my fireplace at home.   But I have to admit, if you bundle up before heading out…. you can have a pretty awesome Winter Edition of Family Adventure Day.
Our Family Adventure Day in Ouray, Colorado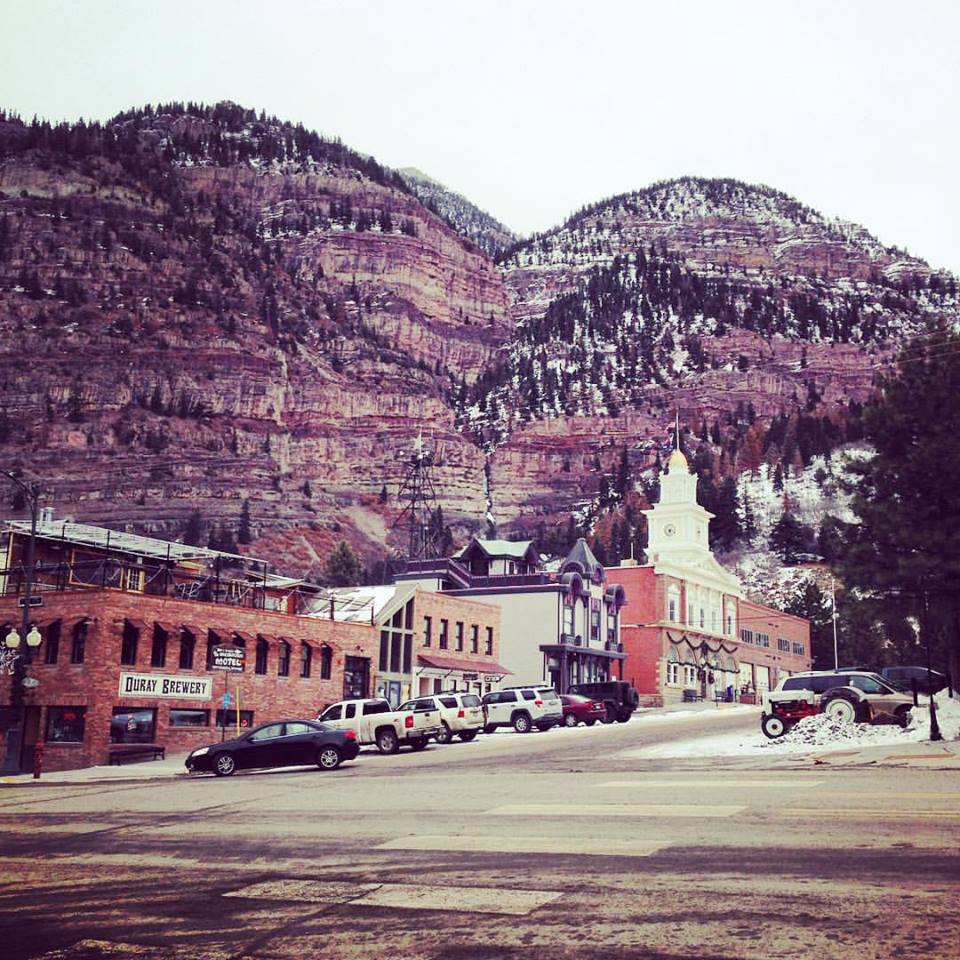 Known worldwide for its Ice Climbing Festival, Ouray is one of our favorite mountain towns in Colorado.   Although we've seen climbers practicing in December, we don't attend the January festival.  While it's impressive to watch those crazies tackle a frozen waterfall climb, it's a little too crowded for the casual wanderer that weekend.
But any other time… Ouray, Colorado is downright charming.   It's known as the "Switzerland of America" because of being enclosed on three and a half sides by steep, gorgeous, rugged mountains.  One of these is Mt. Sneffels, a legendary "14er" (mountain over 14,000 ft in altitude).
We didn't climb any 14ers that day.  But we did bring our snowshoeing gear.  The drive south of Ouray takes you up Red Mountain Pass, and a breathtaking drive it is.  You know… both scenery wise, and "holy cow that's a big drop off right next to this narrow road with no guard rail" wise.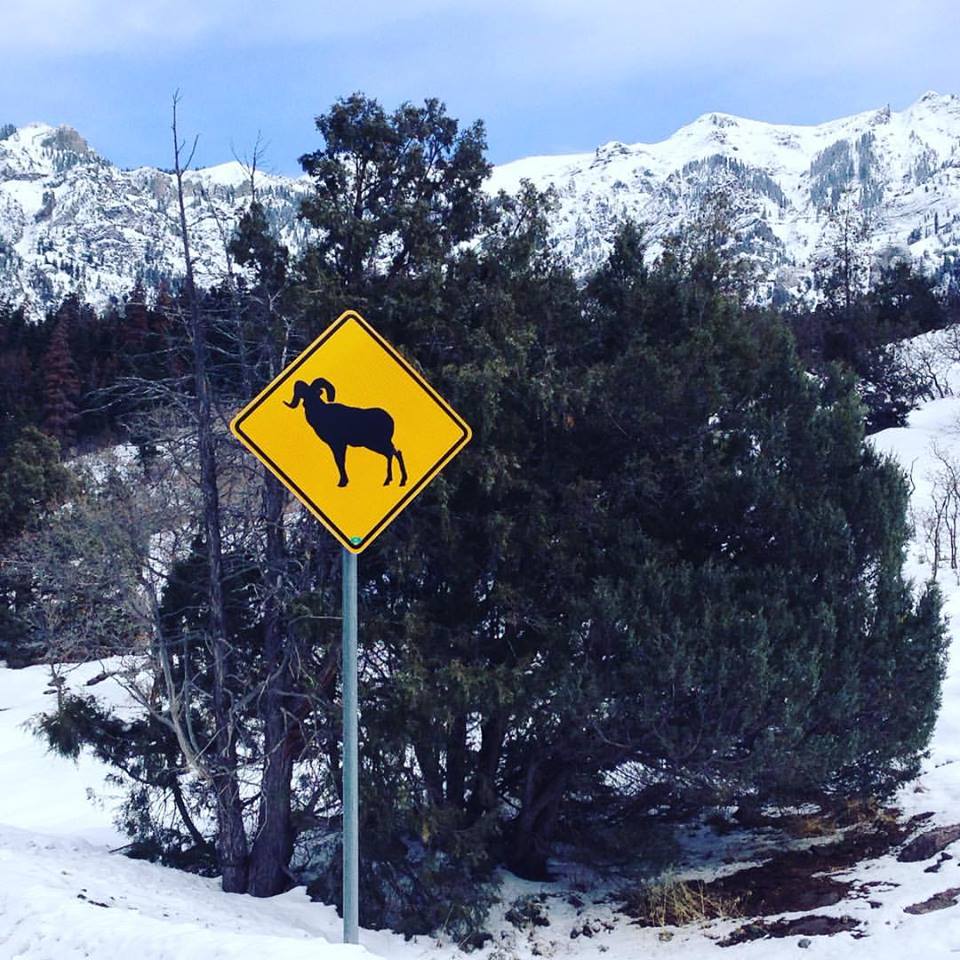 First you get to drive past an amazing waterfall, with a vantage point overhang deck available for those who wish to brave it.  In my head, I knew it had been engineered to be perfectly safe.  But you can SEE THROUGH the floor.  Whew!  It gets your attention.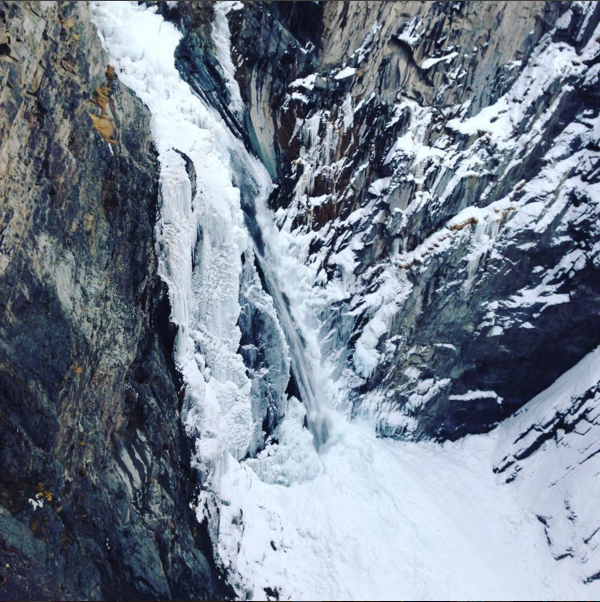 A local had tipped us off to the Ironton trail area, and after about a 15 minute drive we spotted the good sized trailhead parking lot on the east side of the road.  We geared up in our Tubbs Snowshoes and warm clothes, and headed out.  Although it wasn't sunny, it was still quite beautiful.
We've become pretty big fans of snowshoeing.  It's relatively easy, and helps you explore some breathtaking winter wonderland areas that are typically only accessible via hiking during the warmer months.  (If you aren't convinced, check out my post on TravelingMom,  7 Reasons Your Family Will Love Snowshoeing.)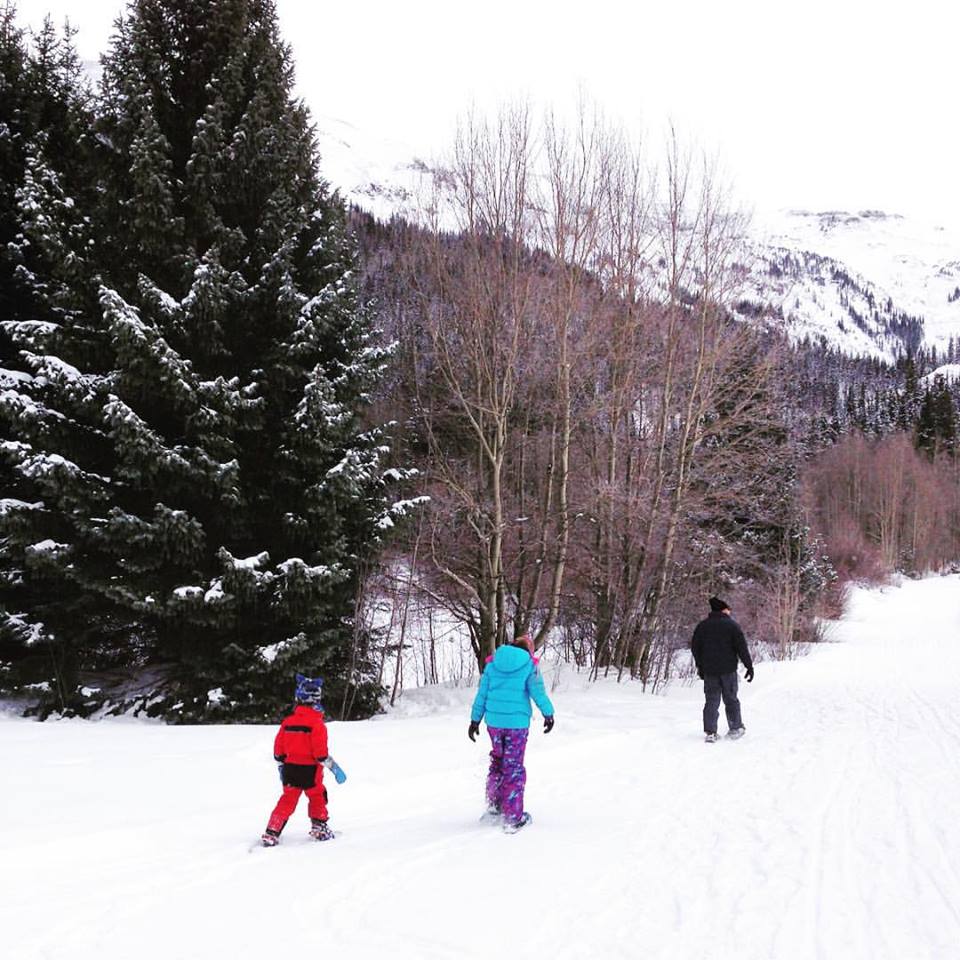 After all that great exercise and breathing in the crisp air, you work up quite an appetite.  We had dinner plans elsewhere, so decided it was time to kick around downtown Ouray for awhile and maybe find a snack.  That's right folks…. you don't have to play outside the whole time, during a Family Adventure Day!
I love the assortment of shops in Ouray, Colorado.  It's a small mountain town, that does have a bit of a tourist population (although not the worst that I've seen).  They've got a fantastic toy store, with samples laid out and staff that really knows their stuff.  My kids tested out games, and played at the counter for quite awhile.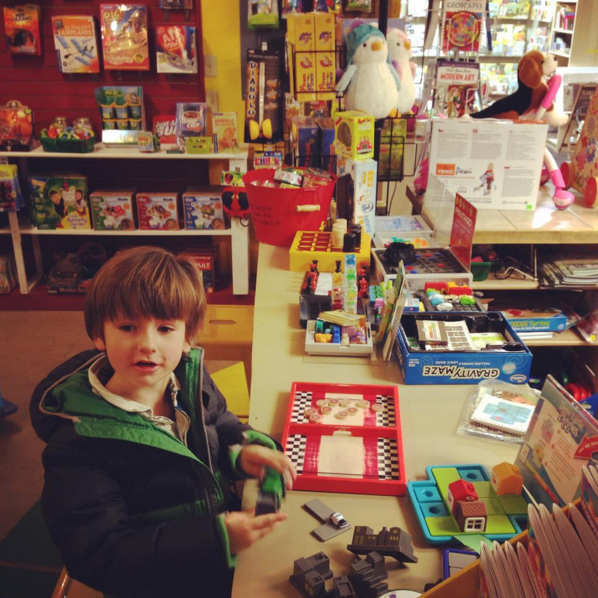 Based on the ages of our kids, they recommended two really cool games that would bridge their 5 year gap and engage them both.  Awesome.  It was a very pleasant experience, and we now own 2 NON-SCREEN, NON-BATTERY POWERED games my kids will play.  Whaaaaaat?
I don't remember the name of this store.  It might even be "The Toy Store".  It's on a side street of downtown.  Just ask anyone, and they can direct you to it…. (don't you love small towns?)
Mom was cranky, and needed a snack.  What better place to go, than somewhere that has Wi-Fi, espresso, and chocolate?  My #1 Ouray coffee break recommendation:  Mouse's Chocolates.  Which in my mind I always call "Moose's Chocolates".  I have no idea what the significance of a mouse is?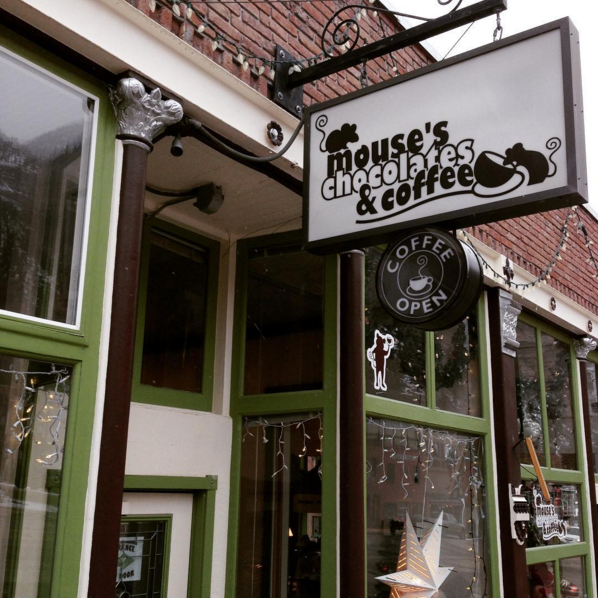 (Ok, I just looked at the sign and realized it's like a computer mouse.  I still like moose better.)
Trust me when I say:  You must go here.   And then you need to listen to my ordering advice.  They create something they call a "Scrap Cookie".  Because they make custom chocolates, truffles, and caramels in house, they save all the leftovers scraps and tidbits.  These savory morsels get folded into cookie dough, and baked up into the most heavenly treat you've ever tasted!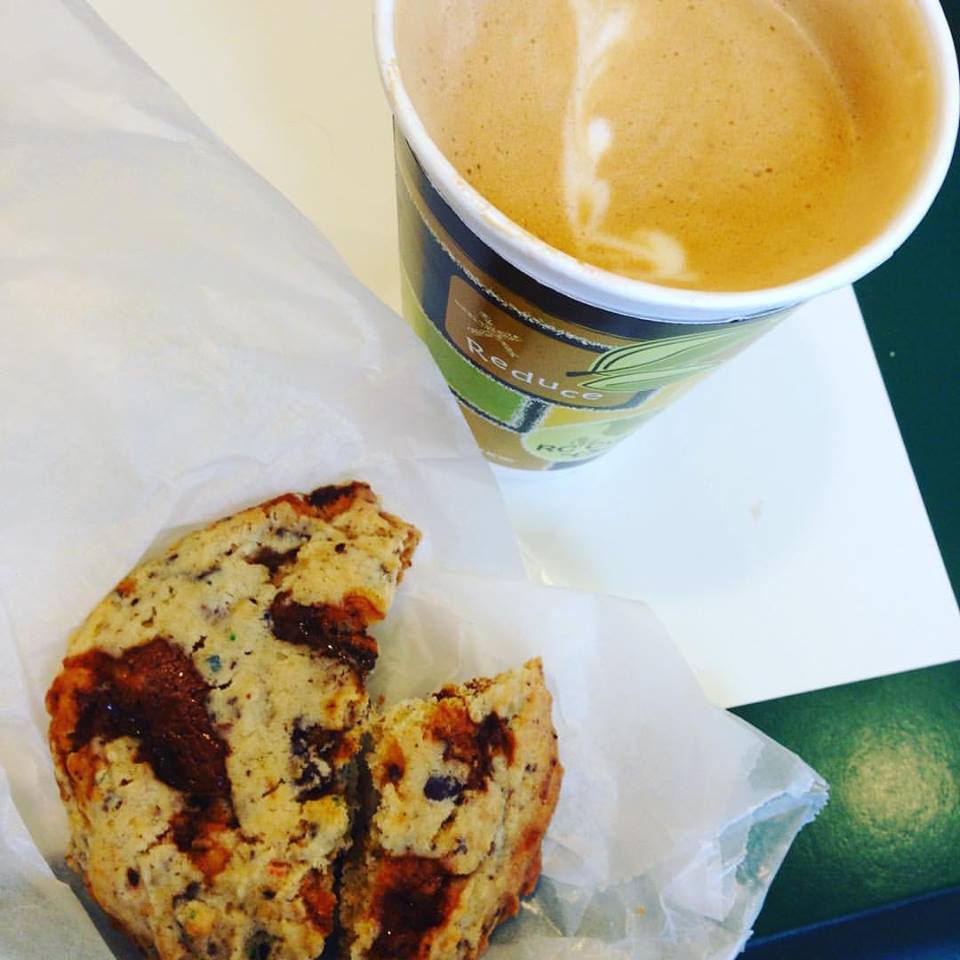 By the way, I'm also a latte snob… and that was the best one I've ever had.  Straight up plain, Jack – steamed milk, and strong frothy espresso shots.  Oooohhhhh yum.
A little outdoor play, a little toy shopping, an indulgent food break.  We had a fantastic Winter Family Adventure Day in Ouray, Colorado, and highly recommend exploring this area if you get a chance.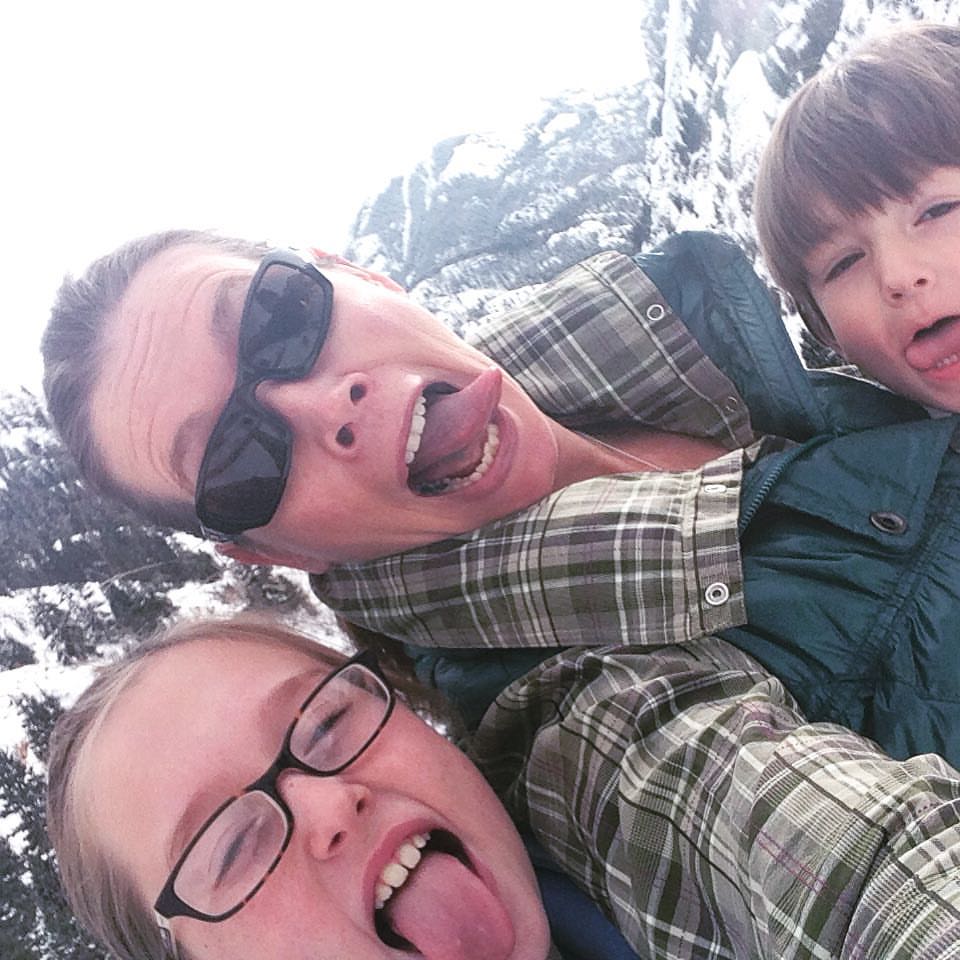 *o*     *o*     *o*