This past month I reached a personal fitness goal, and in the same swoop was able to cross off a Disney Bucket List item of mine.  My mom and daughter were my support team, and went along with me to Disney World.  Although our runDisney weekend had some dramatic ups and downs, I was able to complete my first half marathon – the Princess Half.
Achieving that milestone felt pretty fantastic.  It was a gratifying trip, satisfied my curiosity about all the runDisney hoop-la, and was an extremely fun experience overall.
But hooked on half marathons, I am not.
It took me 6 months of training to work up to those 13.1 miles.  Along with a bottle or two of ibuprofen, repeated icing of my knees, entire Sunday afternoons dedicated to long runs in the winter cold, and a fair amount of limping around my office (I ran during my lunch breaks).  For long distances, I need to wear knee braces on both legs.  In short, I've concluded that running isn't for me.
So my knees are shot.  What's next, to keep active while hopefully having fun?
Riding My Bike, Likka a Little Kid!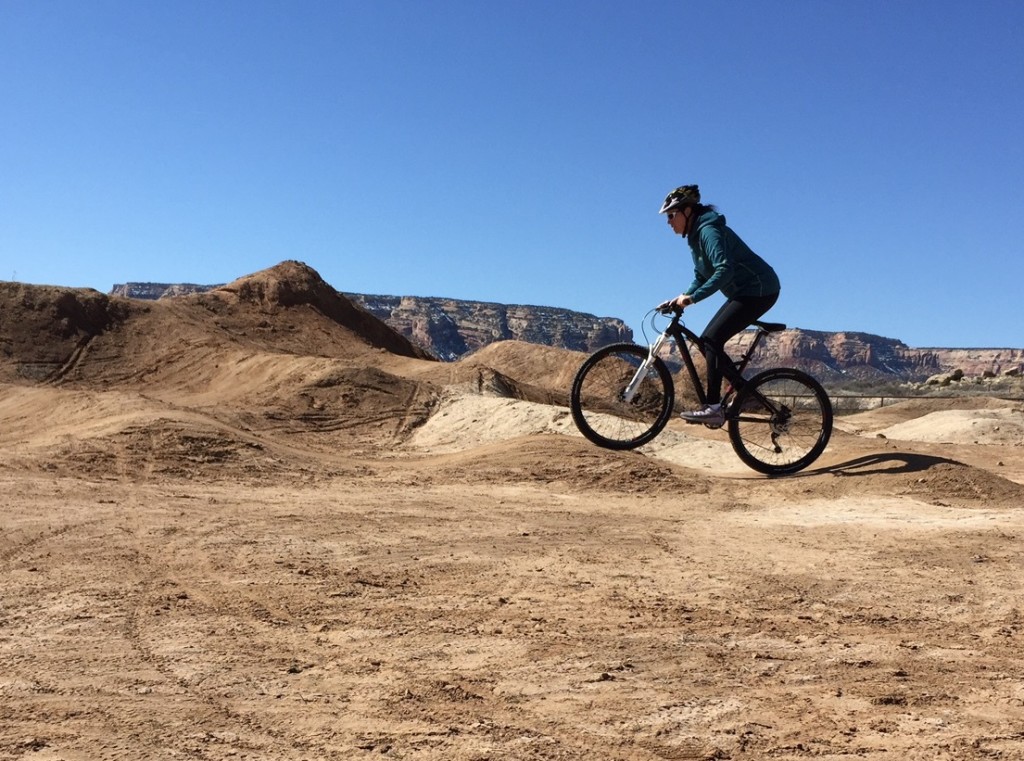 Twenty years ago, living in South Dakota as a young adult, I discovered the joys of mountain biking.  "Wait, there's no mountains in South Dakota", the reader objected.  Good point.  Ok, so I discovered riding-a-mountain-bike-on-dirt-trails-with-hills.
And it's incredibly FUN!
If you haven't rode a bike since you were a kid, or have only done so on a paved sidewalk around your neighborhood with your children… you need to give mountain biking a try.
What a rush!  Once you find a "just right" trail that isn't too steep or technical (unless you're already a Mountain Biking Beast, then you go girl!), riding it is akin to being on your favorite amusement park ride.  A great dip or swoop can give you that little catch in your breath.  A girlish giggle wells up inside.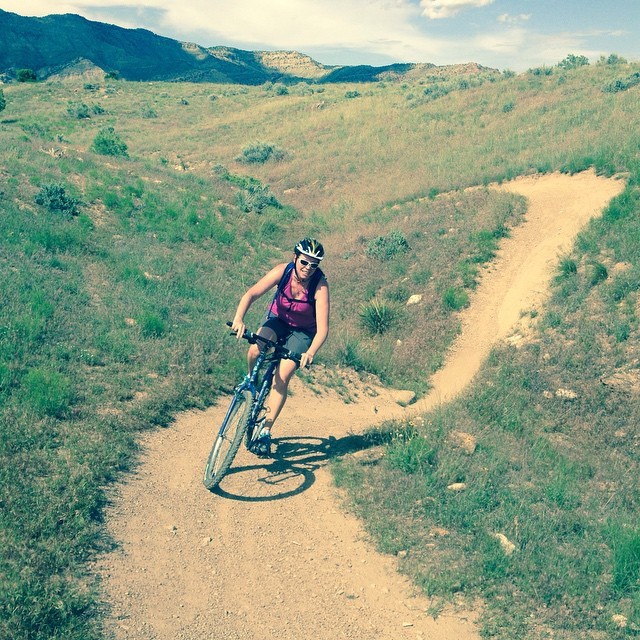 Not to mention…
Much easier on the knees.
Cover much more scenic ground, than when running or hiking.
Excellent cardio and muscle strengthening exercise
Tough athleticism cred.  "Yeah. I mountain bike."  😉
I had an older mountain bike, that has always been just a *bit* too big for me.  I don't recommend this, especially for trying to learn technical skills and ride on trails with any modicum of exciting features.
You're a Girl ~ Get a Girl's Bike
In recent years, an exciting development in the Outdoor Gear Industry has been the making of product lines designed specifically for women.  Our bodies are different. Taking that into account, when designing gear that will be worn or ridden, makes a big difference in comfort and performance.
So it peaked my interest when I saw Diamondback's line of bikes made just for women.  I'm going to work with them this season, and will be riding their nicest "Lux Comp" Women's Mountain Bike.
I feel really good about blazing this trail, keeping my readers in the loop on how it rides, and my overall experiences with it… largely due to it's affordable price point.  This is no $6000 bike, yet it's still made with high quality components.  Perfect.
My 5 year old son and I took a short test run at our local bike park.  I can't wait to hit some of our legendary Western Colorado biking trails soon!
Oh… and my knees?  Never. Been. Happier.  🙂
*o*     *o*     *o*