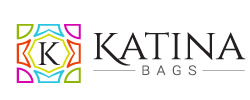 Bags are a serious weakness of mine.  A bit of an organization freak, I never tire of exploring various options to carry along everything I need for the day.  Katina Bags had me hooked as soon as I took a look at their lovely website.  Their inspirational approach combines a beautiful tote bag, with coordinating organizational bags.  Katina Bags offers on the go organization, to help you "keep your life together without sacrificing style".  Sound too good to be true?  Read on, and decide for yourself…
For the past few weeks, I've been using this gorgeous Katina Bags Lifestyle Carry Solution.  I'm excited to tell you about these, since it's a mom-idea, mom-owned company out of Colorado.  They are high quality and hand crafted, made with careful thought put into this smart design.
Katina Bags Lifestyle Carry Solutions
You can purchase from Katina Bags the individual tote bags, and various sizes of organizer components.  But to fully experience all the great benefits, you should take a look at the whole package – Lifestyle Carry Solutions.
Lifestyle Carry Solutions come with:
Tote bag
Laptop/tablet sleeve
Mini bag organizer
Wristlet/lanyard
Let's start with the tote bag.  The Lifestyle Carry Solution comes with either a medium or large sized tote.  My choice was the Hanna, which came with a medium sized tote. The exterior fabric is thick and durable, while still being soft to the touch.  The colors are vibrant, and I receive complements each time I carry it.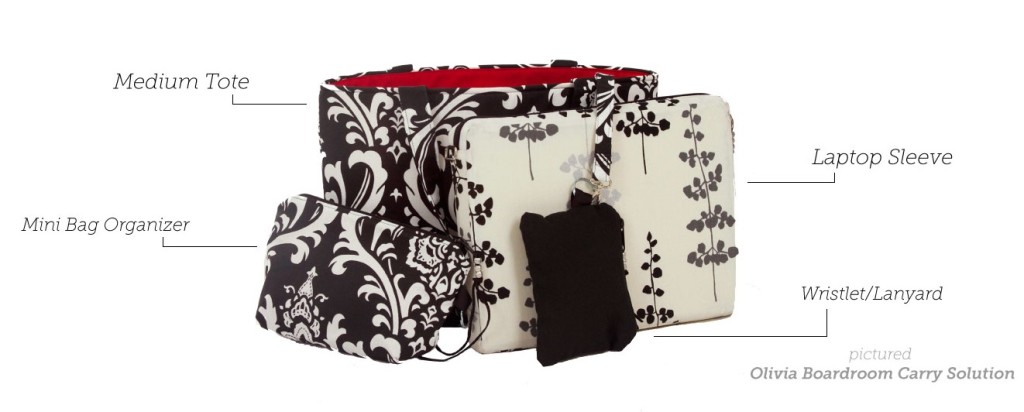 The tote has an interior structure that is stiff enough for it to hold its shape, even when empty.  I love that, because it makes it easy to load and access the contents.  No floppy, shapeless tote bag you have to dig around in forever.
And here's arguably the best part:  organization!  Your Lifestyle Carry Solution will include a set of three internal organizing bags.  You'll need to decide whether you most typically carry a laptop or tablet.  The largest organizer bag is padded and lined with very soft fabric to protect your electronic device, and comes in three sizes.  Then you'll also receive both a medium and smaller sized organizer bag.
Katina Bag Features
I've been using my Katina Bag for my journeys to and from work.  I take sooo many things with me… it's a little obnoxious, and could probably be pared down.  That being said, the medium sized tote wasn't quite big enough for me to use for this particular purpose.  If you plan to use it for work, and end up lugging along a water bottle, coffee travel mug, tablet, snacks, lunch, AND workout gear… I'd consider selecting a large tote.
If you plan to use it more as a "purse with benefits" size… the medium is adorable, and will be just right for you.  I really love the look of the medium tote, it tucks so nicely under your arm.  Now that I ponder it, this size probably prevents you from bringing *too* much stuff along for your day.  Which is a good thing.  Ok, so I really actually love the medium size!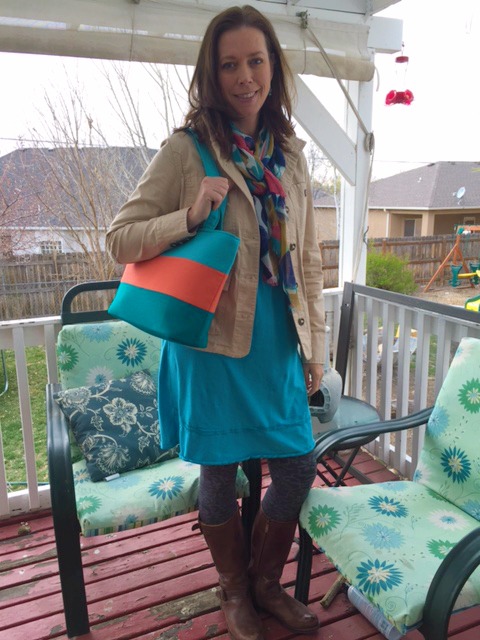 Features I love about the Lifestyle Carry Solution:
Comes with a matching lanyard wrist strap. Attach it to a smaller organizer bag, and convert it to a compact purse-on-the-go for running out to lunch.
Very easy to find contents!  The organizer system works like a champ, and all items are easily retrieved.   They definitely nailed it in this regard.
Clips found on each end of the tote, and each end of the laptop case. Adds security, allowing you to clamp in the organizer bag containing your device.  Can also be used for keys (which is what I do… very slick!)
Each zipper has a pretty, decorative pull made from beads and a strip of leather. Love this little detail!
Attractive solid color blocking design, and I really like the complementing fun print fabric of the interior.
Great interior organization panel, with a zip close pocket, open slip pocket, pen holder, and clear vinyl covered business card (or ID, etc) slot.
Opposite interior side is a full sized (width of tote), zip closed pocket.  Works fabulously to protect those loose papers that used to end up getting mangled.
Impressive fabric that wears really nicely, doesn't show any dirt or scuffs.  I'm assuming it spot cleans well, but haven't needed to try.
You can mix and match!  Totes and internal organizer bags are also sold separately.
Things I think they could improve:
Keep it whimsical!  Would love to see additional, bright colors and pattern choices.
The tote gaps open when full.  For security and privacy, I wish there were a way to keep it somewhat closed, when needed.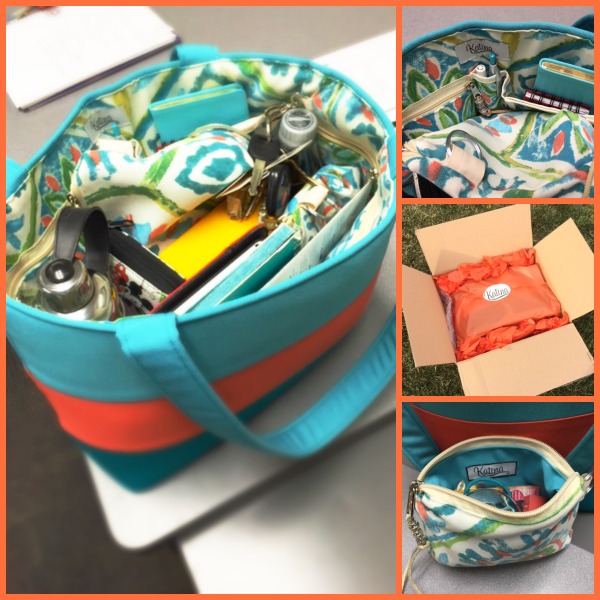 Overall, this bag has a luxurious, custom feel to it.  The details, materials used, and workmanship just give it an extra… something.  It's very special and unique in that regard, compared to bags from larger commercial brands that I've owned.
I first used it as my Office Work Warrior bag for a week.  Then lately I've been using it for my Weekend Mom Go-To bag. That works really well too, as it fits my essentials, snacks for the kids, and any books we need to take/return to the library.
These really are a fantastic lifestyle carrying solution.  I'm excited about all the possibilities of my Katina Bag!
Katina Bags ~ The Giveaway
Katina Bags has offered to send one of my winning readers your choice of a lovely Lifestyle Carry Solution (pending availability), value up to $169!
Enter using the form below.  Open to US residents, ages 18+.  Entries will be verified.  Void where prohibited.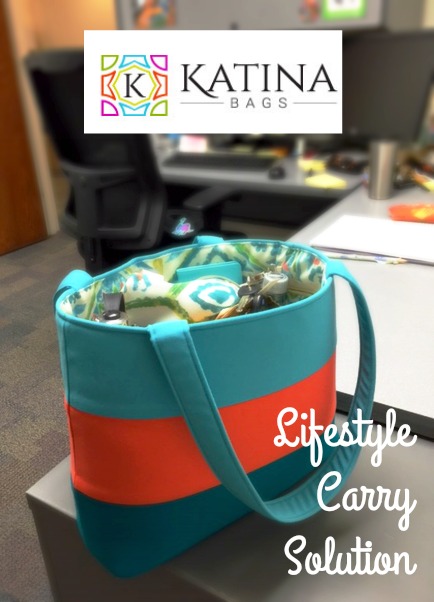 *o*     *o*     *o*
I received a Katina Bags Lifestyle Carry Solution at no cost, for the purposes of performing this review. All opinions are my own.