My first glimpse of the Versatrail was seeing instagram photos from home, as outdoor gear enthusiasts posted photos during the Outdoor Retailer show.  The KEEN Versatrail hiking shoe definitely has a great look, and is available in men's, women's, and even kid sizes.  What about fit and performance?
I've been testing out a pair the past few weeks, and have been quite happy with them.  Here's my overall review of the Versatrail, KEEN's new lightweight hiking shoe.
KEEN Versatrail ~ New Lightweight Hiking Shoe
The great thing about an attractive, lightweight shoe like the Versatrail is how versatile it is.  (See what I did there?  Oh wait… maybe it's what KEEN did there…)  I love having a low height, easy on, comfortable shoe with a great tread like this for everyday casual wear.
I may not be fortunate enough to have a hike on the day's agenda.   But in theory, if the opportunity spontaneously arose, I'D BE READY.   I believe that's called "adventure ready".  It's how we roll in Colorado.  You can roll with us…
Features & Construction
Let's start with the weight.  11 ounces?!  Actually, the approximate weight of the womens (it would vary slightly by size) is 9.6 ounces per shoe.  That's crazy light, and assures your hiking shoe won't be what's tiring you out.
Your KEEN Versatrail comes with two set of laces.  They are pre-laced with elastic laces and a cinch clip.  You can swap them out for traditional laces, if that's your preference.  The secure fit lace capture system is impressive, and keeps the shoe feeling highly adjustable and secure.
The Versatrail promises to be excellent for warm weather hiking and outdoor adventure.
Some features that support this:
Highly breathable
Cleansport NXT™ for natural odor control
Extremely light weight
Easy on, and easy adjust with the elastic lacing and secure fit system
The outer sole is typical KEEN quality, and I feel it's a part of their signature trademark.  A full length layer of cushioning increases comfort, and absorbs shock.   I'm impressed by the "metatomical" footbed, which is engineered to provide excellent arch support and cradle the natural contours of the foot.  I'm flat footed, and can't handle *too* high of an arch support.  These are just right for me.
Sizing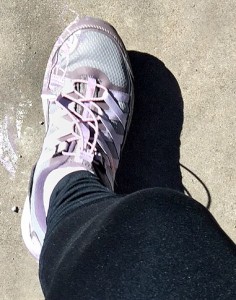 If you fluctuate about a half size depending on the shoe, pick the larger option.  I wear a 9 or 9.5, but the 9.5 wasn't available to me.  I tried a 9, but KEENs tend to press down on the top of my toes, for some reason.  Once I switched to a size 10, although they were a tad too big, the toe pressure problem was solved, and they are comfortable.
The toe box is fairly roomy, and I'd say The KEEN Versatrail runs a little wide.  But thanks to the lacing options, it's easy to get them cinched to your comfort level.  Even though mine are a little big, they feel secure.  No blistering or movement inside the shoe, and it's easy to run or climb with them.
Performance
These really are incredibly light!  They are sturdy, and well built… as KEEN shoes typically are, in my experience.  They have an intricate tread, and a deceptively beefy sole.  In a good way.  Meaning they are durable, and promise to be long lasting – yet apparently have not paid for this with increased weight.  Great design, and ideal for summer hiking.
Once I got a size that worked for me, the Versatrail's did not need to be broke in.  They are comfortable enough to easily be my choice to repeatedly wear all day.  That's saying a lot for me, since between having flat feet and bunions… it's hard for me to find comfortable shoes that don't hurt my feet in some way.
Appearance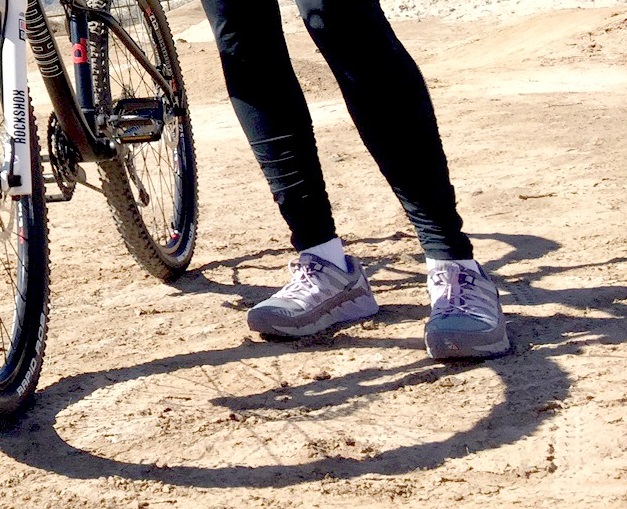 It's not only nice to have two types of laces come with your Versatrail, it makes for two different looks of the shoe.  Personally, I can't get past using the standard elastic lacing that comes pre-loaded.  Super convenient to slip on quickly, and the ability to still get them cinched tight also makes these laces practical.
This is a great looking shoe!  Not too flashy, and comes in some fantastic colors.  I'm partial to the subtle lavender pair, as gray is a hugely popular color lately and they look good with almost everything.  I'll be enjoying my KEEN Versatrail for many upcoming adventures.
*o*     *o*     *o*
I received some KEEN Versatrail hiking shoes at no cost, for the purposes of performing this review.  All opinions are my own.