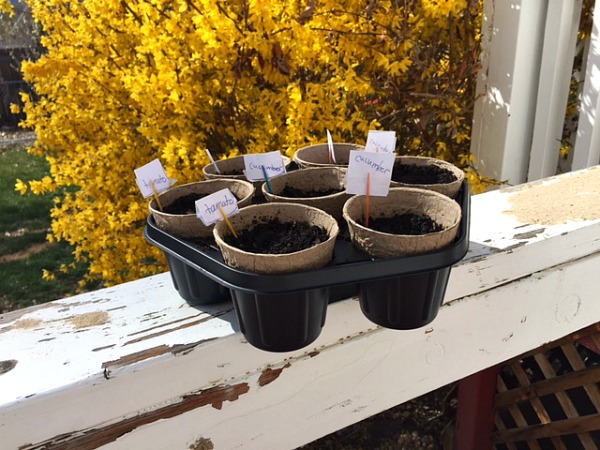 For years, I've tried to grow tomatoes in my backyard.  It's been an ongoing exercise in frustration, to say the least.  Each fruitless season, I gripe to friends and family… begging for advice.
I love the concept of gardening, I just don't seem to have a knack for it.
So I came up with one last approach to try this season, before throwing in the trowel.  My husband built me a raised garden bed a few years ago, so I've got a dedicated spot.  Our journey into backyard chicken ownership added an extra challenge, but I think we've even got that figured out with the help of some extra chicken wire.
One variant I've tried is the location where I purchase my plants.  Does this make a difference?  Walmart vs the local greenhouse?  Perhaps.  But irregardless, my garden was still a bust.  Last year I literally got *zero* tomatoes.  Go figure.
My New (Cheaper!) Approach to Gardening
So I'm done playing that game.  All bets are off!  This year I have a two part strategy:
Try planting from cheap seeds (instead of buying plants later).
Let my kids pick whatever they want to grow.
Although I suspect it's little late in the game to grow your own starter plants, we purchased supplies last weekend.
I was shocked to see you could buy a packet of seeds for 20 cents!
That's awesome.  I didn't know buy anything for 20 cents, anymore?!  Some fancy ones cost more, but we were able to get the majority of what we wanted in the super cheap section. So we're already ahead of the game there, as far as I'm concerned.  🙂
My daughter selected seeds for a variety of flowers, peas, and cucumbers.  If all goes well, the flowers alone will save me about $80, when I try to decorate my front porch for summer.  My son, our die-hard Melon Fan, picked watermelon and cantelope.  I grabbed some basil.
The kids were excited to plant, and did a great job.  My daughter and her friend even took care of creating tiny toothpick-sign labels.
It's worth a try!  Here's to a good growing season!
BTW, I gratefully accept any and all gardening  tips.  🙂
*o*     *o*     *o*