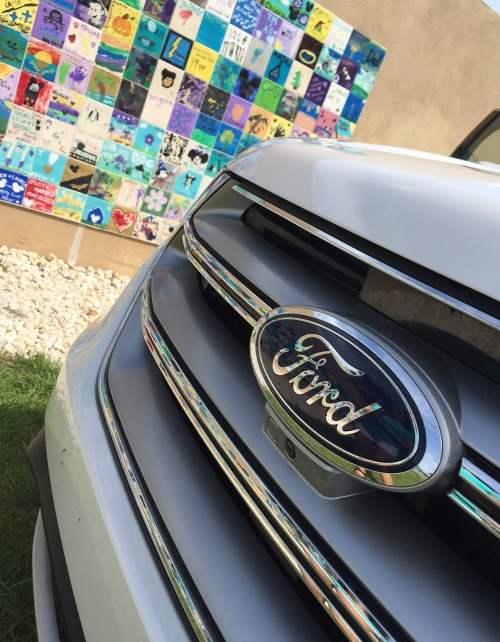 I recently sat through a presentation by Ford Driving Skills For Life representatives, and listened as they described what I thought was a bizarre technology:  Drugged and drunk driving suits.  This "wearable tech", as they called it, simulates the physical restrictions a person experiences when they are under the influence of drugs or alcohol.
Why would anyone need that? 
To teach your teenager how serious it is to drive drugged or drunk, during Ford's advanced driving school.  That's right, Ford holds advanced driving school for teen drivers… and it's free.  This training is a hands-on clinic, and provides the ultimate form of training for young drivers who hold a permit or license.
Ford's Advanced Driver Training
The Ford's Advanced Driver Training is offered each year in 10-15 states.  Ford attempts to disperse and change the locations annually, in an effort to increase their reach and share this opportunity with as many teens and their families as possible.
"Working with professional instructors in actual vehicles, students and parents learn advanced driving skills in a controlled and safe environment. These clinics provide skills beyond those taught in traditional driver education courses, and are an important step in the life-long process of learning to drive safely."  ~ Ford's FDSL website.
You can check the 2016 locations on their website, and keep an eye on the event schedule map for future locations added.
Driving Skills for Life
Is Ford not currently hosting the advanced driver training in your area?  There are still some excellent resources available on the Driving Skills for Life site, including:
Media section – contains short videos demonstrating the effect of the drugged and drunk driving suits, and more
School Safety Kit – email to request a copy
Download best practices and more from their 10+ years of Ford Driving Skills for Life programming
Parent Tools – assist in providing education for both parents and teens to use together, including the Parent's Supervised Driving Program guide you can download for free.
My oldest child is not yet of driving age.  But when she is, I'm grateful to have available resources like this to assist in her becoming a safe driver.  Thank you Ford, for offering the Driving Skills for Life program.
*o*     *o*     *o*