Cavender's is a family owned and operated retail brand that carries a large selection of well-known western brands based in Tyler, Texas.  In more than 70 stores nationwide, they offer traditional and modern-style hats, boots, clothing and home décor.
When recently approached by a representative from Cavender's to try something from their fashion collection, my initial reaction was "I'm not sure if this is my style?"  But it didn't take long browsing through their online selection of gorgeous boots, trendy and fun jewelry, foxy cowgirl jeans, and fun Western style fashions to pick out an outfit that I loved.
I came to realize that Western style is a close relative to what I call my "Mountain Mom" style, and I think you'll agree Cavender's has some fantastic Spring Fashion Finds.  Here are a few of my favorites…
Spring Fashion Finds ~ Cavender's Womens Tops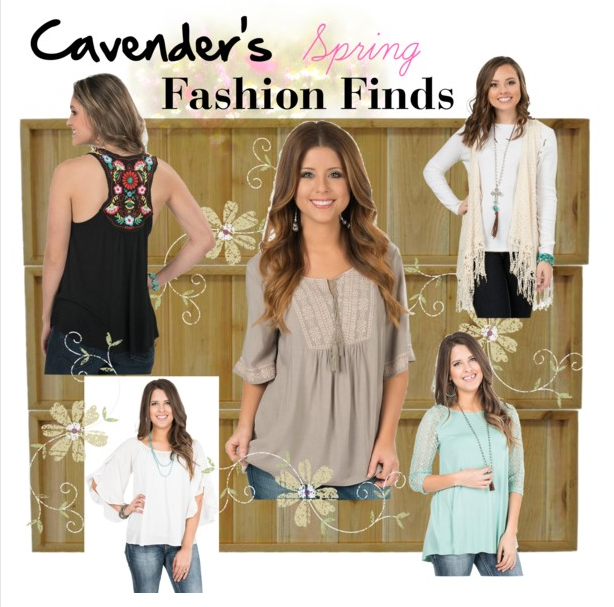 Cavender's has a colorful and unique selection of womens tops.  Fringe, lace, embroidery, and peasant tops are common themes throughout the Spring line, and there's a variety of styles to flatter any body type.  The prices are great, and the tops I received were soft and of nice quality… especially considering the $30-40 price point.
I love the comfortable, feminine looks created by flowy tops and long pendant necklaces.  The creme colored, lightweight Wrangler Crochet Sweater Vest (shown lower right) instantly caught my eye.  It's delicate and so pretty, and easily dresses up even a t-shirt and jeans.  Such a fun summer wardrobe piece!
Colorado Mountain Mom Picks:
Spring Fashion Finds ~ Cavender's Western Jewelry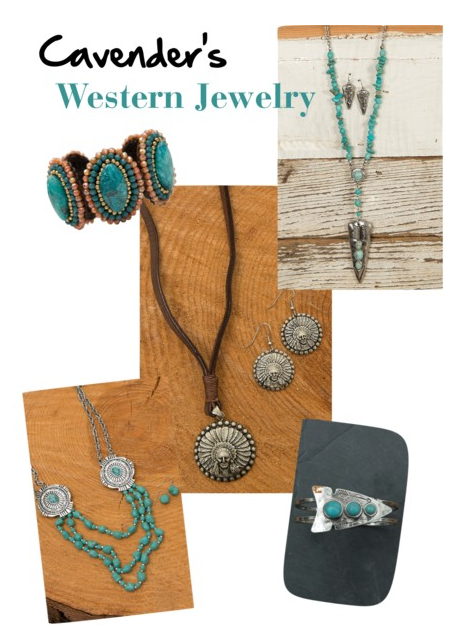 I was highly impressed with the diverse selection and affordable prices of the jewelry on the Cavender's website.  So many awesome stone, suede, copper, turquoise and antiqued silver designs… and everything from purses, to belt buckles, to necklace and earring sets.  These were definitely my style!
Check out that handcrafted Chief Concho Leather Necklace and Earring set by Augus.  Yeah, I had to have that!  So cool.  Makes any outfit way more interesting, as far as I'm concerned.
Consider grabbing just a couple of eye-catching Cavender's pieces like some boots and jewelry to spice up your existing wardrobe.
Colorado Mountain Mom Picks:
Colorado Mountain Mom's Pick ~ Cavender's Western Outfit
So with all those great options to chose from, what did I pick for my Ultimate Cavender's Western Outfit?  When it comes to style, some my absolute favorite looks include earthy leather and classic Southwest turquoise.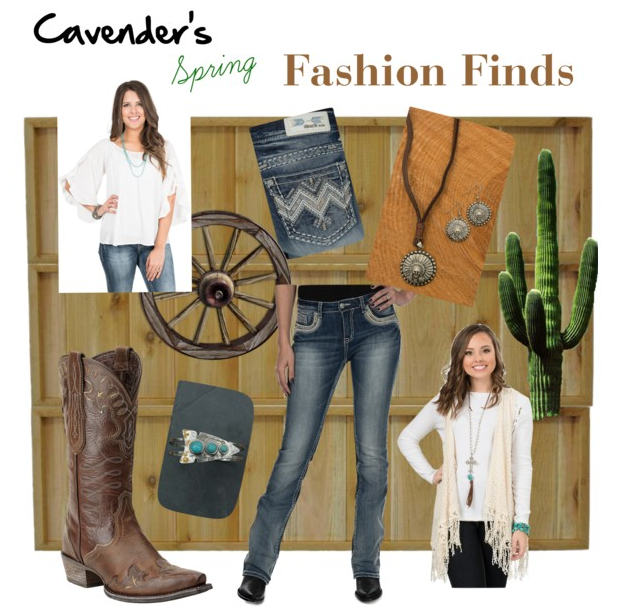 First, I had some help selecting jeans.  Girls, you know it's hard enough to find a pair of jeans when you are in a store trying them on.  Selecting a pair of jeans online that will fit perfectly and look amazing is a daunting task.   When I asked my Cavender's contact about finding more of a Misses fit, and not a super-low-rise Junior fit, she gave me with this awesome tip:
"Take a look at Grace in LA Easy Fit jeans. They usually run longer and certainly have a higher rise. I actually have a pair and they're so comfortable that I never want to take them off!"
She was oh, so right.  Bam!  First try, my very first order… these Grace in LA Women's Easy Fit Jeans jeans fit amazing!   I also love that "cowgirl jeans" in general are extra long.  These jeans are incredibly comfortable, and boy am I ready now for date night.  🙂
The Cavender's boot selection will make you drool, and believe me when I warn you… this will *not* be an easy choice.  After hours of deliberation, I went with this breathtaking pair of Ariat Snip Toe Western Boots.  They are flat out gorgeous.  If a girl only has one pair of cowboy boots in her lifetime, they should be a pair of these.   Haven't gone out dancing in my boots and jeans yet, but I've sure been having fun wearing them along with the Augus Chief Concho Earrings & Leather Necklace, with dresses at work (photo above).
Overall, I was thrilled with my Spring Fashion Picks from Cavender's, and think you should swing by and check out their site.
Cavender's Gift Card Giveaway
Now it's time for an awesome giveaway that I'm really excited about!  Cavender's has agreed to send one of my winning readers a $200 Cavender's Gift Card to go on a Spring Shopping Spree!  The card will be mailed to you, and can be used at either a retail location or online.
Enter using the form below.  Open to US residents, ages 18+.  All entries will be verified.  Void where prohibited.
*o*     *o*     *o*
I received some of the Cavender's items described here at no cost, in order to perform this review.  All opinions are my own.