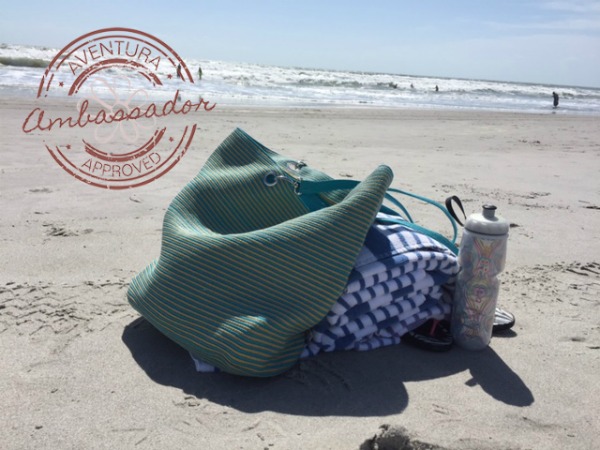 The temperatures are finally getting warmer, and it's time to take a look at your wardrobe for any upcoming Summer adventures!  As an Ambassador of Aventura Clothing, I've been able to try out some fantastic pieces from their Spring/Summer line.   I absolutely love the looks they've offered this season, and wanted to share what I feel is the "best of the best" here with you.
Aventura Clothing is a boutique, high quality line that offers a great fashion option for real women who don't want to dress like a teenager, but still like to look stylish and on-trend.  Much of their clothing is made from eco-friendly fabrics like organic cotton, bio-based modal, and rayon from bamboo.
Part of what I love about Aventura Clothing is how comfortable it is.  It runs true to size, but is typically has a generous cut (bless their hearts!)  I love that the fabrics are so soft, and styles so flattering.  Whether it's work, play, or travel… I find myself wearing it almost every day.
Aventura Clothing Spring Line ~ Ambassador Picks
I've put together some of my favorite Aventura Clothing combinations from this season for you.   Take a look at these pieces, and keep in mind they also have other color choices on the Aventura site.  Spruce up your summer look with a cute top, dress, or scarf!
I've personally worn each of these pieces featured below, and pass along my two-thumbs up recommendation.  I can also help with any advice if you have questions on fit, length, etc.  If something catches your eye, be sure to leave me a comment at the end… I have some Ambassador Coupon Codes to share, good for 60% off your Aventura order!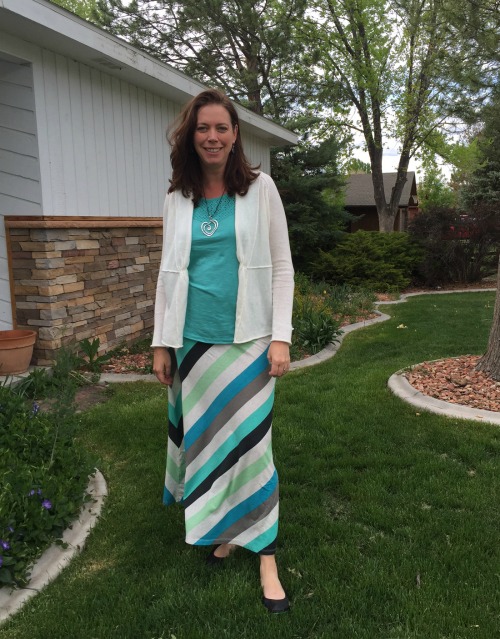 I was so excited when I received and tried on the Quinlee Maxi Skirt (shown above).  It's even better than I expected, with a super cute side slit up to the knee, and a heathered background.  Incredibly soft, incredibly comfortable.
The Samantha Bag was another exciting surprise this season, as Aventura tries their hand at a new type of accessory.  It's got a tall shape and flexible form, that fits just about anything and everything.   I've loved using it to toss in all my on-the-go needs.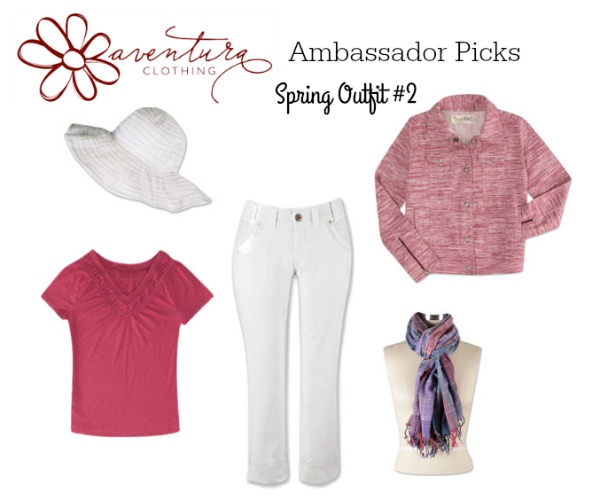 Taking a slight detour from my favorite color (Turquoise!  Can you tell?), I tried out the lovely Mina Top in a luscious color:  deep claret.   The rich, rosy hue is not quite red, and is really striking.  Pair it with my favorite Aventura scarf of this season, the funky plaid Kristina Scarf and prepare for the complements to stream in!
Another piece I adore is that Finley Jacket, which is the same deep claret hue as the Mina Top, and is made from an awesome thick French Terry.  Looks fantastic with white or black (or deep claret) and has been a unique and beautiful mix-and-match addition to my wardrobe.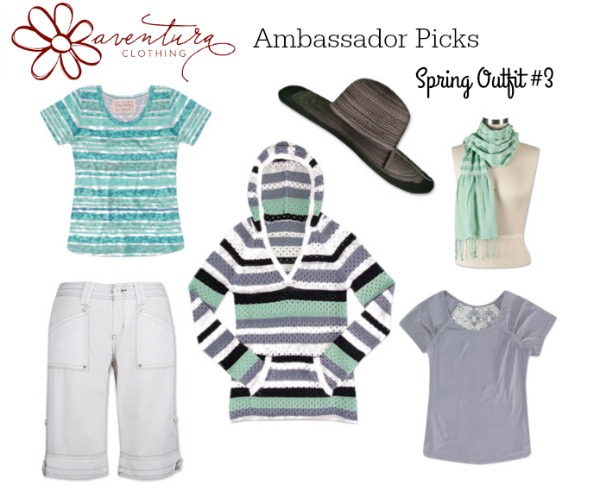 It's my favorite beach outfit!  The fun Pippa Sweater just says "nautical" to me, and I loved having it during our Spring vacation in Florida.  Perfect lightweight pullover to bring along on those summer nights, and comes in three attractive color combinations.
Don't overlook the low-key Raleigh Top,  shown lower right.  This top has a lot going for it.  It's truly a perfect fit:  not-too-tight, but not-too-sloppy.  Add in the very soft fabric and cute shoulder details, and that makes it… wait for it… my favorite Aventura top this season!
Also really love that organic cotton and modal striped Sunnyvale Top.  It's pretty easy to see how cute that one is.  😉
And how smart and chic are all those sun hat options?
Aventura Spring Dresses
Not to be missed are the Aventura Spring Dresses.  I didn't previously consider myself a "dress person", but having a piece like this in your closet can be a life saver.
I've had a revelation:  dresses/skirts are more comfortable than pants!  So that won me over for wearing them to the office for work.   And I've found myself being happy to have them for warm evenings out, or fun occasions when you want to look like classy mom.  🙂
And if you're a blogger or someone who travels… you need an Aventura Dress or two (or three) for special events!  They travel really well, take up no space, and dress up beautifully with a scarf and jewelry.
Aventura Clothing ~ Discount Codes
Each season I'm given a few Discount Codes to share with readers.  This is a very exciting chance to try some Aventura at an amazing discount.  Log in with one of these codes… and all your 60% off discounted prices will display in red!  Good for one purchase, up to $250 total.
Comment below if you'd like a code!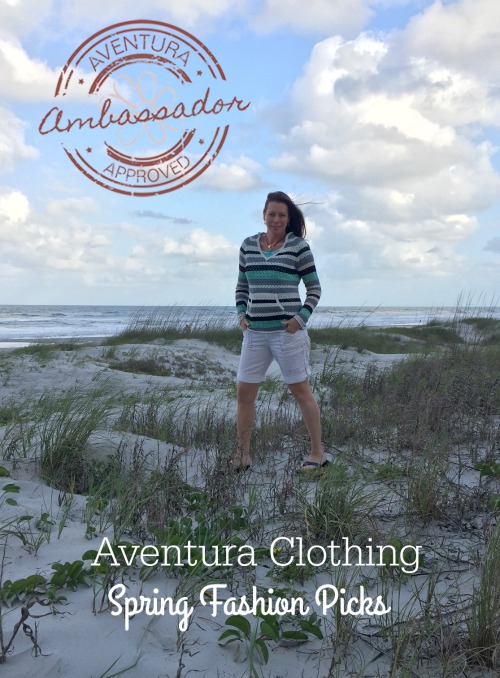 *o*     *o*     *o*
As an Aventura Ambassador, I receive complementary outfits each season to try out.  All opinions are my own.