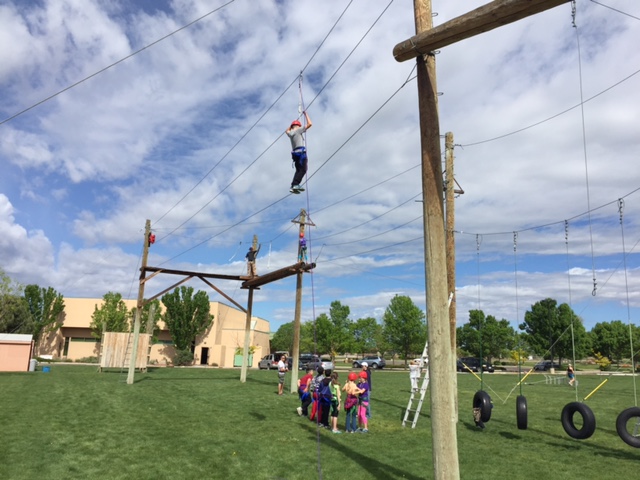 I've known this was coming for about two years now.  It's a rite of passage for all 5th graders at my daughter's elementary school.  At the end of the year, they take a field trip to a High Ropes Course.  One final boost to their self esteem and confidence before tossing them into the Lion's Den (a.k.a. Middle School).
Although I typically try to attend all field trips, I had made the conscious choice to *not* witness this.  I trusted them to keep the kids safe.  I just didn't think I could watch it.
I made it half way through my work morning, before I broke down and headed over to the high ropes course.  I'm so glad I did.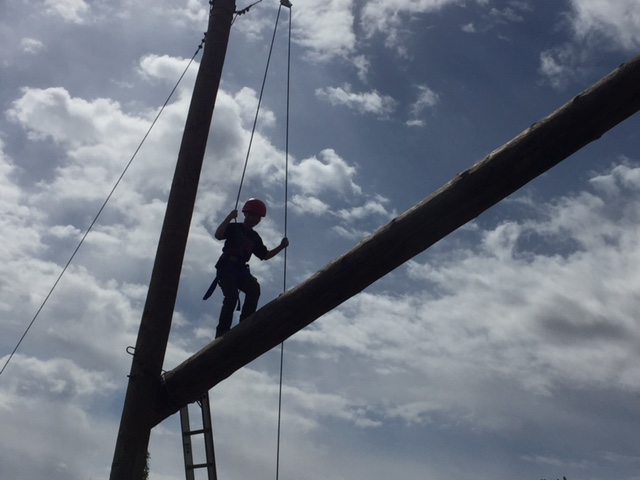 The Right Stuff
Who knew these kids had this in them?  I've been around the majority of them since kindergarten, and have a beat on most of their personalities.  But I did not see this coming.
To be honest, when I pulled up it didn't look like much.  After parking and walking in for  closer view it hit me.  That high ropes course was incredibly scary.  And those kids were crushing it.
I'd missed the introductory lessons on when to say "belay on!" or "climbing!".  Each child was geared up with a pelvic harness, clustered in groups of 6 or 7 at the various stations.  One would climb, and they others would cheer them on.  Heck, they were cheering for anyone "climbing!".  If you were in the air, the entire class below had your back with shouts of encouragement.
It was incredibly inspiring.  There was no teasing, no bullying, no mocking.   I'd heard it's a team building exercise of sorts.  What I witnessed was that for a bunch of 11 year olds, this is what team building looks like… setting aside differences, and just flat out supporting one another.
The beauty of this was surpassed only by their bravery.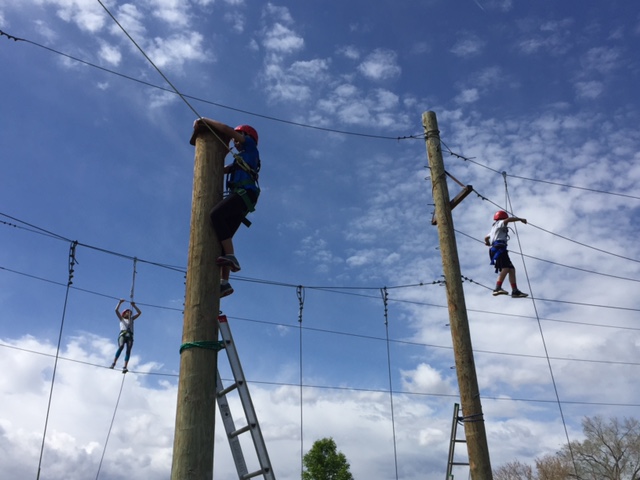 Leap of Faith
But there it was.  The most terrifying station at the high ropes course:  the Leap of Faith.
By now I had gotten the hang of spectating these brave kids dangling on a wire 30 feet above my head.  But this one was really hard for me to watch.
Given the chance, I actually think I might have swallowed my fear of heights that day and tried some of the high ropes course sections.  But not the Leap of Faith.  This one was a big "No way, Jose" for me.
The kid would climb a vertical pole until reaching a small square platform at the top.  And I do mean small.  Maybe 18″ square.  They then had to somehow pull themselves up into a standing position on that teeny tiny shelf.   Are you kidding me?
I was AMAZED at the courage displayed here.  Every single kid tried it.  Not all completed the jump, and had to climb back down the way they came.  But they all tried.
"The jump?", you ask.  Oh, yeah.  That part.  The "leap of faith" part.  Where a trapeze bar is suspended 15 feet in front of you, and you have to leap off the platform and try to grab it.  Wait…. what?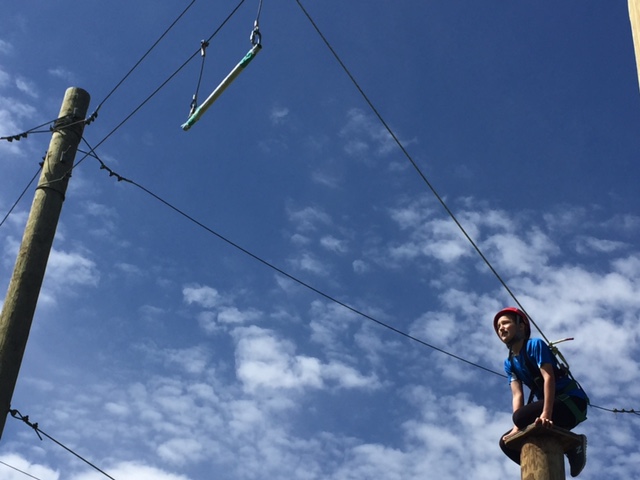 Very few succeed.  But grabbing the trapeze bar isn't really the point.  The point is jumping into thin air, with full trust that your belay buddy on the ground (a trained adult staff member) would catch and slowly lower you.  Be still my heart.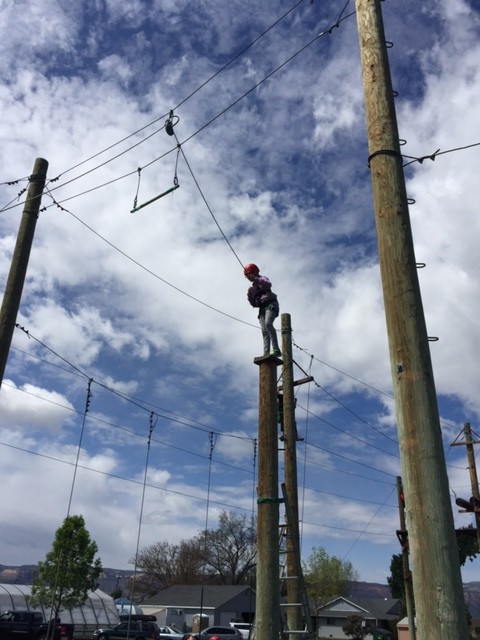 Life Lessons
We'd been fund raising for this experience for two years, and I didn't really get it.  I didn't get what the big deal was about visiting a high ropes course.
But now I get it.  This is a group of kids about to embark on a new chapter in life.  They are growing up.  And while still children… this was a beautiful celebration of all they've accomplished, how far they've come, and how strong and ready they are to tackle the next phase.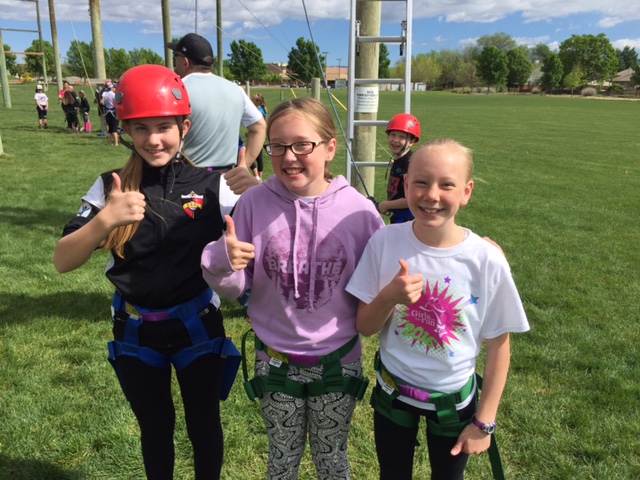 It was awesome.  And if you and your family ever get a chance to try something similar, I'd strongly recommend giving it a shot.  It's a whole lot more than just some high ropes.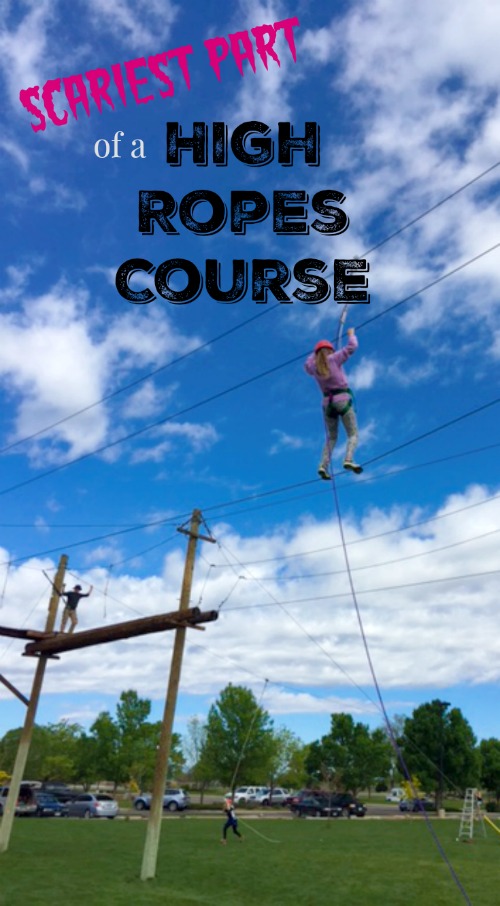 *o*     *o*     *o*