Being outdoor lovers from Colorado, we never pass up an opportunity to see the ocean.  So as much as we cherish our Disney World time, a visit to the beach always gets included during trips to Florida.  Cocoa Beach is the closest – a mere 45 minutes from MCO airport, or about 1 hr 15 minutes from Walt Disney World Resort.
I think there are numerous benefits to adding an ocean stay to your Disney trip.  We've done so at the beginning, middle, and end of our vacation.  Middle is our favorite, as it provides a breather from the crowds and chaos of the parks.  But then you get to head back for a bit more excitement before you head home!
Cocoa Beach Beach Delights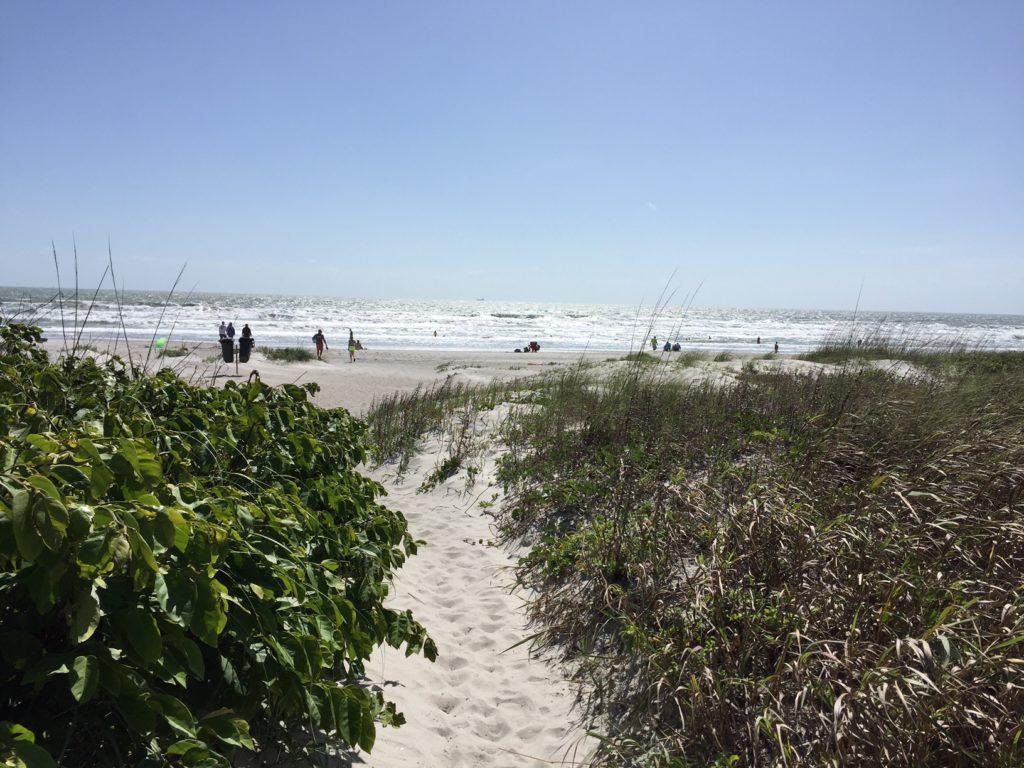 Walking Right Out to the Sand
I have one core requirement for selecting a hotel when we stay at Cocoa Beach.  I want an oceanfront property, so we can walk right out of our hotel room in our swimsuits and flip flops on to the beach.
An ocean view is also nice, and recently when staying at the DoubleTree Cocoa Beach Oceanside we even had a private outdoor balcony attached to our room.  You could sit outside, enjoying the ocean breeze and drinking your morning coffee to the sounds of crashing waves.  Heaven!
Another relaxing option that is especially appealing to me during a family vacation by the ocean is a renting a vacation resort residence.  Grocery stores were easy to find in Cocoa Beach, and having a full kitchen would have allowed us the option of some more affordable meals.  When members of your family all sleep in to different times, and you don't have a tight schedule to keep, vacation rentals can give you not only additional space, but the added privacy and quiet of having separate bedrooms.
If you are like me, and find the uncertainty of securing a potentially sketchy vacation rental on your own… check out Vacatia.  A world-wide resort marketplace for booking vacation residence rentals for all budgets, Vacatia allows you to search and book fully-vetted resort residences.
Surfing Souvenirs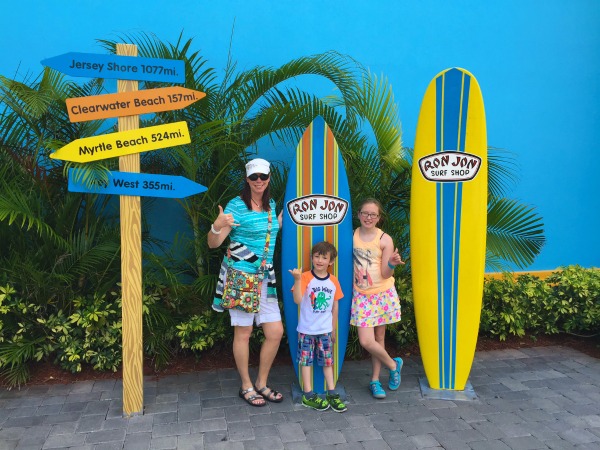 No visit to Cocoa Beach is complete without a visit to Ron Jon's Surf Shop.  Stopping here is always a highlight for my family.  It's easy to find along the main drag.  There are numerous, cheap souvenirs shops in town, but Ron Jon has more quality, authentic merchandise.
Showcased in a two story, open centered building  – this is the perfect place to pick up souvenirs, or select the perfect pair of flip flops from their vast selection.   My daughter and I love the inexpensive, tropical themed jewelry they sell.  You'll get a funky, free Ron Jon sticker with every purchase.
There are other, cheaper surf shops in town.  But this one is the nicest, in our opinion.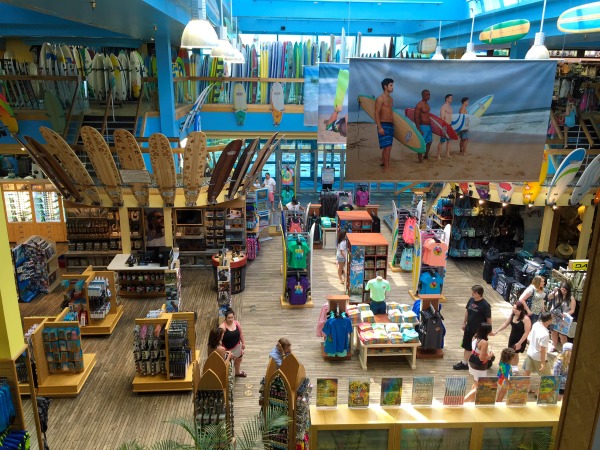 Fantastic New York Style Pizza
My top recommendation for Cocoa Beach family friendly restaurants is the locally owned A N.Y. Pizza House.  This one is worth seeking out, with Italian pastas and wood-fired pizzas.  The fettuccine alfredo had a thick, creamy texture along with a rich and delicious flavor.
We received excellent service at a N.Y. Pizza House late one night, when our pizza was overcooked.  They not only re-made our pizza (the second one was fantastic), but they also brought us garlic knots in the meantime, and dinner was on the house.  We actually tried to pay, as we felt they had made it right, but the manager insisted.
We will definitely be back.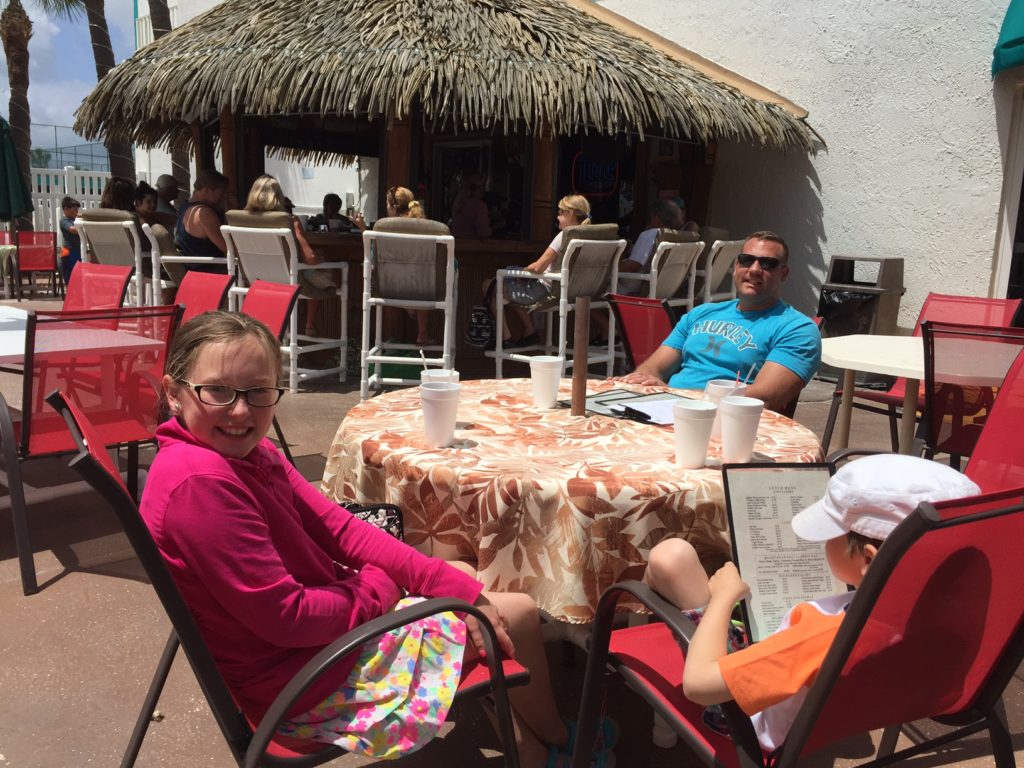 Food at Discovery Beach Cafe was mediocre, but eating lunch here on their outdoor patio was fun and offered a laid back atmosphere.
Low Crowds, Lots of Beaches
The town of Cocoa Beach is on a long and narrow strip, with many short access roads leading the 2-3 blocks East to the Atlantic Ocean and beach access.
There are multiple parking lots which lead to public beaches.  Most of them provide a short boardwalk to get you over the foliage and lead you out onto the sand.
The beaches aren't quite the white, powdery sand you'd find on the Gulf Side.  But we find ourselves choosing Cocoa Beach time and again for it's impressive, exciting waves and close proximity to Orlando.
We've always gone during lower crowd times, so I'm not sure how busy it gets in summer months.  But in the Fall, Winter, and Spring, you can always find a semi private area for your family to hang out and enjoy the surf.
Locals are friendly, and helpful in explaining to mountain-folk greenhorns like me what the various colored warning flags of the day stand for (jellyfish, strong riptides, etc.)
Cocoa Beach Frights
And that leads me to the frights.  My mom freak out moment.
He thought it was garbage.  Last year we had seen a beached jellyfish, so I had *just* warned my five year old son not step on anything clear that looks like a pile of jelly.   (Hey, I didn't mention not grabbing any blue balloon-type objects.)
With lightening speed, before I realize what's happening… his little hand reaches out and grabs this purplish-blue jellyfish on the sand.  He quickly dropped it, but not before a long tentacle became detached and wrapped around his hand and arm.
Yikes!  After posting it's photo, we were later told it was a Portuguese Man-of-War.  Even worse.  Actually a little different than a jellyfish, the barbs on its tentacles can still sting months after it dying on a beach.
Let me tell you, this Mountain Mom had no idea what to do.  It scared me to death, but it turns out my instinct to take him to the water's edge and rinse it off with saltwater was about the only thing we could do.   I think the sting was  minor.  Tough to tell, because he was very stoic about it.  His mom's panic had forced him into an unsettling quiet.
So if the ocean is an unfamiliar, occasional treat like it is for us… show your kids a picture of both a beached jellyfish and a Man-of-War ahead of time, and warn them hands off!
Enjoy Cocoa Beach!
You'll not regret a visit to Cocoa Beach, Florida.  This charming little beach town is small and authentic, and the perfect nature addition to your next Disney World vacation.  🙂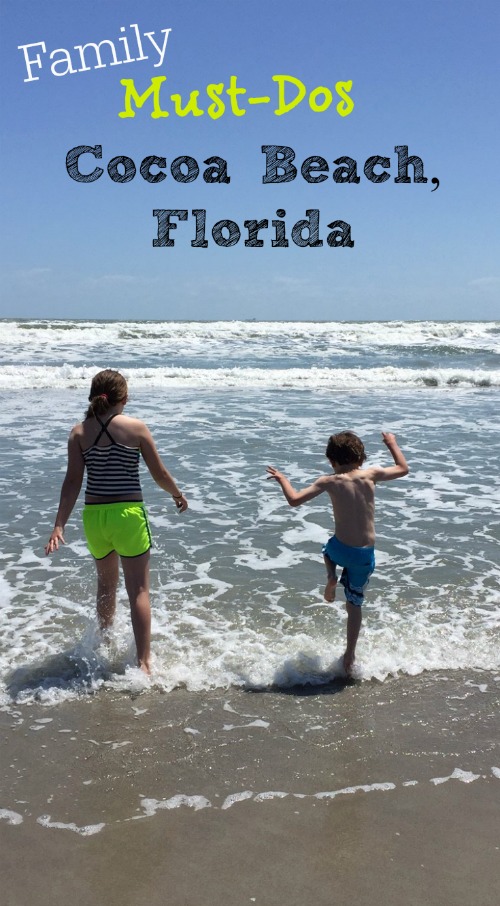 *o*     *o*     *o*
Disclosure: Consideration provided by brands mentioned in this post.