Photography is one of those things that I truly love, that I wish I were better at, and that I wish I had more time to pursue.   Capturing your travels and everyday life adventures helps you savor and relive those memories later on.  And as a blogger, I feel like having beautiful photos can do so much to complement the written word.
Sadly, I've had neither the time, nor the budget, to formally "get into" photography.
Happily, there's the new Panasonic Lumix ZS60!
After receiving one of these amazing little point-and-shoot cameras at my recent TravelingMoms Disney Retreat, I've had the opportunity to try it out in a few settings.  I'm blown away by the breathtaking photos this little camera takes.
Impressive Features of the Panasonic Lumix ZS60
Just released this March 2016, the new Panasonic Lumix ZS60 is a powerful little camera.  All in a compact, easy to take with you device, you get features like:
30x Ultra-zoom
4K Ultra HD video recording, you'll never miss the shot again! Record a 3 second spread (30 frames per second), then save whatever frame you want as a jpg file.
4K Post Focus photo capture features
Lens-mounted control ring to adjust exposure, giving you DSLR-like control
Touch-enabled LCD to easily navigate or change settings
18 Megapixel sensor for clear, high-resolution photos
WiFi mobile device connectivity via Panasonic Image App, to easily transfer photos from camera to phone.  MIND BLOWN. This is a game changer, as far as I'm concerned, and is one of my favorite things about the ZS60.
With the power of all those features supporting me, I'm thrilled with the beautiful shots I've been able to capture with it.
How to Take Breathtaking Photos  ~ My Best Tips
I'm no expert, but I do get compliments on my photographs.  I'm guessing that having a passion for trying to capture the beautiful things my eye sees, and loving the artistic and creative aspect of photography must count for something.  I have a few tips I'd be happy to pass along on how you can take more breathtaking photos.
 Watch your composition.  Use "the Rule of Thirds" for a more pleasing visual and artistic edge.  Rather than centering everything, experiment with placing your horizontal or vertical subject in the bottom 1/3, top 1/3, or side 1/3 of the photo frame.
Try a new angle.  Get down on your knees and shoot from a different perspective.  Walk around your subject and analyze where it looks best to your eye.  Don't just shoot from straight on, be creative.
What's in the background?  A random pole sticking out of your son's head?  Find a different angle to take the shot without distracting interference in the background.  Clean or scenic backgrounds make a huge difference in gorgeous photos.
Quality, not quantity.  Pointing and clicking a zillion times with the assumption that "surely one of those will turn out" isn't a recipe for a great photo.  Put some thought into taking a quality shot, and you'll be happier with the results.
Take some extreme close-ups.  Because they're cool!  Bonus tip I learned straight from the awesome photographer Rick Gerrity:  If you are using a camera like the Panasonic Lumix ZS60, you'll get better results by standing 6 feet from your subject and zooming in, rather than holding the camera extremely close.
Focus, people.  A blurry photo is an unattractive one.  Your equipment makes a difference here, but take a breath, keep yourself still, and hold your hand as steady as possible.  Give your camera  chance to adjust to what you are trying to focus on – that extra 2-3 seconds of effort makes a difference.  Also, a camera with a post-zoom feature can help you capture clear, multiple depth shots.
Lighting is key.  If the lighting is poor, try moving your subject (if possible) to a better light.  The Lumix ZS60 lets you easily adjust exposure by turning the control ring for more/less light.  If it's getting too dark outside, or you just can't alter the back-lighting… well, run with that.  Take some dark silhouette shots.  These often turn out even cooler than your originally intended image.
Zoom, zoom, zoom!  I've tried zooming with my iPhone, which is decent.  But let's face it, typically when you zoom in all the way… you get a grainy photo.  Well, that's NOT the case with the Lumix ZS60.  Its 30x zoom lens means just that, you can zoom in 30 times the distance and still get a crystal clear shot.  You will be amazed when you see the muddy cheek detail on that wild horse photo.
Let Technology Help.   I used to think I'd need to invest in a huge fancy lens, and lug a giant camera around if I wanted to get serious about taking amazing photographs.  That's part of why I'm so excited to have found a compact, easy to use camera like the Panasonic Lumix ZS60, which has been engineered to do amazing things in a very small package.
I'm thrilled with the new Panasonic Lumix ZS60 camera.  It's highly portable, is a much more reasonable option for me, and fits perfectly with my lifestyle.  Whether it's on my travels, or just camping and hiking in Colorado, I can't wait for all the breathtaking photos I'll be taking with it on future adventures.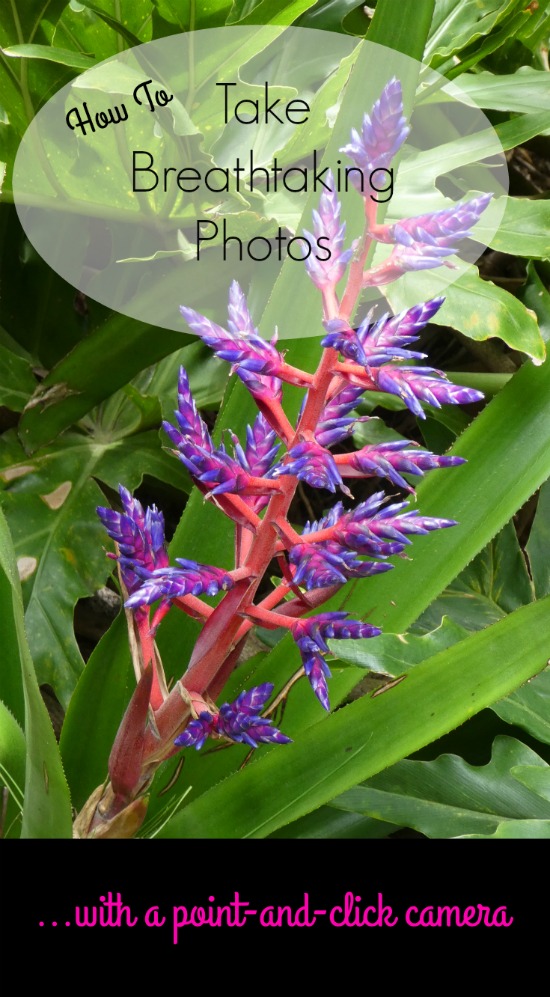 *o*     *o*     *o*
Disclosure: Consideration provided by brands mentioned in this post.