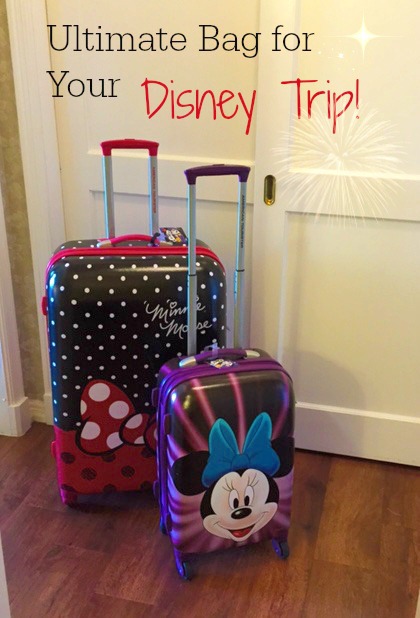 We have accumulated quite a selection of luggage around our house.  Larger checked bag size, carry-on size, "tween" size, and little tykes size.  We've got your soft sides, and your hard sides.  There are pros and cons to each, of course.  But when your big family vacation each year typically means heading to Disney World, it's hard to beat the fun and excitement of using the ultimate bag for your Disney trip:  hardside spinner bags from the American Tourister Disney Collection.
American Tourister Disney Collection
The first thing I loved about the American Tourister Disney Collection is the classic Minnie and Mickey designs.  Perhaps you're a discreet Disney fan?  One who loves the idea of having a bag with distinct markings, that you can easily identify and grab off of the airport baggage claim belt.  Subtlely celebrating your #DisneySide, without drawing too much attention to yourself.
If that's how you roll, I think this is the perfect American Tourister Disney bag for you:
But before you make your selection in haste, there's another tough decision you need to make.  Are you a Star Wars fan?  Because AT has an entire awesome Star Wars luggage collection, too.   The force will be strong with you in your travels when using this high quality,  hardcase luggage.   Your bag will glide with Millennium Falcon hyperdrive speed, and Speeder Bike agility on American Tourister signature spinner wheels.
Those are some magical choices, and very tempting indeed.  But my daughter and I are GO BIG OR GO HOME die hard Disney fans, and we were ready to select a classic Minnie design that announced to the world our love of Disney!
Behold my new favorite suitcase, which will be used and cherished for years to come.  With the generous carrying capacity of the  28″ size, and a 10 year warranty, I expect it will hold up quite nicely to many travel adventures in the future.  Isn't she a beauty?
And for my 11 year old daughter, we went with the smaller carry-on 21″ size.  She couldn't be happier with this whimsical Minnie Mouse face design, in her absolute favorite color purple.
Heading to Disney World!
This recent trip to Disney World was our visit time visiting during the month of April, and the weather was absolutely fantastic.  April just became our favorite time of the year to vacation in Florida, with perfect temps in the high 70's / low 80's, and low humidity.   Plus the breathtaking floral and topiary beauty of Epcot's International Flower Festival was the gray stuff on the cupcake.  (That's a good thing…. you need to eat at Be Our Guest in Magic Kingdom, and "Try the gray stuff!")
We typically stay on the Disney World property, but I recently had a tour of another nice option for Disney  World vacationing families, the Wyndham Lake Buena Vista.  It's the closest resort to Disney Springs, formerly downtown Disney.  This property  has some affordable options in either their Garden rooms, which are comparable in price to Disney Value Resorts, or the Tower rooms, comparable in price to Disney Moderate Resorts.
With a Disney gift shop in the lobby, Mickey Waffles available in the restaurant, a Disney Character Breakfast three times per week, and a pixie-dusted, poolside "fun director" named Jill who is ready with a huge board of Disney pins for trading… this is a property worth considering.
#PackMoreFun On Your Disney Vacation
The Official Luggage company of Walt Disney World Resort and Disneyland, it just makes sense to #PackMoreFun with an American Tourister Disney suitcase.  We packed our Magic Bands, ears, oh… and some clothes.  Note the cute interior fabric of the American Tourister Minnie Mouse bag.
The combination of using a 21″ carry on and a 28″ checked bag proved to be ideal for a week long Florida trip.  We were able to save some on baggage fees, and have a carry on to bring swim suits for use right away.  Checking a large bag gave us a place to pack some of our larger liquids, and allowed some extra space for bringing home souvenirs.
I've been a fan of American Tourister luggage for years, and feel their quality is top notch.  The push button retractable handle glides with ease in and out of position.  And if you haven't upgraded your luggage to spinner wheels, it's time to treat yourself.  AT's spinner bags all come with them, and they glide like a dream in any direction.  My fully packed Minnie suitcase probably weighed the same as my 5 year old son, but he gets such a kick out of "driving" it, that I let him take over at the Orlando airport.
Inside both the 21″ and 28″ feature the same basic design.  Split construction, with a zippered panel to close off one half of your contents.  I found this helped with organization and in retrieving items throughout our trip.  There's a slim zippered compartment to store smaller items, and cross straps to keep items in place.
We arrived at Disney World in style, and are now huge fans of our ultimate Disney bags from American Tourister!  We plan to #PackMoreFun, and not leave home without them.  🙂
*o*    *o*   *o*
Disclosure: Consideration provided by brands mentioned in this post.