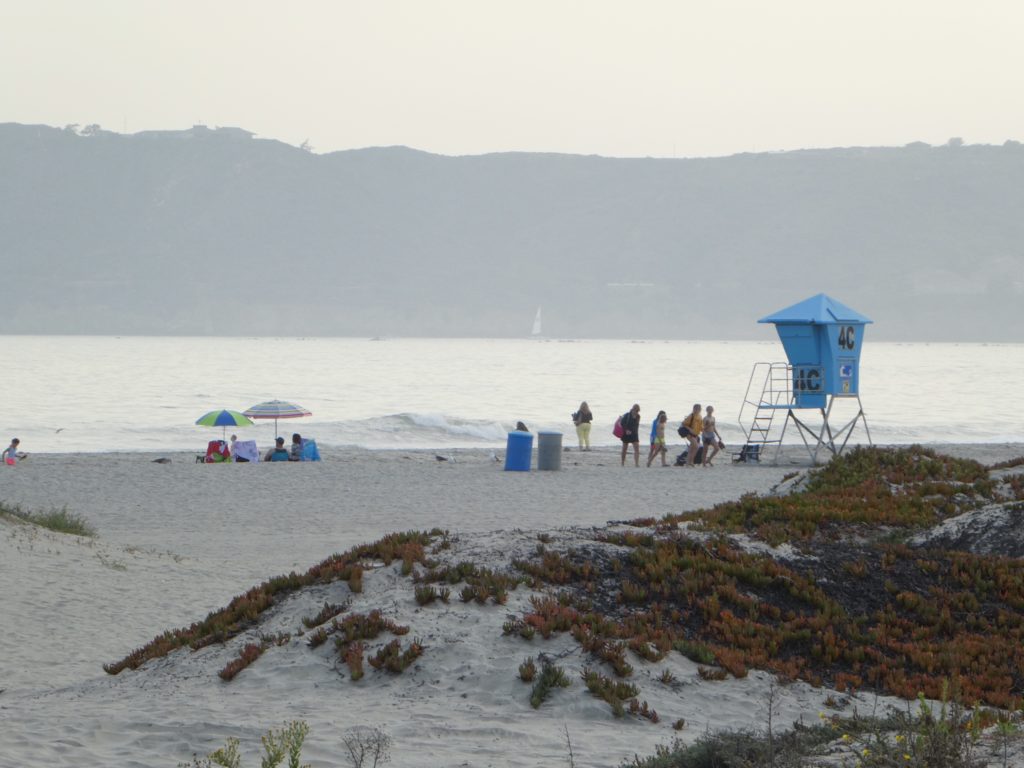 Heading to Southern California, and looking for family friendly ideas on what to do?  My family recently spent a week in the San Diego area, thanks to a generous Aventura Clothing Ambassador gift of a timeshare.  I did a fair amount of research prior to our trip, and also had a few of my own favorite places I wanted to see.
Top Things To Do in San Diego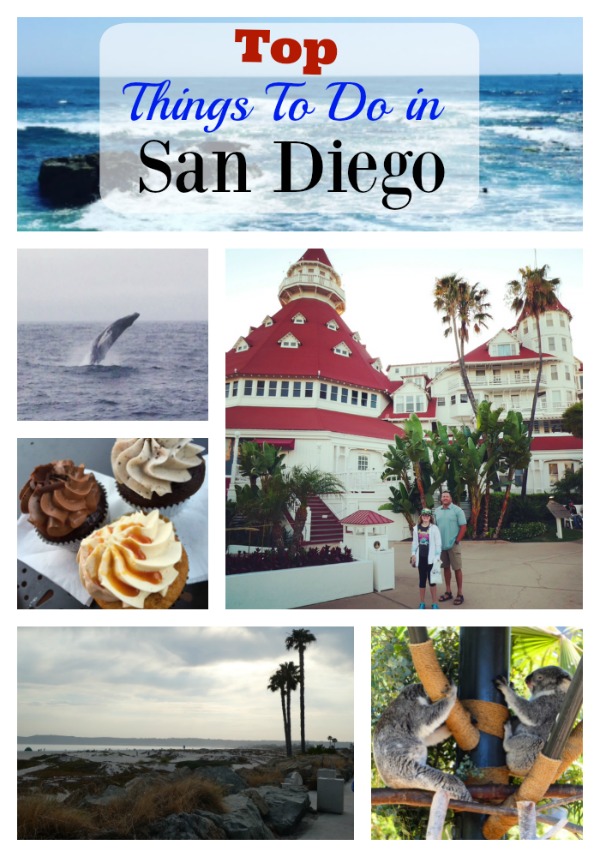 This was my husband's first visit to the West Coast, it and was to be a grand adventure!  It would also be our first long road trip in some time, so we weren't sure what  to expect.
Our trip was not without a surprise or two, but we had a great deal of fun.  I don't recommend our 14 hour road trip home through the southwestern states, in 108 degree temps with a broken A/C.  But here are the highlights I do recommend to your family, if you are headed to Southern California for vacation.
1.  San Diego Whale Watching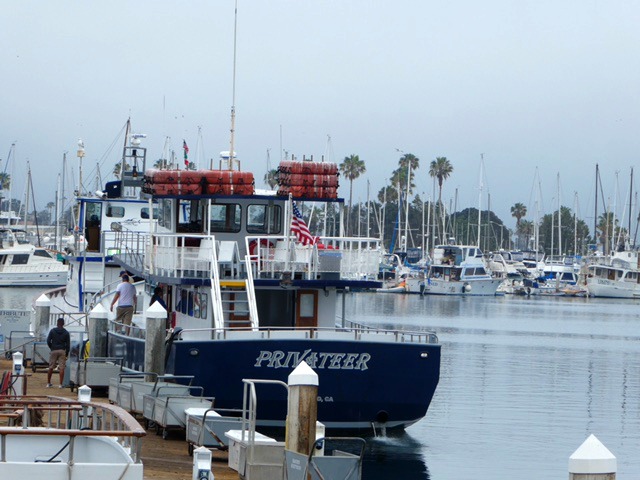 San Diego Whale Watching offers the only year-round whale watching tour in San Diego.  Heading out on the Privateer for a 3 hour ride was a great experience.   San  Diego is a fantastic place to whale watch, placing this squarely at the top of my family's must-do list for our trip.
Prices for this three hour boat tour are reasonable, and currently they offer a half price deal on Tuesdays and Thursdays ($24).  We went out on a breezy day with lots of waves, so the ride was  exciting.  A humpback whale joined us for a nice portion of the trip, and even blessed us with a couple of awesome breech jumps.  Highly recommend this experience!
2.  Coronado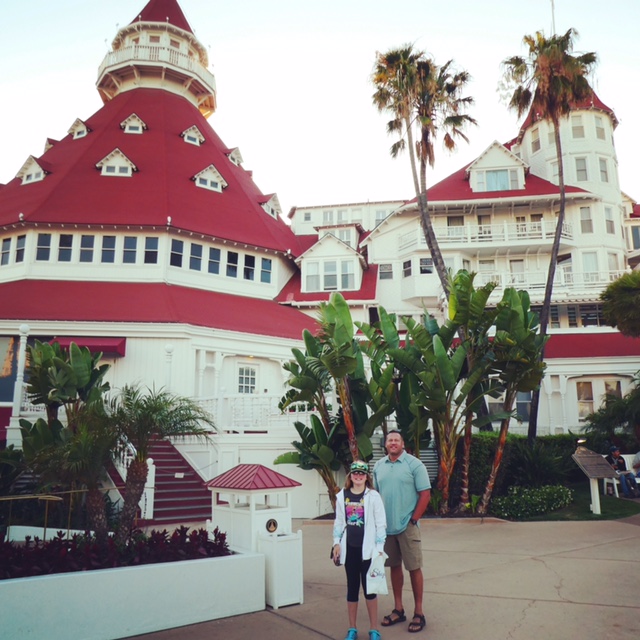 For a Disney World nut like myself, getting to see the original inspiration for Disney's Grand Floridian Resort was reason enough to head to Coronado.   Other reasons include one of the longest and most beautiful stretches of public beach that we found during our visit to Southern California.
Bike rentals are offered, if  you'd like to enjoy a ride along the paved beach front trail.  Short boards and wet suits are also available to rent.  My kids begged to do this, but the timing wasn't right… and I regret it.  I think they would have loved it!
Guests are welcome to stroll through the Coronado Resort, and enjoy its historical architecture, gift shops, and restaurants.   From what I could see, they appear to have three restaurants:
Beach front bar and grill – this was no longer serving food by the time we were seeking out supper (around 6 pm), so while it may have been more affordable, don't plan on it.
Wood fired pizza outdoor patio restaurant – looked hip, and smelled delicious.  Sadly, I was sick of pizza by this time in our vacation, so we passed.
Main restaurant – Offers either indoor, outdoor, or bar seating.  I had the salmon, which was fresh, but prepared blandly.  We found the food to be mediocre and pricy.
Coronado beach stretches for 1.5 miles, ending with a Naval Amphibious Base at the far end.  It's gorgeous, with decent parking available along both sides of the parallel street.
3.  San Diego Zoo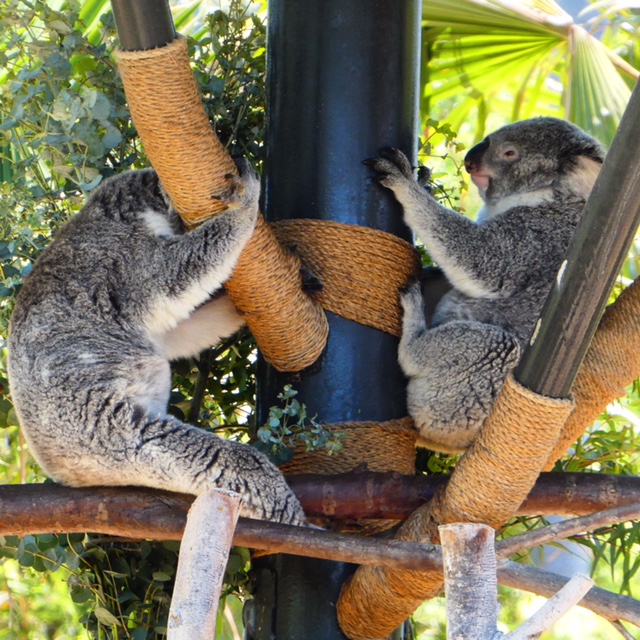 Who can pass up the opportunity to see a giant panda??  Or koala bears!?  I hadn't been there in years, and the San Diego Zoo did not disappoint.  This zoo is one of the nation's best, and serves as home to 3,700 rare and endangered animals.
The lush grounds create a beautiful garden like setting, and include some hilly terrain.  Enjoyable transportation options break up the day's walking, like the Skyfari aerial tram and Guided Bus Tour.  See more of my photos and tips on the best San Diego Zoo touring plan on my TravelingMom recap.
4.  La Jolla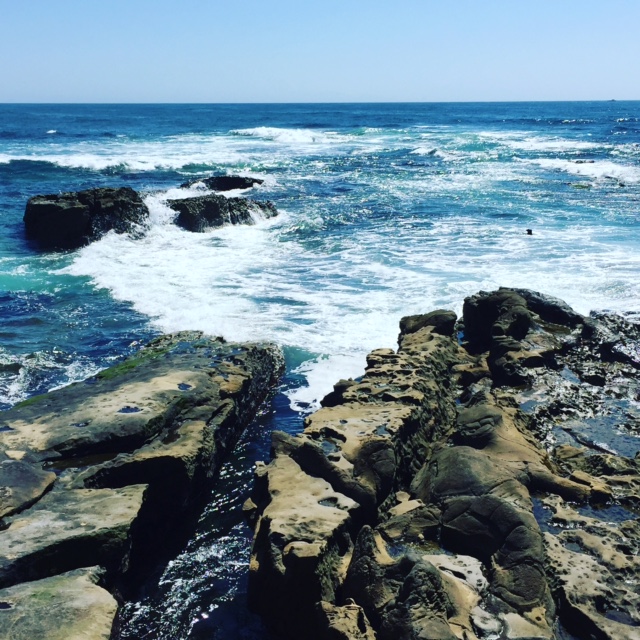 After our California friends had talked up La Jolla so much, this location ended up being a bit of a let down.  But I confess it was primarily the crowds that took the wind out of my sails.  We visited on a weekend, and there was no place along the shore to wander or explore that didn't already have multiple bodies wandering and exploring it.
However… maybe it was just an off day.  I don't plan to fully give up on La Jolla, and I don't think you should either.  They offer some amazing things that other San Diego beaches do not:
Tide Pools – In theory, you can explore these rocky areas when the tide is out, and see all sorts of cool sea creatures.  This didn't work out for us, but we maybe didn't stumble across the right area.
Rocky Shoreline – La Jolla is a remarkable mixture of a few (ahem! crowded) sandy beach access areas, combined with rocky cliff shoreline.  Truly beautiful area.
Sun Basking Sea Lions – the tourist website photos made it appear there would be a few hundred of these cute buggers.  So the bar was set way too high for me, going in.  We saw 3.  Oh, well.  This little napping guy was adorable… I'm grateful he at least showed up.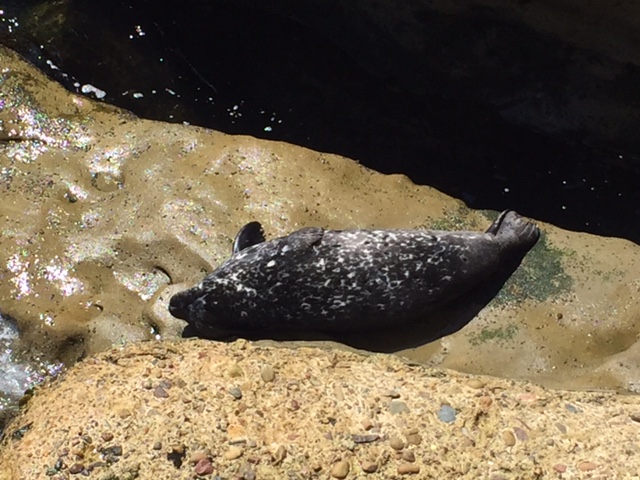 5.  Seaport Village
Seaport Village is a quaint seaside retail area, which although seemed less impressive to me than it did 20 years ago, is still worth a 1-2 hour visit if you can fit it into your schedule.  Judging by the "Save Seaport Village" signs we spotted… it may be last call.
Here are at least these two wonderful reasons why you should stop by.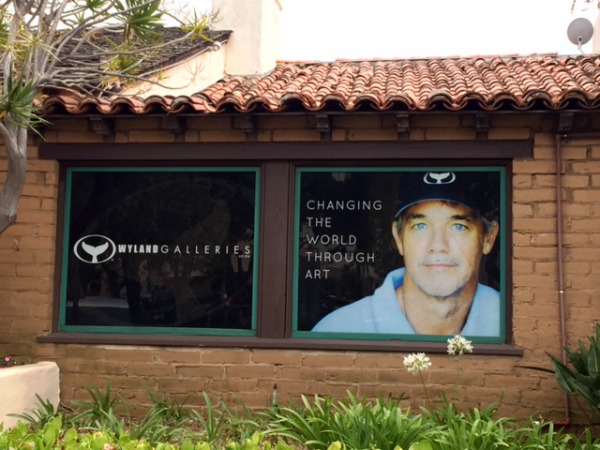 Wyland Gallery
I don't want to talk about how sad I am that the only Wyland Gallery I used to get to visit at Disney's Polynesian Resort is no longer there.  But was I ever excited to spot this one!
Sorry, no photography allowed inside, but there are some breathtaking pieces in this nice sized gallery – including some of their signature jewelry, and even some of his Disney-inspired paintings.
"Frost Me" Cupcakes
This might have eluded me, had I not been with an 11 year religious watcher of Cupcake Wars, who was thrilled when she spotted this little shop.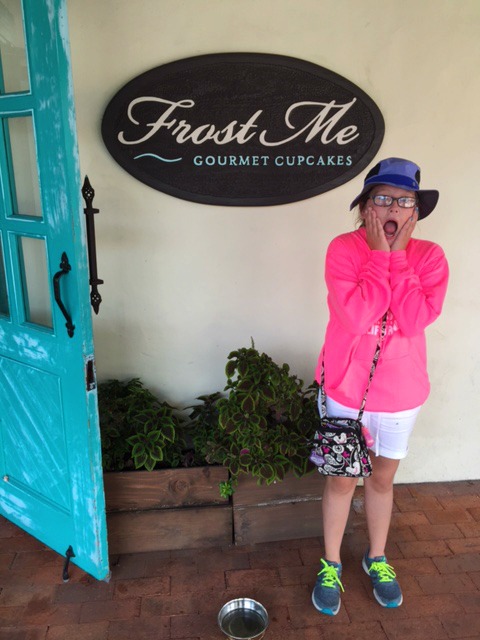 As seen on the Food Network, "Frost Me" gourmet cupcakes is owned and operated by two Cupcake Wars champions.  These are pretty much to die for.
Yeah, there's stuff inside each of those bad boys, too.
The plan was to share.
The plan failed.
No one wanted to give up a single morsel of their choice!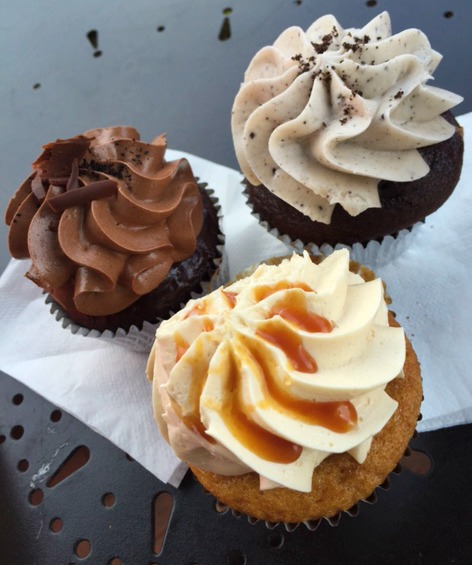 Seaport Village has a nice collection of shops, with a couple of restaurants and snack locations. Don't bank on finding all of your San Diego souvenirs here (as I did), because there's really only 1 or 2 generic, reasonably priced stores of that nature.
With a $10 purchase they will validate your parking, reducing the cost to $6 for your two hour visit.
6.  Sea World San Diego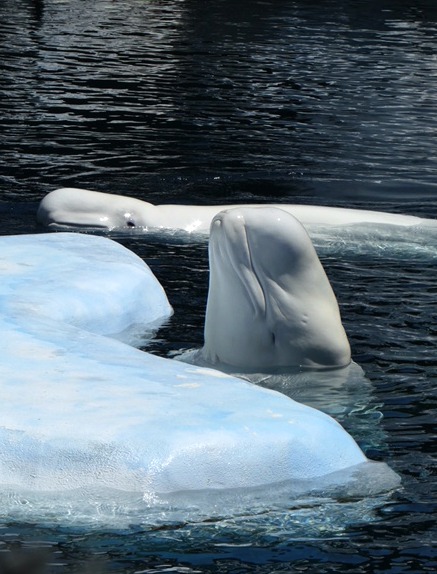 I may take some slack for this one.
Yes, I saw Blackfish.
Yes, it was horrifying.
Yes, I debated whether to include what would be my kids's first visit to Sea World on this trip.
Not unlike zoos, Sea World provides the opportunity for your children to see some marvelous wild animals.  To learn about them, fall in love with them, and care about their future.  I factored in that Sea World responded to the public outcry, and has discontinued their orca breeding program.  This is also the last year they will have a traditional orca show, so keep that in mind if you are headed to one of their locations in 2016.
We really enjoyed our day, and found the Sea World San Diego park to be a super fun mix of animal exhibits, entertaining shows, and fun rides.  You can read my recap and see more photos on my TravelingMom article, Remarkable Experiences at Sea World.
7.  Mission Beach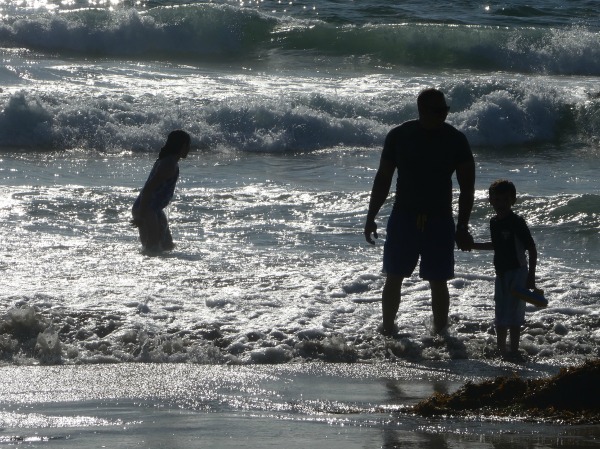 When you read "get here early on a weekend", go ahead and believe them.  Me, I figured it was a beach.  If we have to walk 2-3 blocks in from a bad parking space… no big deal.
Oh, no.  That's not how it plays out.   There are NO PARKING SPACES on a busy Saturday afternoon.  None.  Nada.  Zilch.
So we played the "troll the gigantic, packed parking lot with dozens of other people waiting for their turn of someone leaving" game.  For 45 minutes.  Good times.  Coming from a beautiful, uncrowded place in Colorado where nature is easily accessible… this made me a little cranky.
BUT… once you nab that spot, and everyone crawls out the second row passenger side door (only one you can wedge open wide enough for a body to fit through), the fun begins!  A local San Diego TravelingMom had given the tip that this beach has the best waves.  They were indeed impressive, as was the alert lifeguard staff on hand watching for riptide victims.
Once we got down to the water, it was awesome.  Definitely put Mission Beach on your list if you are looking for some exciting ocean action.  And get there early.  😉
*o*     *o*     *o*
Free tickets were received for some of the attractions mentioned in this post, but all opinions are honest and my own.