About a decade ago, my husband and I moved our young family to Colorado.  We both loved the outdoors, and wanted our kids to grow up with an enjoyment and appreciation of camping, hiking, skiing, and mountain biking.
At last we've arrived at the stage in our children's lives where we can all hit a mountain biking trail, each riding our own bike.  Having stuck primarily to hiking for these past few years… this is an exciting development!  It was a rocky start the first few times out, but I've picked up a few family mountain biking tips along the way.
So we were excited when Sharpie Extreme approached us, offering to send us on a family outdoor adventure.  The Sharpie Extreme line of permanent markers is particularly well suited to marking your outdoor gear, so they wanted us to put them to the test while mountain biking.
Mission accepted!
Getting the Family Ready for Outdoor Adventure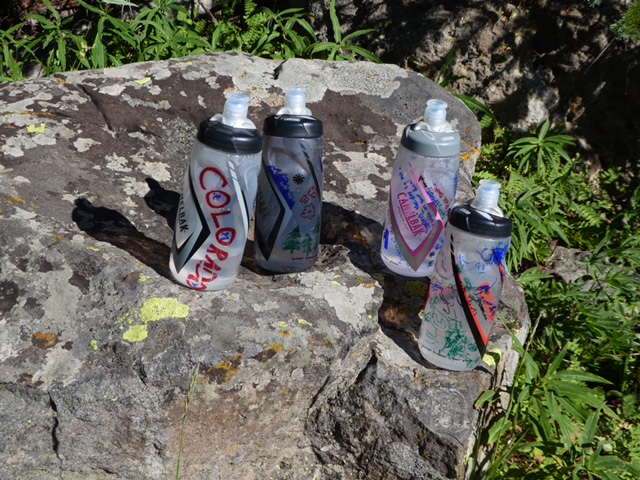 Getting your family outdoors for an adventure can feel extreme.  Depending on the activity, everyone will need appropriate equipment, clothing, and safety gear.  You'll need to research a family-friendly destination within your skill level.  And then there's moms job of gathering significant food and water resources, and making sure everyone has the needed warmth and waterproof layers to be prepared for whatever weather excitement the day may bring.
But don't let that scare you into staying home, as the payoff is big.  You can psyche your kids up ahead of time, by letting them each prepare a motivational "You Got This!" water bottle with Sharpie Extreme.  This was the approach we decided to take, and the decorating session was really fun.  🙂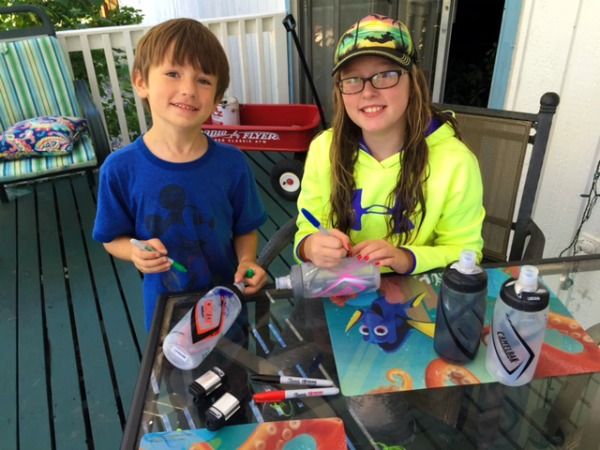 And of course, once you arrive at that trail head, ready to go, and with sufficient supplies… that's when the fun begins!
Where Did We Go ~ Mesa Top Trail in Colorado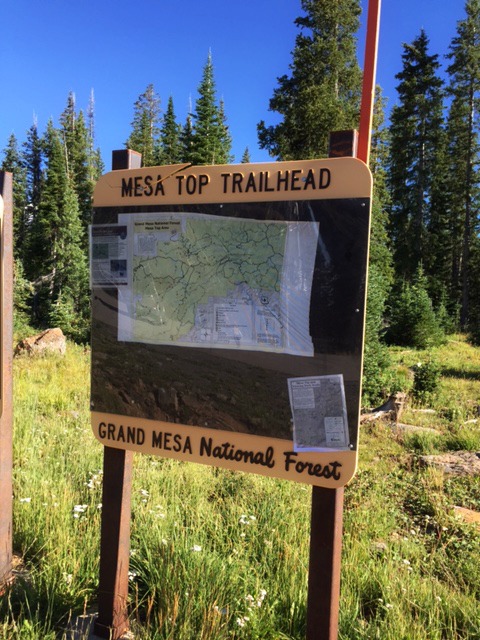 Living in Western Colorado, a mountain biking vacation destination, there were numerous obvious choices.  The Fruita, Colorado, area offers miles and miles of a wide variety of biking trails, which many feel is on par with the famous Moab.
But we decided to branch out, leave the red rocks and desert landscape behind, and find a more forested, wild-flowered, cooler choice.  So instead we headed up to a site with over 10,000 foot elevation – Grand Mesa, Colorado.
Grand Mesa is the world's largest flattop mountain, and is covered in Pine and Aspen trees.  The high elevation offers cool temps even in the summer, and it is home to more than 300 lakes.  A favorite playground for locals living in Western Colorado, this remote destination boasts very low crowds and year round outdoor recreation opportunities.
The "Mesa Top" mountain biking trail we selected is used heavily in winter for the very popular sport of snowmobiling.  So it was easy to find the starting location right along the main Highway 65 (also know as Mesa Scenic Byway), Grand Mesa's only paved road which winds up the northern and southern sides and crosses the scenic landscape on top.  We arrived to discover a huge parking lot, posted trail map, and available restrooms.
Family Mountain Biking Adventure ~ Highlights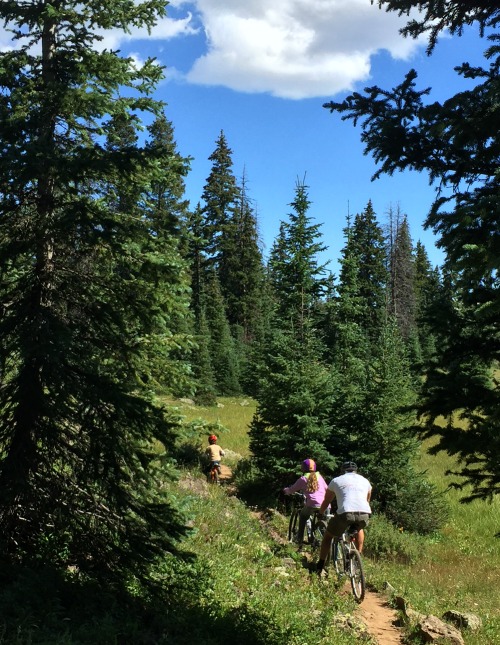 Our family mountain biking adventure took place about one week ago, in early August.  The oxygen is a bit thinner at 10,000 feet altitude, but along with the elevation comes a blissfully ideal temperature of mid-60 degrees.  The sun was shining, we were excited about our new Sharpie Extreme labeled gear, and everyone was ready to explore a new trail.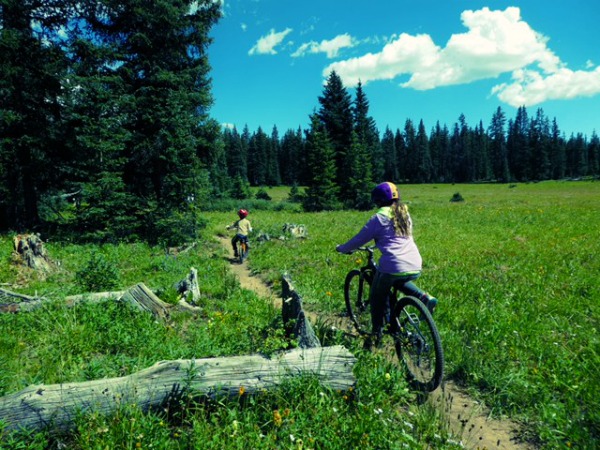 Mesa Top trail alternates between easy and intermediate most of the way, with a few challenging spots which are ranked difficult.  I figured we could navigate these as we went… hopping off and walking is always an option, as long as the "difficult" means rocky stretches, not single track cliff drop offs!
It turned out to just mean rocky stretches, at least for the distance we covered.  So that was good.
It turned out to *not* deter my wild and crazy 5 year old son in the slightest.  So that was nerve wracking.
He was in the lead during the entire route in, blazing the trail first for us all, sporadically yelling "WOOO HOOOO!".  This trail runs for 7 miles, then meets up with another one I'd like to try some day – Flowing Loop trail.  We ended up biking in, then turning around and biking back on the same path – for a total of 5 miles.  Not bad for a kindergartner on a single speed Hot Wheels bike!
My daughter and I were generally a bit more cautious, and walked through any stretches we couldn't quite tackle on our bikes.  Primarily these were uphill rocky portions, where we didn't have enough momentum (ok, or skills!) to pedal through.
Terrain varied between wooded portions where you wound through shady trees, to open meadow areas with late summer wildflowers.  We all loved this trail.  It was a perfect mix of long, fun stretches we could all bike and enjoy, with some exciting, challenging obstacles mixed in along the way.
As my kids got tired, they got a little more frustrated.  When this occurs, I recommend taking a break to rest and refuel.  We had about three breaks during our ride, and it helped the kids refresh and then take on some more of the trail.
But here's a Reality Glimpse for you:  after doing such a fantastic job, for many miles, my son hit the wall.  He was done riding bike.  Done.  As in, I'm done.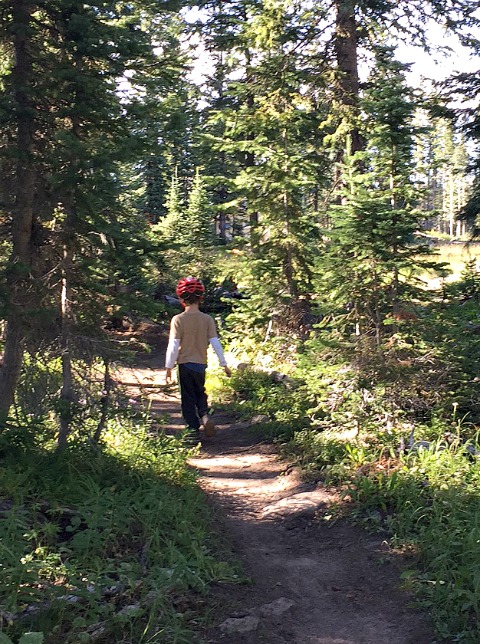 Which meant this happened.
Ha! Fortunately, we were almost within view of the parking lot when this occurred.
Tip:  Know when to turn around.  My kids both whined when we turned to head back, wanting to go farther.  My husband and I made this call based on time, remaining water and snack levels, and the energy our kids had already expended.  We're glad we did!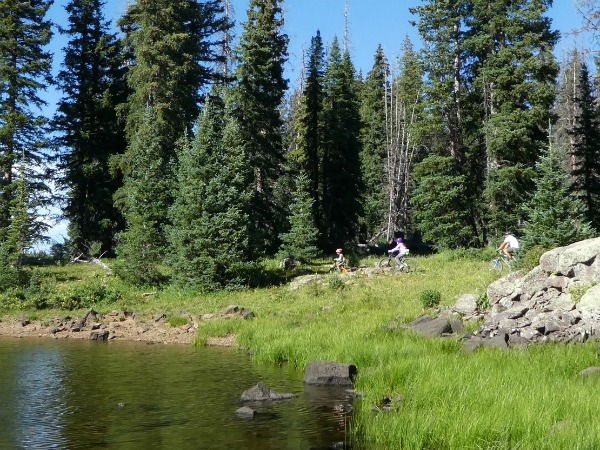 Overall, we crushed it.  We loved having our personalized Sharpie Extreme message-laden water bottles.  My kids said multiple times on the ride back home, "Thank you so much for taking us biking!"  So very worth it.
Tackle Your Own Extreme Outdoor Adventure!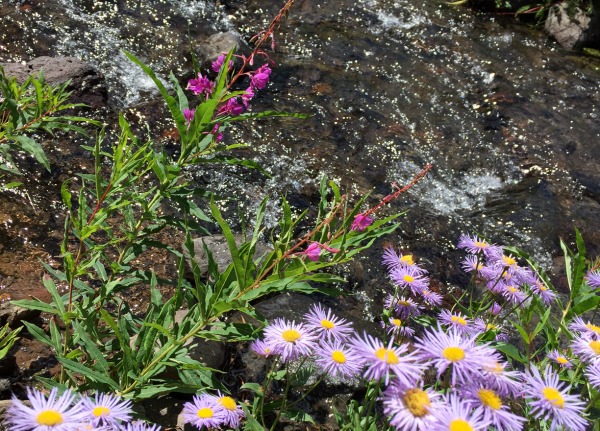 At times it can feel like a big effort to get your family to a trail head, all ready to go, and with sufficient supplies for some mountain biking or hiking.
But we always walk away feeling happy and with a sense of accomplishment.  As a parent, I leave with the satisfaction that we've just taught our kids a valuable life lesson:  Getting out in nature is a fantastic way to enjoy time with friends and loved ones, live an active and healthy lifestyle, and be reminded that it's the simple things in life that bring the most joy.
And be sure to check out the new Sharpie Extreme permanent markers for all of your outdoor gear.  We found they resist fading even when put to the ultimate test, with long-lasting bold color that lasts even in the most challenging conditions, such as UV rays, rain, snow and even mud.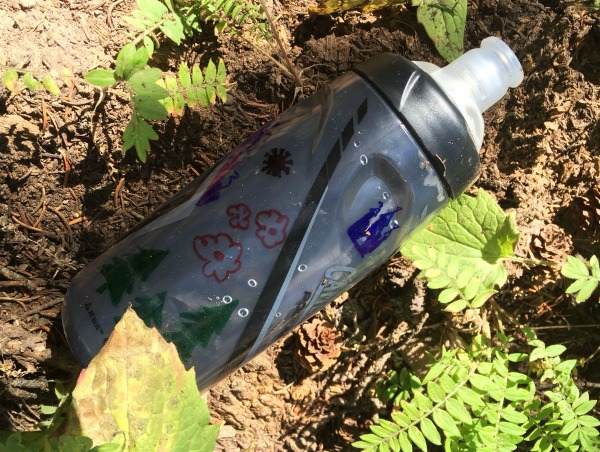 *o*     *o*     *o*
Sharpie Extreme sponsored my family to take this outdoor adventure trip.  All opinions are my own.