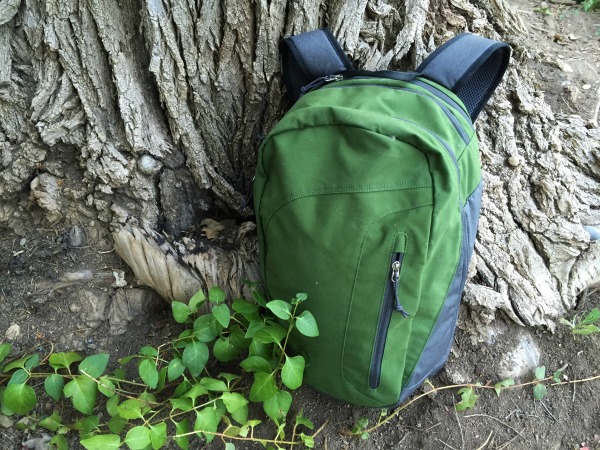 You adventure into some amazing outdoor places, and having a real camera along (not just your phone) to take photos is highly desirable.  But do you want to risk tossing it in your backpack with your other hiking gear, to get scratched or damaged?  That dilemma is solved with the comfortable and practical Tamrac® HooDoo 18 Camera Backpack.
Tamrac® HooDoo 18 Camera Backpack Review
The Tamrac® HooDoo 18 is a specialized camera backpack, which contains a handy, top loading padded compartment to safely store and easily retrieve your camera.  This protected compartment is large enough to also hold a lens and some other accessories, yet a good depth so that the contents are still easily viewed and retrieved.
"But I need a real backpack, for real hiking" you say?  Read on… you'll get that, too.
Features:
This is a legitimate backpack, with all the comfort features you'd want while taking a decent hike.  In addition to the padded camera compartment, This small-to-medium sized pack will also fit your personal gear in the main compartment.   (They make a HooDoo 20 if you need more room).
Also provided is a 13″ laptop sleeve, although personally I've never hiked with my computer.  Makes the HooDoo 18 more versatile, I guess – as it would also translate nicely into a travel backpack.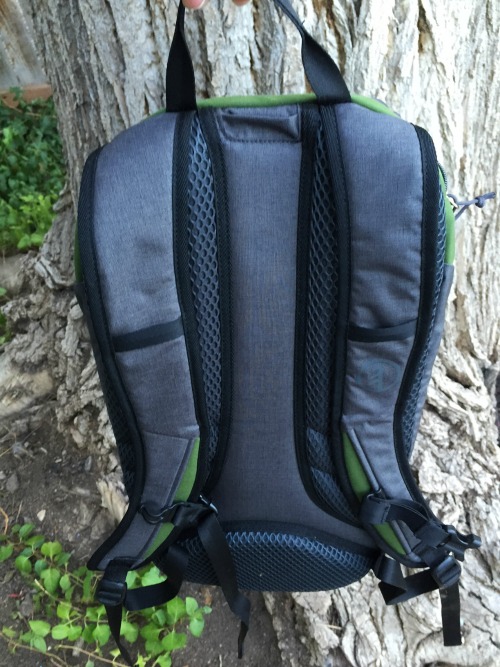 The main compartment zipper opens primarily on one side, which I found a little awkward.  But this minor nuisance is made up for with quality backpack design features.  Lumbar and ventilated back padding, hydration hose opening, and chest strap make the HooDoo 18 both a practical and comfortable pack.
Ideal for:
I'm so happy to at last be protecting my poor, somewhat-abused camera that I love.  I've found myself much more prone to take it along now, which allows me to capture better shots than with just my phone.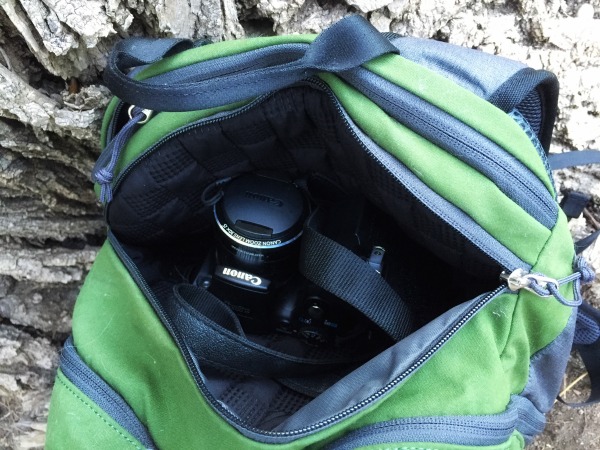 This is a comfortable little pack, fairly well laid out (pockets/storage wise), and is a great size.
What I Loved:
Lush, waffle-weave padded compartment for my camera…  and having it so protected during my outdoor adventures.
Front zippered compartment for small essentials
Quality construction and materials
Smallish size is ideal for an afternoon hike – lightweight and not too bulky.
The outer canvas material is soft, a nice thickness, and seems of durable quality.
Good looking pack with nice lines.
What I Would Change:
Just not crazy about the green color!  Easily solved, because it also comes in a attractive teal or earthy pumpkin.
I'd skip the padded laptop compartment, and save the space.  But that's just me.
Dog hair sticks to the canvas material.
The Bottom Line ~ Tamrac® HooDoo 18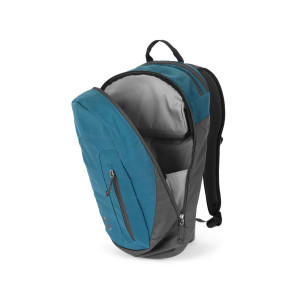 Overall, I was impressed with the Tamrac HooDoo 18.  I'd definitely recommend it if you enjoy photography while hiking or biking in the outdoors.  It's a great hybrid backpack which meets the needs of both a photographer and outdoor enthusiast.
And the name?  Hoodoos are tall thin spires of rock that are common in Bryce Canyon National Park.  🙂
*o*      *o*     *o*
I received a Tamrac® HooDoo 18 Camera Backpack at no cost, for the purposes of performing this review.  All opinions are my own.