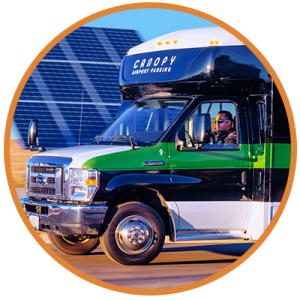 Most Coloradans who travel on a budget, or just live near Denver, will likely find themselves flying out of DIA, the Denver International Airport.   For my family, much lower airfares are worth a little up front car travel time to book flights from this location.
One thing I'm always sure to include in our vacation budget is airport parking.  Being on the uncrowded fringes of Denver has resulted in DIA having multiple options for long term parking of your vehicle.  Prices vary, but will generally be cheaper than parking in a DIA lot.  The short shuttle ride over to the airport is not a big deal, so this is the option we typically chose.
I recently learned about a cool, affordable Denver airport parking option that I'm excited to try out the next time we depart from DIA.  Canopy Airport Parking offers three types of parking:  indoor valet, covered self-park, and open-air.

They are a totally green facility which is:
Green Garage Certified,
LEED Gold Certified,
Net-zero carbon footprint.

Their covered parking is made out of steel from recycled cars, and provides better protection than a carport like most off-airport parking structures.  It is comparable protection to a multi-level concrete structure.
Here's a few other good reasons to consider parking your car at Denver's Canopy Airport Parking.
Canopy Airport Parking Services

Several unique services make Canopy Airport Parking stand out from the rest.  Would you like to return to a freshly detailed car?  Or maybe just a receive car wash before you pickup your vehicle?  They can do that.
Need an oil change, but been too busy frantically getting ready for your trip?  Let Canopy Airport Parking change the oil in your car while you are away, eliminating the hassle.
How about just having peace of mind that when you return in the dead of winter to freezing temps, and your car won't start… the friendly 24/7/365 staff at Canopy Airport Parking will be there, happy to help you.
Would you prefer to be dropped off at one huge parking lot when you return, dragging around your luggage (and possibly your entire family's) while you search for your car?  Or do you prefer to have a friendly shuttle driver take you right to your vehicle, where you can transfer your things easily and directly?  Canopy Airport Parking is proud to offer what they like to call "Carside-to-Curbside service".  This pretty much sold me, right there…
All good reasons to try Canopy Airport Parking during you're next trip.  But there's more.
Free Goodies in the Lobby ~ Starbucks & Wi-Fi
How about some free brewed Starbucks coffee to start your early travel day?  It's available free for all customers in the Canopy Airport Parking lobby.
They also provide free Wi-Fi, snacks, Celestial Seasoning tea, and newspapers.   In another nod to being a green facility, a water cooler is provided for guests to fill their water bottles.
Nice to have this option as a pit stop either before or after a day of travel!
Save Money with Rewards Program and Coupons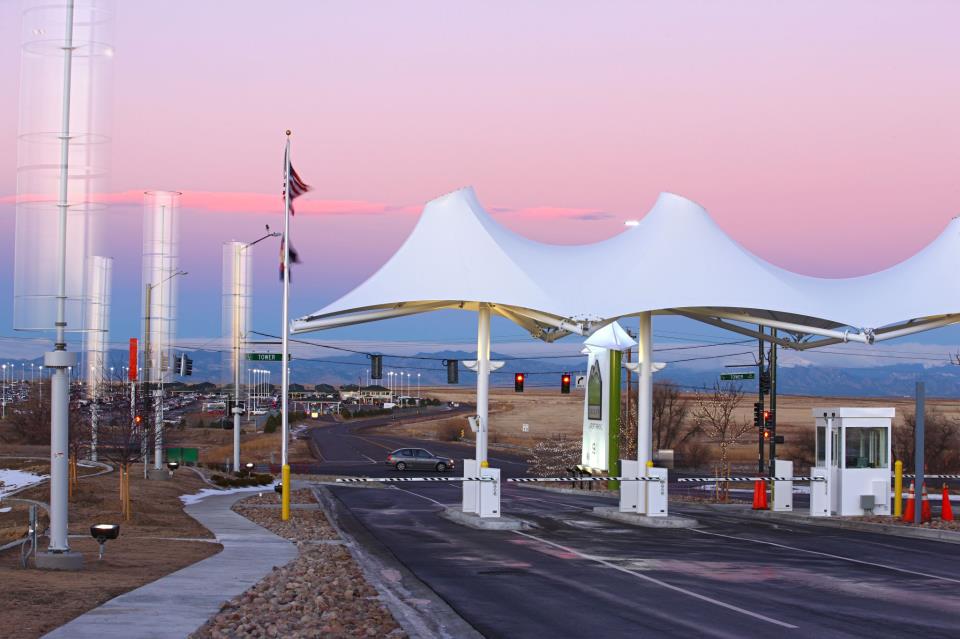 Canopy Airport Parking rates start at $10 per day (open air park), or $48 for a week.  Making reservations is always free.  While staying competitive with the surrounding parking vendors, they also offer additional ways to save money.
With their Rewards Program, customers get rewarded for every day they travel, points never expire, and they receive discounted parking daily with no blackout dates.
They usually have coupons available – especially for students, military, police / firemen.  Canopy Airport Parking deals have also been spotted on Groupon.com.
Be sure to check out Canopy Airport Parking for affordable, premium parking the next time you plan to fly out of Denver.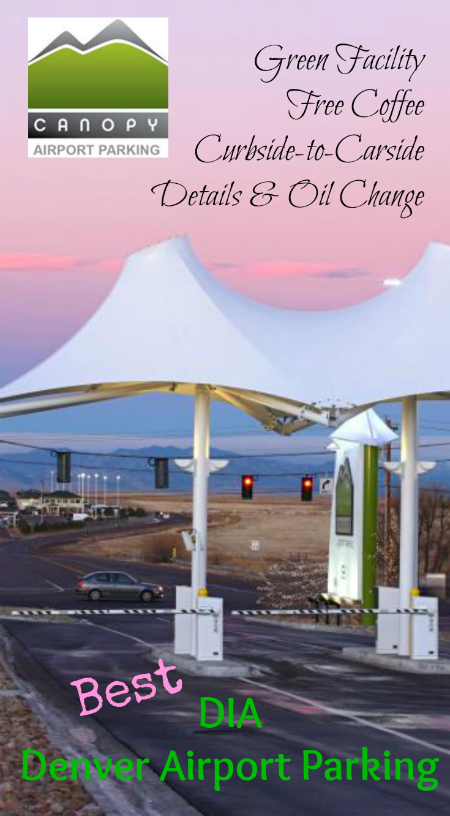 *o*     *o*     *o*
This post was sponsored by Canopy Airport Parking.  All opinions are my own.  Photo credit Canopy Airport Parking.