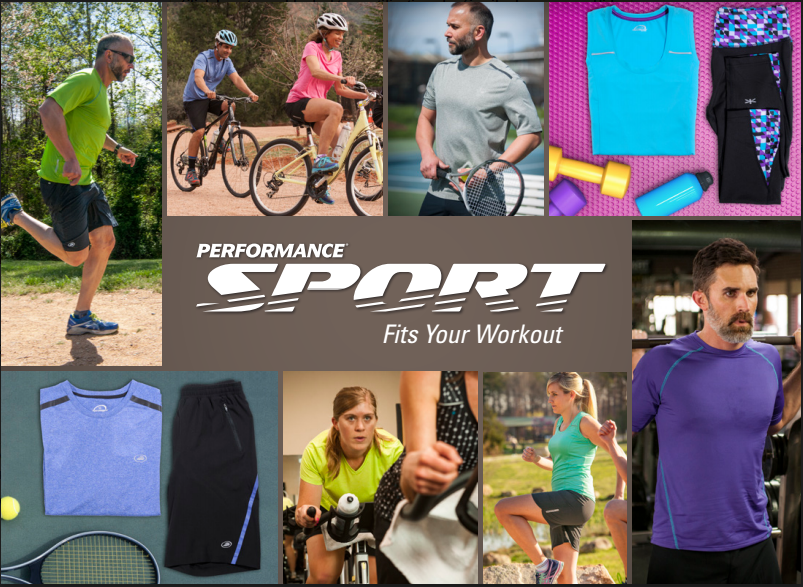 Because my recent foray into my runDisney half marathon bucket list left me with achy knees and zero desire to run… my new passion is riding my bike.  So getting to try some pieces from the Performance Bicycle clothing line was an exciting prospect.  And if you are someone who enjoys a variety of athletic activities, you'll like the multi purpose SPORT clothing line that Performance now offers.
With styles for both men and women, this well priced line combines excellent cycling performance with contemporary, stylish designs that accommodate active lifestyles.
Performance Bicycle Sport Clothing
Active wear is my favorite type of clothing, as it's so comfortable and can be worn in most casual settings.  And if you find yourself on the move – be it at the gym, or just on a bike ride or hike – the high performing technical fabrics are ideal, wicking sweat and drying quickly.
Here were my favorite picks from the Performance Bicycle SPORT clothing collection, which I've had a chance to personally try out.
Note on sizing:  I feel this entire line runs small, and I sized up for every single piece mentioned below.
PERFORMANCE® WOMEN'S SPORT HEATHERED TEE – This great v-neck tee is made from an awesome, non-clingy (hate when they cling!) technical fabric with a nice sheen to it.  It has a handy zippered back pocket, relaxed fit (again – that's after I sized up), and reflective Performance logo.  This versatile active wear top would work great for anything from Zumba class to trail running. Comes in two bright and feisty color choices: lime or pink.
PERFORMANCE® WOMEN'S SPORT TRILL SLEEVELESS JERSEY – I love all three color choices for this great biking jersey style top!  By design, this one is a tighter fit than the heathered tee.  Have worn this biking, and my iPhone 6 stays securely in either of the two back angled pockets, which is super handy!
Appreciate the neckline and arm holes, which are comfortable and cut just right.  Reflective details on the shoulders and mid-back, which is always a good idea when roadside running or biking.  Comes in Aqua, Mint, or a cute black-and-white polka dot pattern.
PERFORMANCE® WOMEN'S SPORT SHORTS WITH LINER – When the description for these said "light liner", I was concerned it wouldn't be a typical bike pad short.  Not to fret, these shorts contain a nice amount of internal padding, without being too bulky.  I sized up in bottoms, too, and was much happier with the fit once I did.  Really like this piece for comfort, and the built in modesty appearance of having a looser over-short.  Only comes in black, but that makes sense.  Stick with black.
PERFORMANCE® WOMEN'S SPORT SKIRT – Super cute, and probably my favorite piece from the Sport line!  I've often found myself wishing I had a pull on sport skirt just like this.  If you don't have one, this is a great piece to add to your active wear wardrobe.
As much as I'm a fan of skorts, there is a time and place when you just need a short, lightweight skirt.  It gives you cute, quick coverage when needed, and can be easily thrown in your bag.  Just pull it on when you need something over that swimsuit or pair of biking shorts.  Love the reflective detail on both front and back of this skirt.
PERFORMANCE® WOMEN'S SPORT LINER SHORTS 
This padded biking short liner is a great price point, and although the material is somewhat thin – it keeps this layer lightweight, and adding little bulk.  This liner gives you the versatility to use it with your other clothing, simply pull on as your base layer if you'll be riding bike.  Pairs nicely with the sport skirt.  They run quite small, even after sizing up I found the waistband fairly snug.
Mens and Womens Performance SPORT Clothing
I think the Performance SPORT clothing line offers some really good core active wear pieces, at an affordable price point.  I like the design details that are specifically well suited to biking, including pockets (on the tops) and reflective details.
Take a look at the Performance Bicycle website, as they are currently running a great sale on the SPORT clothing line for both men and women.
*o*     *o*     *o*
I received some Performance SPORT clothing at no cost, for the purposes of performing this review.  All opinions are my own.