In the world of travel vests, SCOTTeVEST is king.  I'd heard of them for years, and longed to have one of these nifty, multi pocketed, ideal-for-travel vests.  Available in many great styles, and now made with special RFID blocking pockets for your passport and credit cards – SCOTTeVEST jackets and vests are a highly functional piece of travel gear.
So when they approached me with the idea of wearing one of their jackets as a  "Mom Utility Belt"… it gave me a chuckle.  This clever approach makes sense.  Why not load your jacket up with all the mom essentials you typically need, and have it on hand – ready to grab and go at a moment's notice?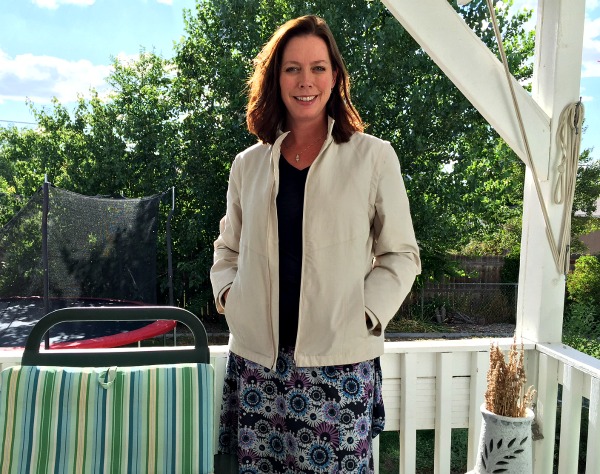 I selected a Sterling Jacket because of it's removable sleeves, and resulting ability to be worn pretty much year round.  It can be used as a warm jacket, or worn as just a basic vest.  After testing it out for a few weeks, here's what I found.
SCOTTeVEST Sterling Jacket Review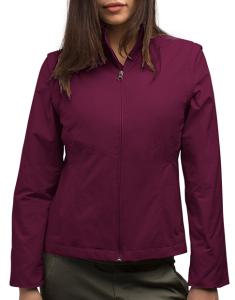 Although there are some awesome specialty vest designs, and a gorgeous trench coat option, I selected the timeless styling of the Sterling Jacket.  In part, because I was really wanting a travel vest.  And with the Sterling I'll have both a travel vest and a versatile jacket.
Your money is not just purchasing a well thought out, patented pocket design system and trendy travel gear name.  This is a high quality piece of clothing, made from a soft-to-the-touch, classy looking fabric.  Useful functionality aside, I was impressed with the lux feel of the Sterling Jacket.
Here's what I loved:
23 Creative Pockets – We moms are always prepared.  How slick would it be to have a Sterling Jacket all loaded up with your essentials, organized and protected by specialized pockets?  Phone, lip gloss, keys, water bottle, tablet, MP3 player, headphones, camera, SD cards, pen, ID, credit cards, sunglasses, headphones.  There's a place for each of them.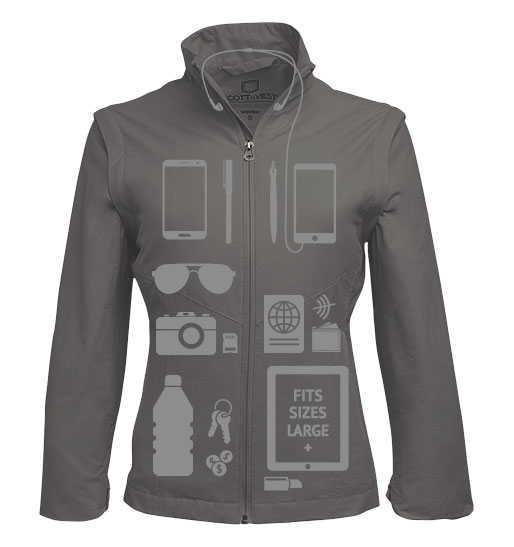 Comfortable Fit – Since the Sterling Jacket is known to be a fitted style, I sized up.  You can see from my photo above this leaves the jacket quite roomy, which I'm happy with.  Either size likely would have worked.  I'm 5'10" and the sleeve length is perfect.  The jacket moves with me, and is quite comfortable.
Soft Cuffs – At first I thought the knit sleeve cuffs were comical… I hadn't seen that style since the 80's.  But they are extremely cozy, and the exterior fabric of the jacket covers it up with a straight sleeve.  So appearance wise, it's still stylish.  And it allows for a clever in-sleeve, concealed zip pocket on each sleeve.
Timeless Jacket Style – Jacket styles can be tricky – here today, and gone tomorrow.  You purchase a jacket in a hot new design, and two years later you feel ridiculous wearing it because that fashion moment has passed.  Not so with the short, straight, basic design of the SCOTTeVEST Sterling Jacket.  It's a classic and neutral look, that I think will stay relevant for years to come.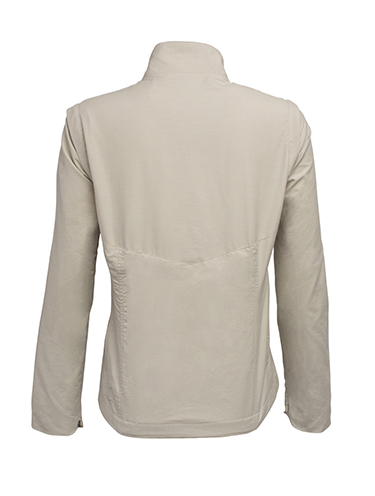 RFID Blocking ID Pocket – I love the idea of having a custom built slot to easily grab my ID when traveling, yet keeping it completely secure.  This was the reason I've wanted a SCOTTeVEST for a long time, but the addition of RFID blocking makes it even more critical for today's traveler.
Jacket and Vest in One – This one's self explanatory.  Double the bang for your buck, and it doesn't look cheesy.  There's even a back slip compartment to roll and store your sleeves (of course there is) if you decide to shed them midway through your adventure.
Camera Pocket – I wanted to give this little pocket a special shout-out, since it's such a great feature for moms on the go.  We always have our phones along.  But if you've got a fantastic point-and-shoot you like to use, like I do… how great is it to have a built in pocket to take it along?  There's even a tiny compartment to store your SD cards.  Brilliant.
Sunglasses Pocket With Cleaning Cloth – This slick pocket can prevent your sunglasses from getting all scratched up, since you won't need to throw them in your purse.  Having an attached cleaning cloth adds no weight, and is super useful to have on hand. There's even a pocket map printed on your cleaning cloth, so you have the low-down on all your SCOTTeVEST pocket locations.
Cord Management System – Integrates your headphones right into your jacket, where you can then have them ready to plug into either your phone (left chest pocket) or MP3 player (right chest pocket).  I always have my phone along, and frequently wish I had some headphones to use.  Wish no more!  Install a pair of earbuds in your SCOTTeVEST Sterling Jacket, and they will always be ready to go.
Here's what I didn't love so much:
Under arm zipper – The zipper for the zip off sleeves of the Sterling Jacket start and end underneath your arm.  When wearing a tank or short sleeved shirt, I found this zipper interface to be a bit itchy or uncomfortable at times.  It's not a tight fit, so not a constant issue.  Just an annoyance.
Weight – Made from high quality materials, and with numerous compartments and closing mechanisms, the Sterling Jacket is understandably a bit heavy even just on it's own.  Loading it up with your gear obviously adds even more weight.  I think this one is just more of a mental preparation, than anything.  You carry all your great stuff in your pockets… your hands are free, and you're ready to go!  But you're still "carrying" all your great stuff.  😉
SCOTTeVEST Styles For Everyone
I've enjoyed the everyday practicality and appearance of wearing the lovely Sterling Jacket.  I can't wait to try it out during my next travels.
SCOTTeVEST sells everything from polo shirts and hoodie, to heavy weight jackets, for both Men and Women.  Swing by their website's Daily Sale or Outlet section to save some money.  Check out their great selection today.
*o*     *o*     *o*
I received a Sterling Jacket at no cost, for the purposes of performing this review.  All opinions are my own.