A year-round outdoor lover, I'd have to say that Fall is my absolute favorite season in Colorado.   The Fall colors in Colorado showcase a breathtaking mix of golds and greens, as the Aspen trees start to change color and contrast against the pines.
There are numerous driving routes through the Colorado Rocky Mountains, available to behold this Fall splendor.  There's also an extensive trail system available for exploring, as the state is filled with outdoor lovers who love to go hiking, mountain biking, horseback riding, and 4×4 off roading.
Here are some ideas on best bets for accommodations, keeping your kids excited about the adventure, my favorite Colorado scenic drive, and when to come visit.
Colorado ~ Where To Stay
First off, what are your options for accommodations?  Well, I say go native.  And by that I mean… embrace a nice cabin with a fireplace and hot tub, if  you can!
If you've never staying a luxury lodge style cabin… you are in for a pleasant surprise.  Because Colorado draws thousands of travelers to our beautiful mountain towns, there are some fabulous Colorado Vacation Rentals available.
Personally, I think Fall is the absolute best time of year to visit.  The temperatures are ideal for outdoor recreation, and the Aspen trees turning vibrant gold or even oranges and reds makes it the prettiest time of year.
A bonus of visiting in Fall?  Because their peak season has not yet begun, ski resort areas have lower than usual rates.
Keeping the Kids Happy
So now you're in this gorgeous state, and are ready to get out and see some of those amazing Colorado Fall colors!  How do you keep your kids happy along the way, and excited about your adventure?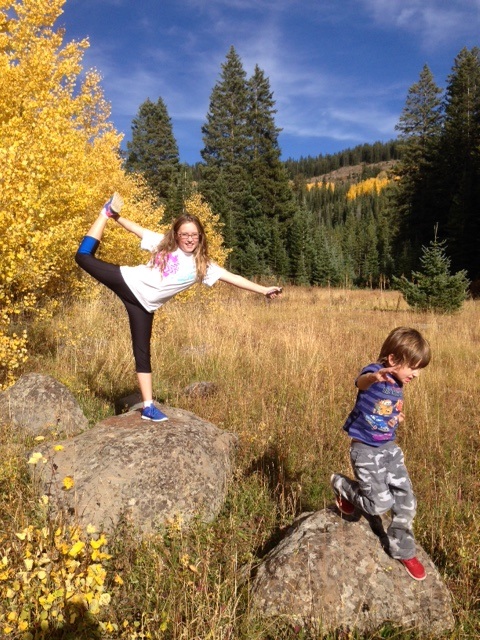 My kids are pretty tolerant of taking scenic drives. But the highlight is always stopping for some outdoor play time. I definitely recommend pulling over along the route a few times. Take a short hike, climb some rocks, hunt for wildflowers, or go on a quest to find that perfect walking stick.
Search for plants that are found in the wild – just caution your kids not to pick any mystery weeds, unless you know what they are. Poison Ivy is found in Colorado, and is not your friend.
My son loves to climb anything he can find – the higher, the better. And my daughter's favorite pastime is finding a way to work her gymnastic routines into any surroundings. That's not just a fallen tree… it's a balance beam!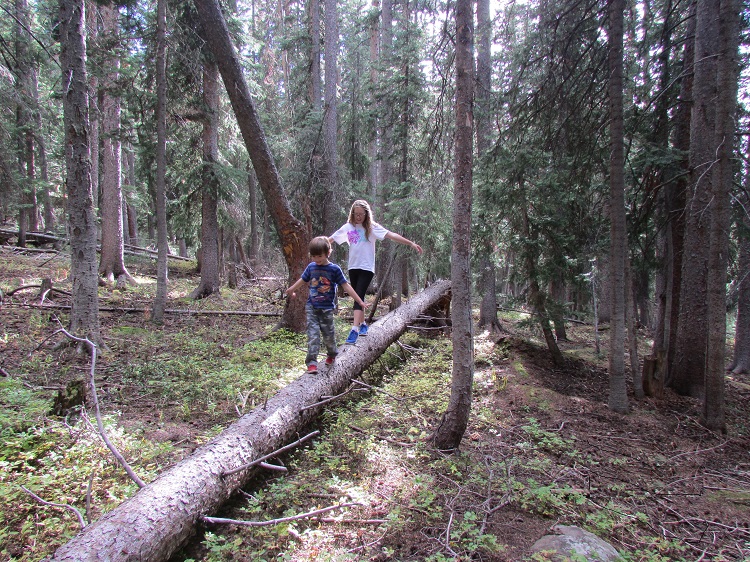 Perhaps because I live in high mountain desert terrain, a highlight for me is always seeing water.  If you spot a lake or stream, be sure to stop for some rock skipping, or to dips your toes in the cool water. Fishing for trout is popular, and the ponds are often stocked.
My Favorite Fall Scenic Drive ~ Grand Mesa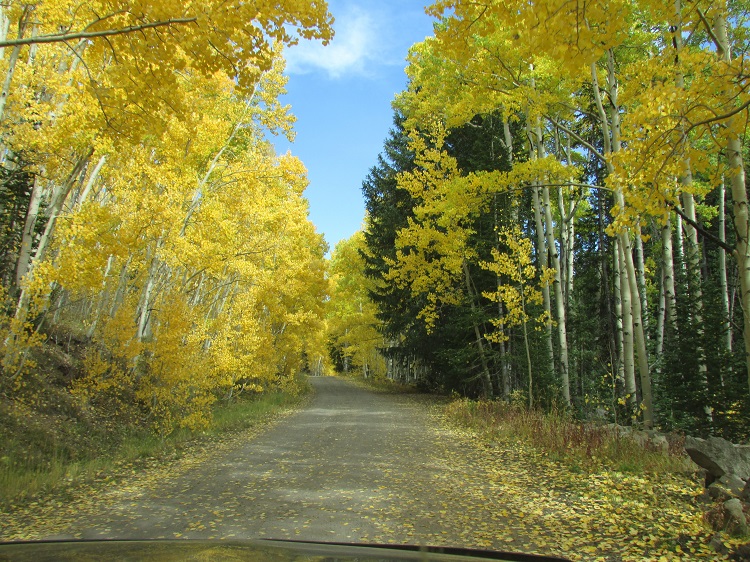 One of my favorite places to behold the breathtaking mix of vibrant gold Aspen trees and contrasting evergreens is on Colorado's Grand Mesa.  Easily accessible from I-70, moseying along the paved Grand Mesa Scenic and Historic Byway offers a gorgeous and enjoyable experience.
The Grand Mesa is the largest flat-topped mountain in the entire world. It covers an area of around 500 square miles, and stretches for 40 miles east of Grand Junction. Topped by volcanic basalt, the Mesa has a maximum elevation of 11,333 feet.
Once on top, much of the area is flat. Partially claimed as Grand Mesa National Forest, there are numerous recreation areas, trails, lodges, and a Visitor's Center to explore.  The Grand Mesa is truly grand at any time of the year. But in the Fall, it's definitely something to see.
Colorado ~ When To Go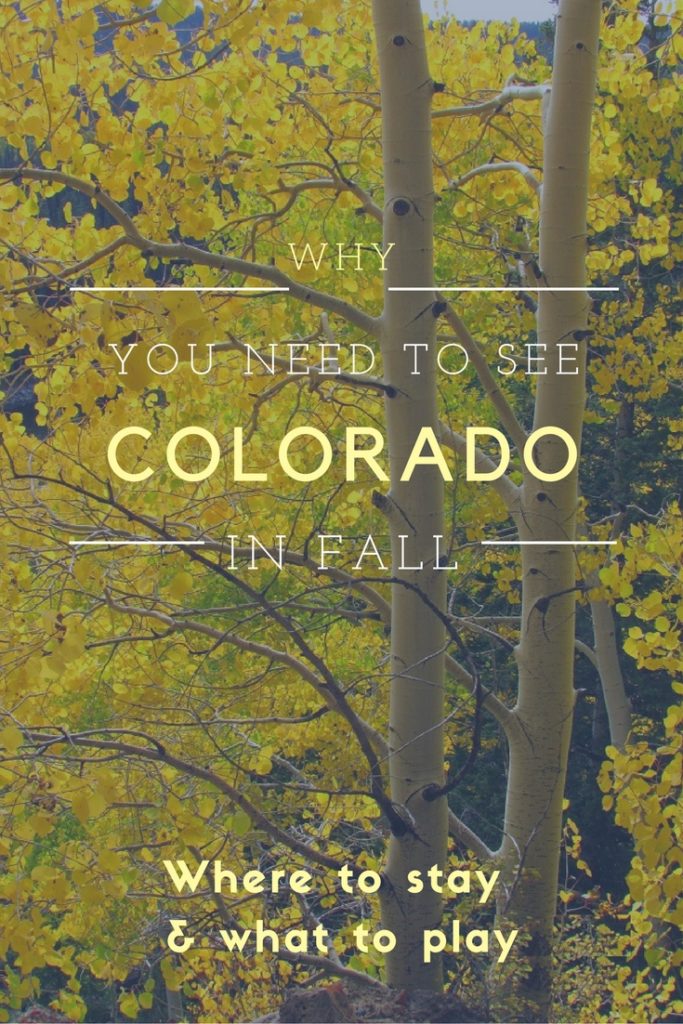 If you're interested in coming to see the Fall colors, watch for "Color Sunday".  In Western Colorado, this is the local's cue that the Aspens are peaking in all their gold glory, and it's time to head up to see them.  Color Sunday is usually called on the last weekend in September, and although it brings more cars than you'd typically see… it is well worth the visit.
Colorado's Fall splendor can begin as early as late August, and be enjoyed during September and even into the month of October.
And if you come later than that… well, just bring your skis or snow shoes and we'll have some Colorado winter fun instead!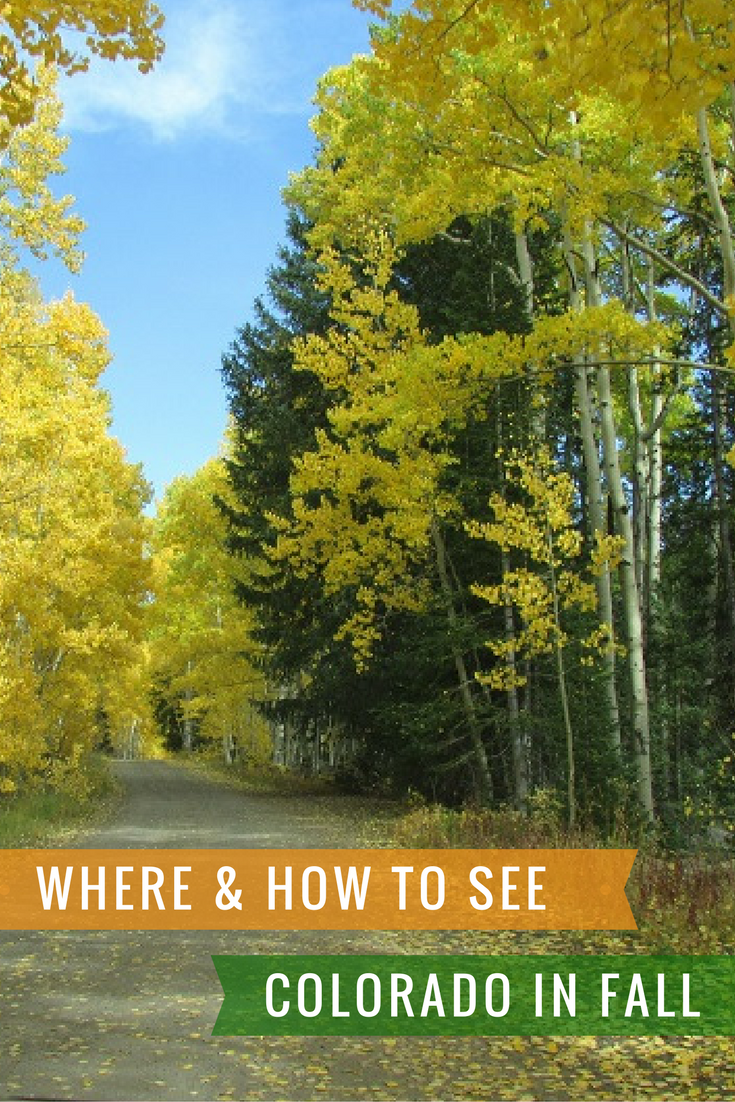 *o*     *o*     *o*
Consideration provided by brands included in this post.  All opinions are my own.