Now that I also write for a larger family travel website, TravelingMom.com, I've had the opportunity to take some fun press trips.  Recently I was invited to come visit Iowa to check out their whitewater parks (which are very cool… they've converted deadly dams in these free recreation areas).  My daughter accompanied me, and I was excited for her to see a new part of the country she wasn't familiar with.
My 11 year old daughter is a Western Colorado girl, being raised in a high mountain desert terrain.  I wanted her to see some landscape more similar to what her Midwestern mom had been raised around.  Or at least, what I thought I had been raised around.
But my, oh my!  The lovely, unending oceans of corn were unlike anything I had ever encountered.  The fields were dotted occasionally with massive, gorgeous barns.  And even without mountains on the horizon, the landscape was unique and beautiful (and in that regard, I'm admittedly biased!)
But the corn fields aren't what surprised me most.  What surprised me most was overturning a belief I had held my entire life.
Does the Midwest Have a Culture?
Being raised in South Dakota, I always felt we were devoid of a culture.  We don't speak with an accent.  (Not entirely true.)  No noteworthy traits, clothing styles, or foods.  There is no such thing as a Midwest culture, is there?  We're just in the middle.  We are not like either extreme coast, which has it's own unique vibe and stereotypical personality.
Well, with a bit more living and traveling under my belt, during our recent trip to Iowa I now saw this in an entirely different light.  And it was fascinating to me to see how there absolutely IS a unique, Midwest culture!  Apparently I'd been away long enough to perceive it now, as an outsider.  And it made me a little homesick.
Things are cheaper.  The pace is slower.  People seem more content.  They don't insist on everything being shiny and impressive.
The favorite local diner which we were told was "beloved by the locals for breakfast" served a very mediocre breakfast.  But most people in there knew each other, knew the menu by heart, and for sure knew the two ladies running the joint on a first name basis.  It was definitely a package deal, and was a highly enjoyable experience.  It reminded me of being on my cousin's ranch when I was little, sitting my in aunt's kitchen while she slung up some greasy eggs for everyone before they headed out to the field for the day.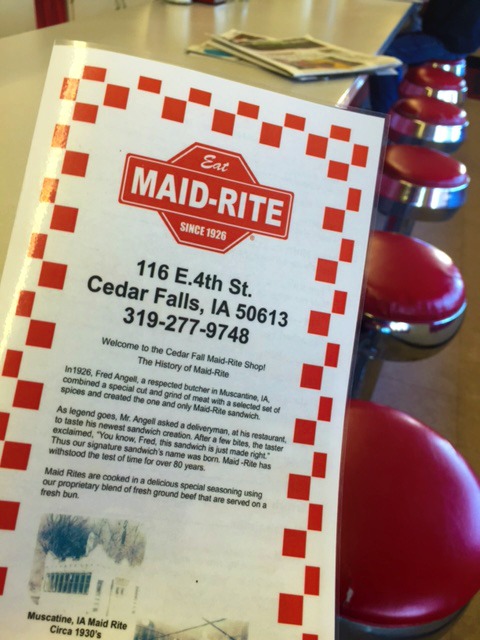 My daughter and I sat down at the only available seating, shiny red vinyl bar stools attached to the floor, in front of one long diner counter.  Curious onlookers all checked us out, quickly spotting the outsiders.  Although I looked like I was from Colorado, it all felt very familiar to me.  I found it both charming and amusing, and felt like I was enjoying a private joke.  "You people wouldn't guess this, but I totally get you.  And I appreciate you."
I could tell my daughter thought it was all a bit awkward.  But she loosened up once those hot, fresh mini donuts were served.  (Which were aaah-mazing.  If you make it to Cedar Fall's Maid-Rite, order at least a dozen.)
When a couple arrived a little later and there were no two adjoining stools available, we all took our plates of food and scooted down to make room for them.
A woman in her 50's shouted down to a man at the other end, harassing him about not being at work yet that morning.  She then turned to the three elderly ladies she sat next to, and filled them in that if they ever needed a plumber… he was one of the best in town to call.
Earthy.  Real.  Solid.  Dependable.  No pretenses.
That's the Midwest culture.  While not for everyone, it's definitely fascinating and something worth experiencing.  And I'm happy to have come from such a salt of the earth heritage.
*o*     *o*     *o*