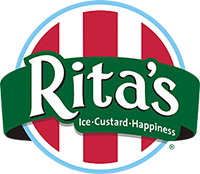 If you've not heard of Rita's Italian Ice, you need to find their website right now and look for a location near you.  Until serving as a Rita's Ice Blogger Ambassador these past few months, I had never tried Italian Ice.  Being a huge fan of creamy ice cream… I didn't think it would necessarily rock my world.  I was wrong.
Whether it's Rita's Italian Ice all-natural flavor of the day, or another tasty flavor, you will love this delicious and refreshing treat.  They now even serve it in a four-section "Ice Flights" tray, if you'd like to select four yummy flavors.
My family and I have tracked down and visited Rita's Ice locations from California to Colorado.  So after sampling more of the menu than I care to admit, what's this #RitasIceBlogger absolute favorite treat that I'd recommend to you?
My Rita's Italian Ice Favorite Treat
It's the Gelati!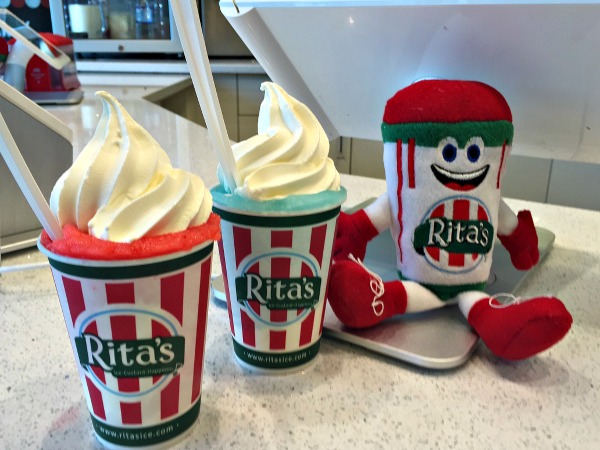 A gelati is a cup of your favorite flavor of Italian Ice, with a swirl of frozen custard added on top.   My recommended combo is a fruit flavored ice, with vanilla frozen custard.
This brilliant combination is their best seller, so I'm not alone in loving it.  Never been a huge fan of slushes, but the smooth ice texture, and fresh vibrant flavor of Rita's Italian Ice is truly in a whole different category.  When you add in that creamy frozen custard (try to get a little bit of each in every bite!) it's a fantastic treat.
My daughter love the gelatis too, although she has a hard time getting past the rich, frozen custard shakes with candy bar chunks added in them.
However, my more refined palette is advising you to check out your nearest Rita's Italian Ice location soon, and try a Gelati!  🙂
*o*     *o*     *o*
I am currently serving as a #RitasIceBlogger brand ambassador, and consideration has been provided.  All opinions are my own.